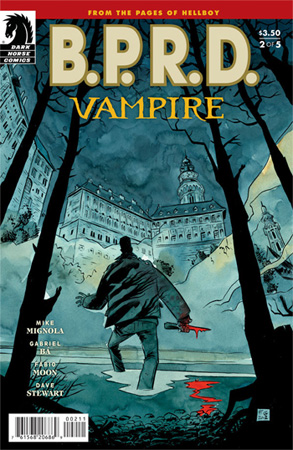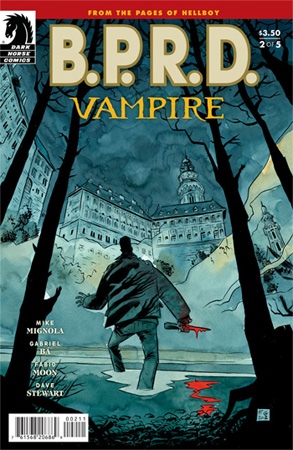 B.P.R.D.: Vampire #1 ended with Professor Bruttenholm trying to reason with Anders. Anders desperately wants to find "the vampires". He wants to find them, where they meet and worship Hecate, so he can kill them.
In B.P.R.D.: Vampire #2, Anders and Bruttenholm briefly discuss the history of the wandering vampires, including twelve places they could be located according to maps marked with symbols of witch gatherings. Bruttenholm advises Anders to head to Český Krumlov, where a Princess Eleonora von Schwarzenberg was rumored to have died from vampirkrankheit — vampire disease.
Note: This recap may contain spoilers!
Anders arrives in Český Krumlov and meets Miss Hana Norarov. Anders notices there are no men in the town as they walk through. This is because, as Hana explains, the men in the town died in war — which I am sure will play into this story somehow. Despite this inquiry, Hana knows why Anders is there. Vampires. She takes him to Krumlov Castle where she goes through the history of a mysterious figure who always goes by the first name Wilhem. Wilhem was married "4 times in 40 years". Yet, he never had any heirs. However, after Wilhem would disappear, presumed dead, someone always came to claim the property. And each of these someones was named Wilhem.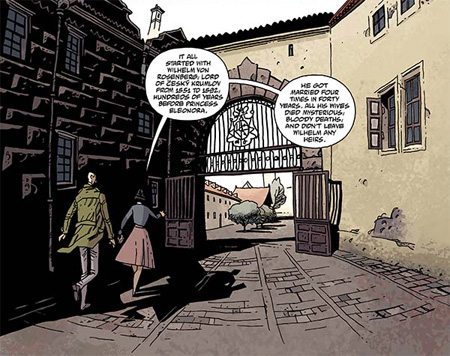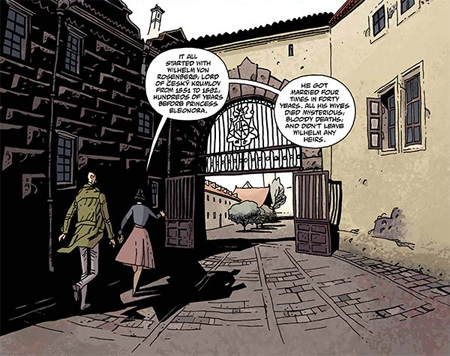 Hana's story ends — 200 years in the past — and Anders immediately is enraged, telling her he came to find vampires, not to hear history lessons. Suddenly, a cloaked figure appears and hands a set of rings to Anders. Speaking in their foreign tongue, they tell Anders to follow the serpent. Anders realizes that the rings belong to the vampire that was killed the night of the ceremony when he met the vampires and that the rings will draw out someone with their symbolism.
The serpent happens to be the local Ytalva River. Hana and Anders follow it and ultimately fall into a buried ancient building — where we are left until issue #3.
B.P.R.D.: Vampire is still looking to rely on Anders's drive to find the vampires and the anger that fuels it. Hopefully the momentum we've seen thus far will continue, and the revenge that readers also want for Anders will culminate.