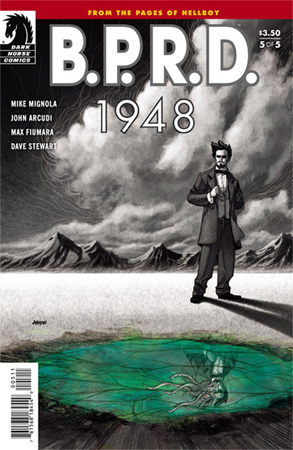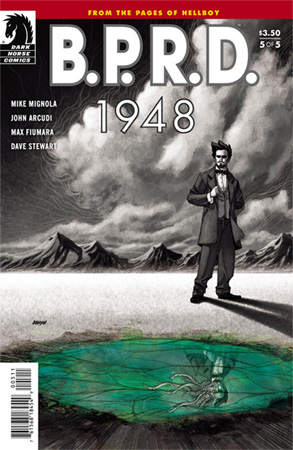 B.P.R.D.: 1948 finishes its five-issue run this month. The monthly miniseries, which started in October, started with Professor Bruttenholm and the Bureau for Paranormal Research and Defense as they relocated to Connecticut in 1948 after the war. While investigating a classified project utilizing nuclear explosions in the deserts of Utah, Bruttenholm meets the lovely Dr. Anna Rieu. Working together, the two find attractive qualities in each other initially as the fused sands of the dessert, named enkeladite after the project name Ekelados, begin to draw eerie creatures from another realm. At the end of issue #4, we were left with these creatures once again attacking the soldiers in the test area and little 4-year-old Hellboy wishing he could just be like everybody else.
Note: This recap may contain spoilers!
Issue #5 of B.P.R.D: 1948 is a bit unnerving. Suddenly we're thrown into the enkeladite being destroyed in order to keep the creatures from attacking. While Dr. Rieu had a piece in her office in previous issues, now the two-faced beauty is claiming it has disappeared as Bruttenholm comes to see that it was also collected. Yes, Rieu is no longer enchanted by the Professor, or perhaps she never was. His claims of magic and occult over the specific area of desert have her reeling, as it threatens her credibility and intelligence. Her thoughts are that the bombs that have been set off could have the same effect anywhere — not just in the area in which the enkeladite is located. Perhaps the creatures are more human than we know.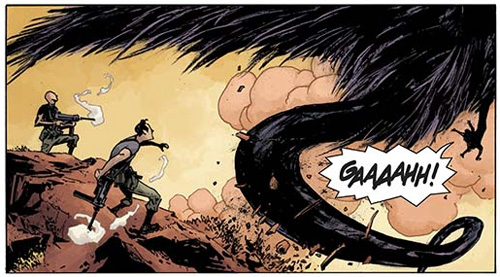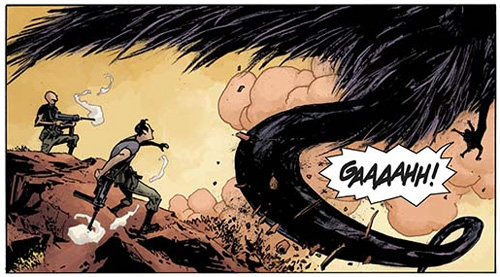 Rieu is up to no good. And Bruttenholm is not amused. There is a jump to the future in which Rieu's husband speaks to a reporter about the situation, and he says the creatures no longer showed up after the initial attacks. He is enraged when the reporter asks if Rieu and Bruttenholm ever resolved their issues. Clearly, they did not.
After Bruttenholm arrives back home, he walks the last five miles, trying to air his mind over the situation — especially Rieu's betrayal. Meanwhile, little Hellboy sits in a locked bathroom. Staring at his reflection, and the great horns on his head, he picks up a handsaw.
B.P.R.D.: 1948 overall is a nice little miniseries. The only flaw is the irritation in never being quite sure of everything that happens within it. Be it Rieu's two-sided nature or the enkeladite and the creatures, this unsure feeling is easily swept under the table as the visuals and the push forward in the history of the bureau outweigh it. While we don't wrap up loose ends and we don't see Hellboy saw off his horns, the next in the series is coming very soon.
Soon we follow one doomed agent's quest for revenge against a clan of vampires and their Gorgon-eyed queen Hecate in B.P.R.D: Vampire.