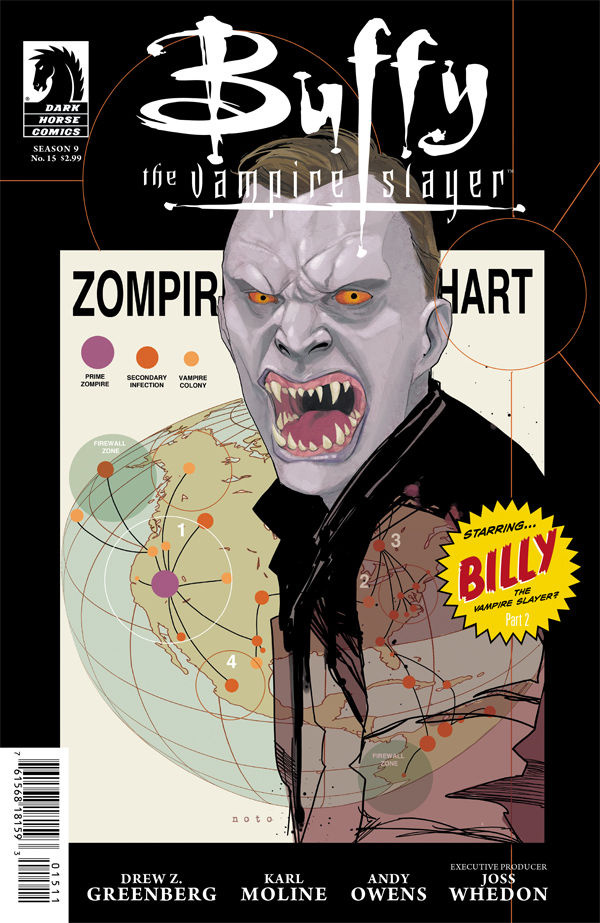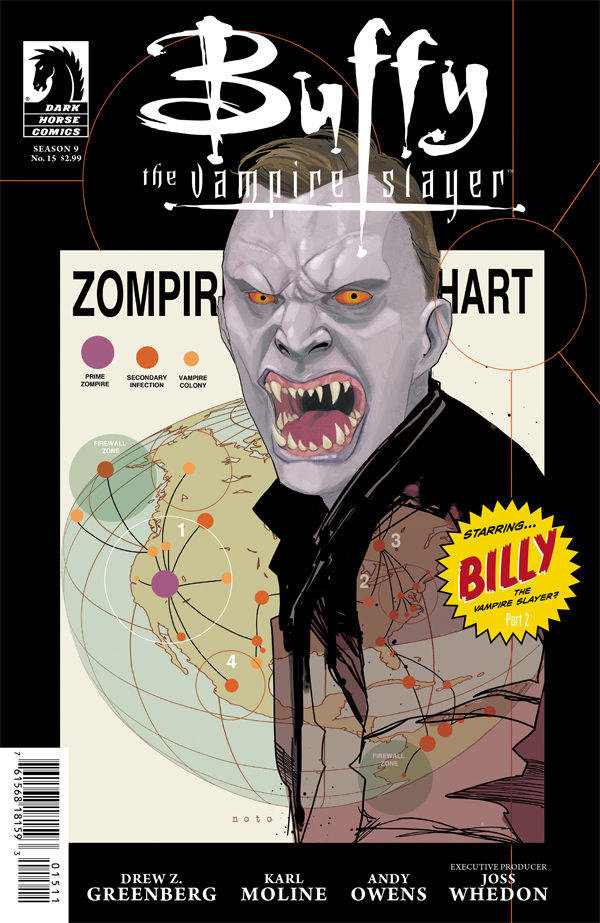 Issue: Buffy the Vampire Slayer: Season Nine #15
Release Date: November 2012
Writer: Drew Z. Greenberg
Pencils: Karl Moline and Ben Dewey
Inks: Andy Owens
Colors: Michelle Madsen
Letters: Richard Starkings and COMICRAFT'S Jimmy Betancourt
Cover A: Phil Noto
Cover B: Georges Jeanty with Dexter Vines and Michelle Madsen
Publisher: Dark Horse Comics
Billy the Vampire Slayer's story continues this month and he endears himself to readers even more. It's often the non-lead characters that I find myself drawn to in the Jossverse comic series and that's proven true once again with the emerging storyline between Billy and his Watcher, Devon. Forget Buffy, I could just read about these two every month and I'd be satisfied.
One of the reasons I'm particularly drawn to Billy is because of his sense of humor. He's trying so hard to be a hero, to make Devon and the rest of the world proud of him, but it's going to take some time and some mishaps along the way. That's okay! The boxing training scene was hilarious and heartfelt because you've got Billy almost getting knocked out by the punching bag in the background while Devon is so clearly gushing over him in the foreground. Their building relationship is so delicate, yet so right, that I found myself mentally urging them to get together. Aside from the Watcher/Slayer dynamic, you've got two young men who are trying to build a life together and find purpose in the middle of the chaos around them. Of course you're rooting for them!


Devon is a good Watcher and he's trying to train Billy as best as possible before throwing him into the middle of a dangerous situation. He's also trying to look out for him because of the building love he has for Billy. He doesn't want his friend to be hurt, much less his maybe-boyfriend, so he's got to balance the commitment to the greater good with the commitment to the one person he cares for the most. It rings very true for both of them. And their flirting back and forth just edges them closer to possibly getting together. When they are gathering intel at the strip mall, where the zompires are hiding out, the Hardy Boys joke made me smile so much. Billy obviously thinks Devon is Frank because he was the hot one, while Devon always had a thing for Joe, and by default he's got a thing for Billy. They're dancing around each other and you just know they're going to finally make that deeper connection if you wait long enough.
Despite Devon's attempts to keep Billy safe and out of the fight for now, that choice is taken away from them when the library is taken over by zompires and Billy's grandmother Sky is caught right in the middle of it. This is what Billy's been training for, but Devon's not ready to let him put himself in danger yet. Is it Watcher common sense, knowing Billy's not yet trained enough? Or is it love for a guy who Devon has obvious feelings for? It's a little of both, but Devon's protective streak isn't going to help Billy. If Devon will not stand beside him for the fight, Billy will do it on his own. Thankfully, he doesn't have to, since Devon shows up at the library not long after Billy does and assures him that they're in this together.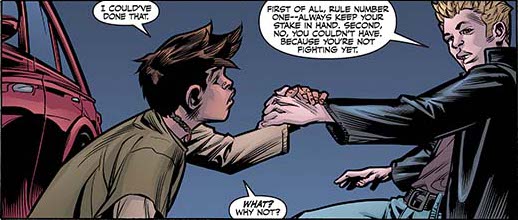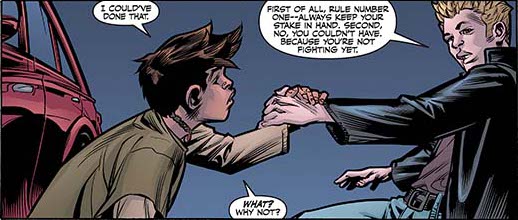 The whole matter of their relationship gets put out in the open before they race head-long into danger. Billy likes Devon, Devon likes Billy, and even if it takes Billy a bit to realize that the coolest guy in school could be interested in him, they're finally on the same page. They are just so cute together and I want them around, fighting the good fight and going on off-duty dates, for as long as possible. I always fear that might mean death for one or the other, considering how quickly I've fallen for them, but for now I'll hold onto the fact that they went in, kicked zompire butt, and made it out alive and together. There's a new Slayer and Watcher combo in town. Forget destiny, they're making their own future… together.
Rating: 5 / 5 Stars