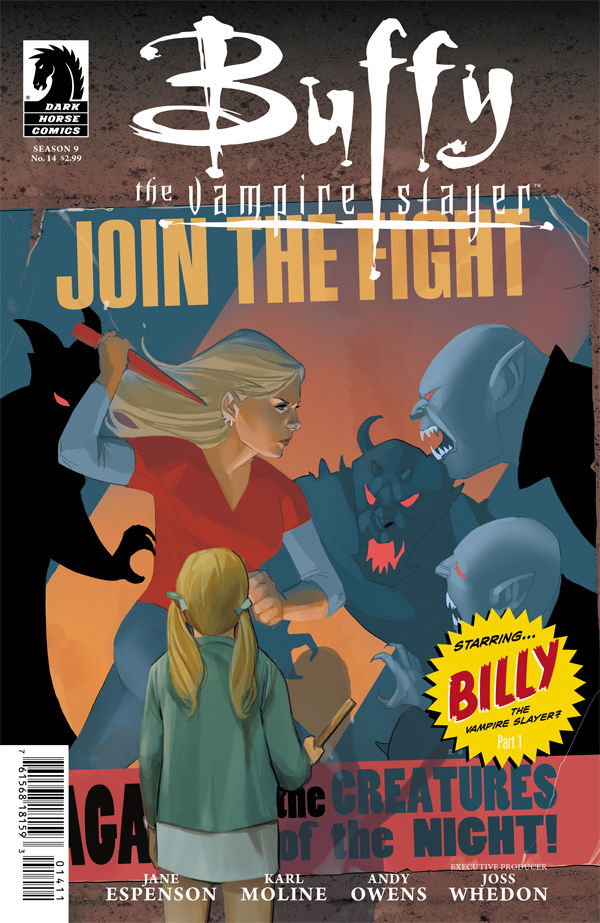 Issue: Buffy the Vampire Slayer: Season Nine #14
Release Date: October 2012
Writer: Jane Espenson and Drew Z. Greenberg
Pencils: Karl Moline
Inks: Andy Owens
Colors: Michelle Madsen
Letters: Richard Starkings and COMICRAFT'S Jimmy Betancourt
Cover A: Phil Noto
Cover B: Georges Jeanty with Dexter Vines and Michelle Madsen
Publisher: Dark Horse Comics
Some Slayers are chosen, but others take on the role because they want to change the world. That's the premise we have going into this month's issue of the Buffy comic. A new character is introduced and the title character doesn't even appear, but I found myself totally involved and not missing her that much.
Billy is a gay teen who spends his nights hanging out down at the airport with his female best friend, watching the planes land and bonding over their high school lives. Billy has a crush on seemingly-straight bad boy Devon, but that barrier doesn't stop him from fawning over the cutie in his mind. His sexuality has been a sticking point for many in his life, including his parents. Billy got kicked out of his home when he came out, so now he's living with his more open-minded grandmother. But he still gets harassed over it by the school bullies, one such incident occurring as he's coming home that night. It's a hard life for a teenager, but Billy gets through it with grace and determination. However, his problems are set to get worse.
While Billy and his friend are watching the planes land, they're unaware of what's happening inside. A body was being shipped home aboard the plane, but the dead didn't stay that way for long. The man had become a zompire, whose main mission is to spread the infection out to others. He turns the flight crew who was unloading the cargo and, in turn, they sought out others to attack as the outbreak spread across town overnight. The problem is growing and there's no one around to stop it.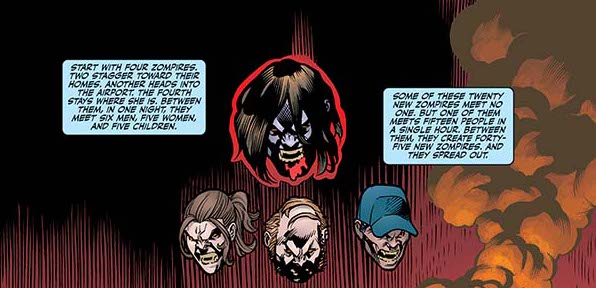 Billy gets up the next day and heads over to the gym to go boxing. It's his normal routine, one he's kept secret from his peers, but this day he runs into the object of his fantasies — cute Devon. The bad boy might not be as straight as Billy thinks, considering the amount of flirting that goes on in the scene. But despite them having only a brief encounter, fate decided they are to meet again that afternoon. On the way home from school, Billy is once again harassed by the local bullies, except this time they have been turned into zompires. Devon manages to save Billy and, once they're back in Billy's room, Devon tells him about how he's been studying up on zompires and Slayers. Devon thinks that there might be a potential Slayer right in front of him, but Billy isn't so on board that train of thought. First of all, Slayers are chosen. Secondly, they're girls. Two strikes for Billy.
But destiny is really what you make of it and it's more about actions. When one of the zompire bullies breaks into the room and attacks Devon, Billy uses his head and fights him off before staking the monster through the heart. Maybe this whole Slayer thing could work. In a flip-flop of stances, it's Billy who is now on board with the plan while Devon's more hesitant. A few zompires weren't a big deal, but they're talking about hundreds or thousands. Why should Billy do it? As the Slayer-in-Training points out, there are still good people left in the town that they care about and should save. Billy's willing to be a Slayer if Devon's willing to be his Watcher. Together, they'll make their own destiny.
Rating: 4 / 5 Stars