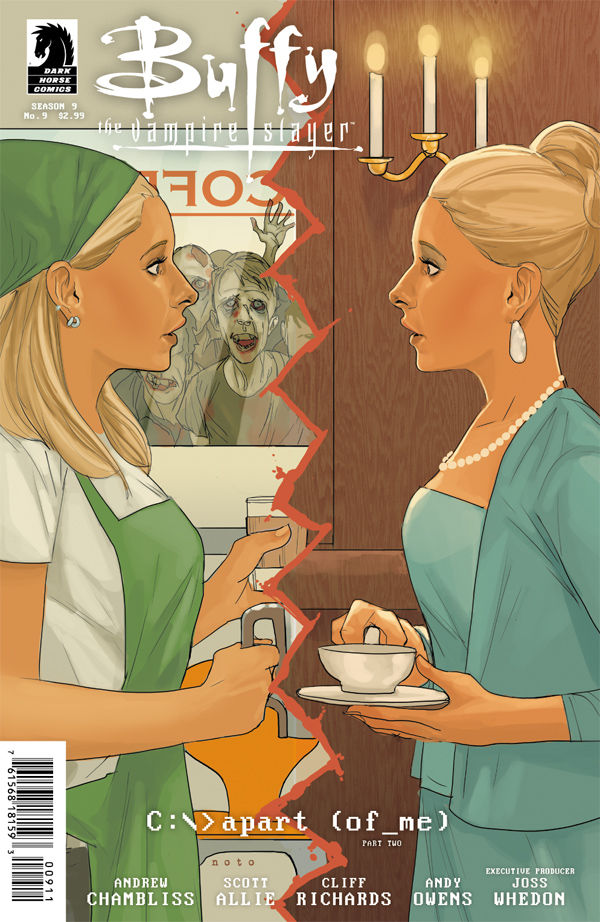 Issue: Buffy the Vampire Slayer: Season Nine #9
Release Date: May 2012
Writers: Andrew Chambliss and Scott Allie
Pencils: Cliff Richards
Inks: Andy Owens
Colors: Michelle Madsen
Letters: Richard Starkings and COMICRAFT'S Jimmy Betancourt
Cover A: Phil Noto
Cover B: Georges Jeanty with Dexter Vines and Michelle Madsen
Publisher: Dark Horse Comics
The many personalities of Buffy got a show in this issue of the comic, which begs the question — which one is real? And can all the Buffys rejoin into one body to make her whole again? That's yet to be determined, but we're still along for the ride!
When we pick up this month's issue, Buffy!Bot, Spike, and Andrew are at Amnesia!Buffy's house. The body has been kidnapped and the clues are slim as to where she's been taken. But don't underestimate Andrew on that front because he's LoJacked Buffy's body. Well, her jewelry at least. And by tracking the GPS signal they can fly out to wherever she's been taken and hopefully get her back. During this time, Buffy!Bot is thinking about what kind of life Amnesia!Buffy has been having. Andrew's created this fantasy world for her that's reminiscent of the life Buffy always wanted. Without the pressures of being a Slayer, she can be just a normal young woman. Isn't that preferable to the drama that she has to come up against in her regular life? Perhaps, but it's not the life she's bound to have, so they must find the body and rejoin the mind to make Buffy whole again.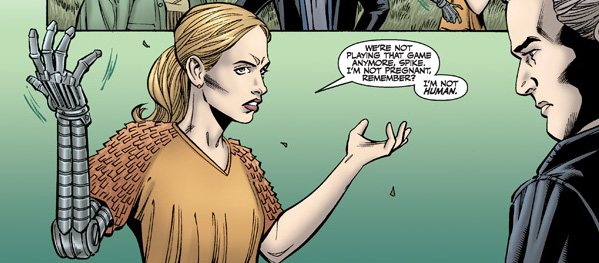 Meanwhile, Xander, Dawn, and Dowling are trying to deal with Dowling's former-partner-turned-zompire. When they arrive outside the precinct they find a bloodbath of victims and it doesn't look like she's set to stop anytime soon. Xander, in a chivalrous gesture, tries to get Dawn out of the line of fire. Perhaps it's his protective instinct kicking in, his need to make sure his loved one isn't put into any more danger than she already is, but I'm going to have to side with Dawn on this one. She's just as strong and capable as the rest of them, so she doesn't need to be shielded from the horrors of the darkness. She's lived through it already, she'll continue to fight the good fight until the end. Unfortunately, during all the back and forth, Dawn lost her cellphone, so she's none the wiser that her sister is not pregnant and not human. Hopefully the truth will come out soon, just not right now.
And Buffy!Bot's got her own mounting issues to deal with. When they arrive at the GPS location, she and Spike and Andrew agree to split up to cover more ground. Good in theory, but not in practice. Buffy!Bot gets taken down by a blow to the head. No, not by the kidnapper, but by Amnesia!Buffy. It doesn't look like she's got amnesia any longer, or she's been brainwashed and liberated with whatever truth the kidnapper has told her. She may not be docile, amnesiac Buffy any longer, but she doesn't look like the Slayer either. Now the question is: what does she know and how open will she be to the real truth? Is she going to be willing to take on her memories again, getting her body and mind back in sync, or has that ship sailed? Many questions, but no answers yet. We'll have to wait until next issue to find out more.
Rating: 3 / 5 Stars