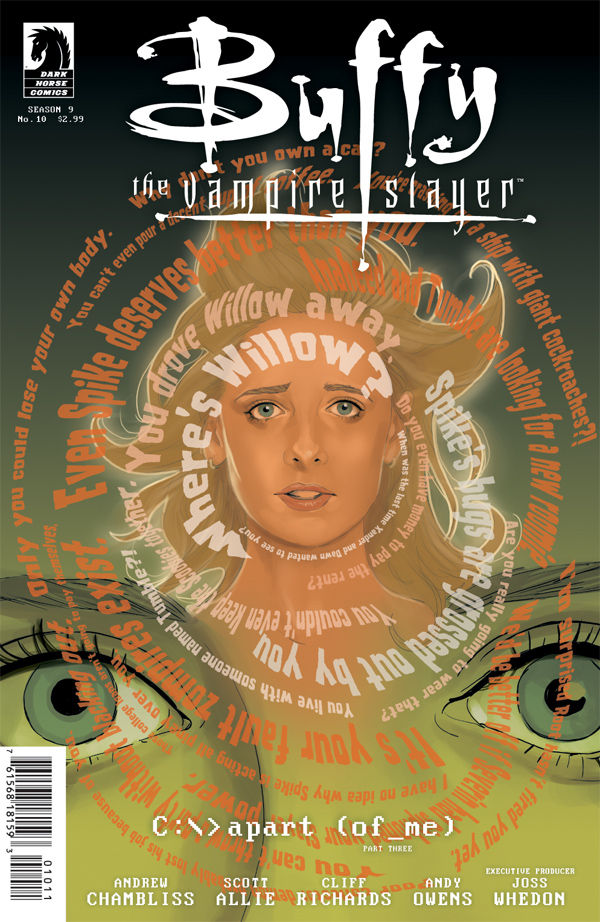 Issue: Buffy the Vampire Slayer: Season Nine #10
Release Date: June 2012
Writers: Andrew Chambliss and Scott Allie
Pencils: Cliff Richards
Inks: Andy Owens
Colors: Michelle Madsen
Letters: Richard Starkings and COMICRAFT'S Jimmy Betancourt
Cover A: Phil Noto
Cover B: Georges Jeanty with Dexter Vines and Michelle Madsen
Publisher: Dark Horse Comics
What will happen when Buffy!Bot comes face to face with her body? Will they ever be one again? We got those questions answered, along with a few revelations and ultimatums thrown in, too. Buffy's life was never supposed to be easy and it's not going to start now.
During the Buffy versus Buffy scene there was a nice psychological discussion going on, with Amnesia!Buffy pointing out Buffy!Bot's flaws and shortcomings. Who better to point these out than herself? Buffy wants to appear strong, to carry on the mantle of her destiny, but she also tends to sabotage her support system. Whether that be a need to push people away or a need to make everyone think they can't exist without her, there are many instances when Buffy has purposefully weighed the fight in her favor, at the expense of those who care about her.
And we learn who Amnesia!Buffy's kidnapper was, who has been behind many of the problems that have cropped up recently. That would be Simone, the former Slayer with a love of guns. She doesn't think Buffy's deserving of the title she carries, not when Buffy's split herself into two and has been able to achieve a nice life while someone wearing her face has to do all the hard work. Yeah, Simone's ability to get all the facts straight isn't strong. But Simone also doesn't have that moral limitation against torturing either. It seems she would have been perfectly willing to take Buffy!Bot apart piece by piece if she hadn't been interrupted.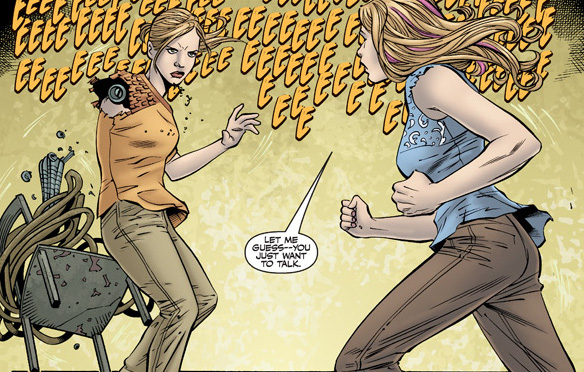 Andrew gets his time in the sun, mainly dealing with getting Buffy!Bot's mind and Amnesia!Buffy's body back together again. Xander and Dowling gets a turn, too, giving hints that there will be a larger mission involving the cop. But what I want to focus on especially is Spike. The vampire, once again, risks himself for Buffy. He suffers through injury and insult to remain her safety net, but no more! He has finally had enough and gives Buffy an ultimatum. He is tired of being on the outskirts of Buffy's life, never allowing their relationship to progress past the point of using him when it's convenient for her. So now she has to make a choice. Either she can leave with him, walk away from the pain and destruction and just focus on each other, or he's going to leave first. Since she can't make that kind of commitment, he's gone.
But what we're left with, at the end of this issue, is a question. It seems like Buffy's body and mind are now joined together, but what about her future? She returns to the coffee shop where she works and turns in her resignation. Does that mean she's going to take Spike's offer and indeed leave with him? Or is she striking out on her own, making a new destiny? We're going to have to keep reading to find out.
Rating: 4 / 5 Stars