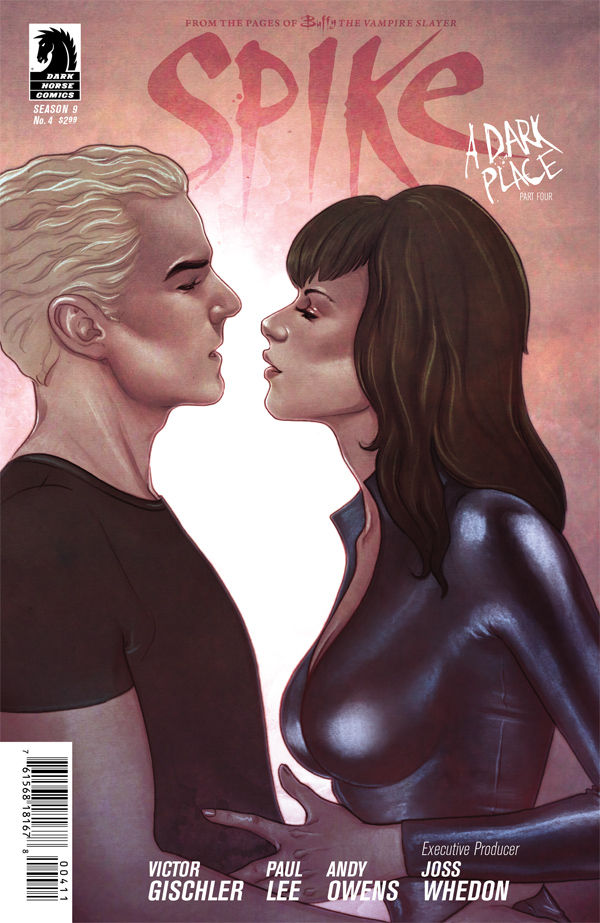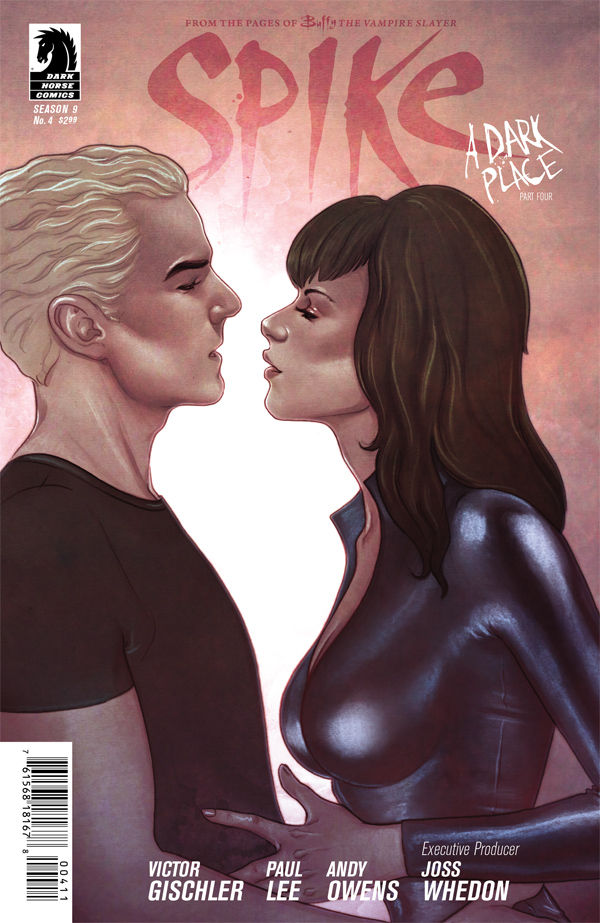 Issue: Spike #4
Release Date: November 2012
Writer: Victor Gischler
Pencils: Paul Lee
Inks: Andy Owens
Colors: Cris Peter
Letters: Richard Starkings and COMICRAFT'S Jimmy Betancourt
Cover A: Jenny Frison
Cover B: Steve Morris
Publisher: Dark Horse Comics
Spike is still being lured under Morgan's spell and his bug minions are still making plans to save him, if it comes to that. This month's issue features a bit more bridging, a little action, and a huge dose of love for the bugs who just want to see their Master be safe. For me, I'm ready for some big plot twists. Maybe next month?
There were basically two focuses in the story for this issue. One was the whole Morgan and Spike budding relationship/friendship/whatever they have. The other was Spike's bug minions trying to keep safe the vampire they serve. Frisky and Sebastian still have their contingency plan in place. If Morgan seeks to control or betray Spike, the bugs will try to save him. However, it's more like Frisky is gung-ho against Morgan and Sebastian is waffling. He even goes so far as to have Frisky hauled away for his apparent treachery against their leader, but he soon changes his tune when it becomes apparent Frisky was right. Morgan is indeed bad news and they will need to save Spike. The attempt was made, it was a valiant effort, but in the end Morgan was too strong for them.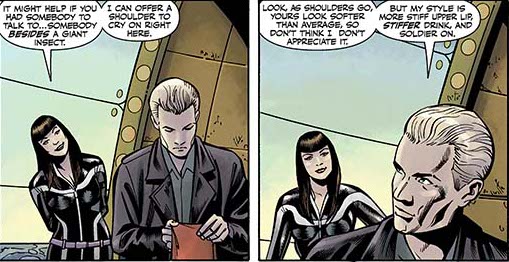 As all these plans were transpiring, Spike and Morgan had been having some alone time. He still misses Buffy more than anything and Morgan knows it. She keeps trying to lend her support, to be a shoulder he can cry on, but Spike's not into the whole caring and sharing bit. Her plan was to play into his emotional vulnerability and use that to lure him under her control, and for a while it looked like Spike might do it, but in the end he proved to be strong. That was not what Morgan wanted, not what she planned on, as no one had ever told her no before. She doesn't take the rejection too well. After she reveals that she has a piece of the Seed left and can indeed open the Hellmouth on Easter Island, the two of them fight it out. Both Spike and his bug minions try to subdue her, but she makes her escape before that can happen. We lead into next month on a mission of recovery and hopes that Morgan doesn't open the Hellmouth before they can find her.
While the end gave us the possibility of increased action next time, this month's issue was filled mostly with talking. I already knew the bug minions were awesome and that they would do anything to protect their Master. I already knew Spike was missing Buffy and that he was strong enough to withstand Morgan's lure, even if it briefly appeared that it was in question. And I already knew Morgan was bad news and that she had to be in possession of a piece of the Seed, else why would she head to a Hellmouth without it? So, I got confirmation, but not a lot of momentum forward. Guess I'll just have to be patient and wait some more.
Rating: 3 / 5 Stars