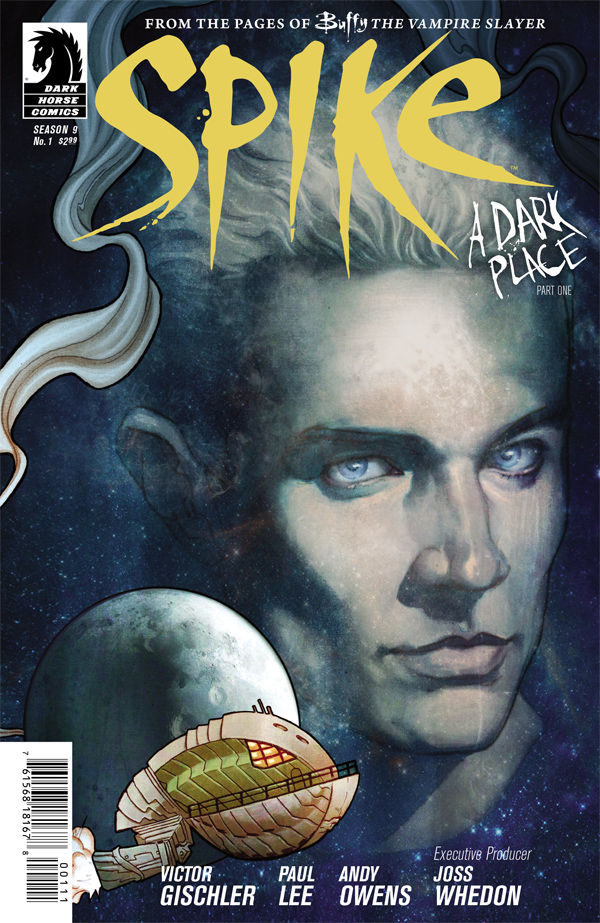 Issue: Spike #1
Release Date: August 2012
Writer: Victor Gischler
Pencils: Paul Lee
Inks: Andy Owens
Colors: Cris Peter
Letters: Richard Starkings and COMICRAFT'S Jimmy Betancourt
Cover A: Jenny Frison
Cover B: Steve Morris
Publisher: Dark Horse Comics
Spike tried to leave his troubles behind, but unfortunately bad luck seems to follow him wherever he goes. He's got his own comic, but the storyline is just as complicated as before. Instead of a Slayer who refuses to acknowledge their love, now he's got to deal with well-meaning minions and murderous monsters. What's a vampire got to do to have a good day?
First of all, I have to commend Spike for leaving Buffy. I wanted nothing more than to see them together and happy, but Buffy doesn't seem to be on board with that plan. Instead of sticking around to be her emotional cushion and dirty little secret, he's going to seek an existence elsewhere. But first, he's going to take an emo journey on his ship, drinking and feeling sorry for himself on the dark side of the moon. The whole ship is littered with reminders of Buffy and he can't help but think about how his whole existence is a testament to pain and darkness. He never wanted to drag Buffy into that, but he also didn't want to be used whenever it was convenient and then tossed aside when she was done with him. Life would be so much simpler if Buffy would just recognize him for who he is, a strong man who loves her, not some monster she has to hide away in secret.
His dark mood is starting to make his roach minions concerned for their leader's mental health. They understand that life is hard, but it's time for Spike to get back on the happy train. For a minute, it looked like they were through with coddling and were staging a mutiny to overthrow their once-esteemed leader. Appearances, however, can be deceiving. They don't want to get rid of him, they just want to get his mood out of the dumps! What Spike first thinks is an attempt to fry him in the sun is actually a special gift. They've reconfigured the solarium's glass to filter out the harmful parts of the sun's rays and recreated an image of paradise they found in an old copy of Buffy's Vogue. Adorable doesn't even begin to describe it. I never thought I'd be in love with bug minions, but I kind of am. Not only am I drawn to their good hearts, but their personalities as well. They are soldiers who would do anything to protect their leader, but they're also snarky little bugs who have a few great comedic lines in this issue. I hope they stick around for a while.
But it's not all happy fun beach time. When they landed the ship on the moon, they drew the attention of a few stranded monsters. At least, I think they were stranded. Why else would they be trying to steal Spike's ship and make an escape? First line of attack was by a huge mutant moon frog who the bugs take as a sign of the end times. Yeah, if I saw a giant frog trying to eat me, I'd be scared, too. It's up to the bugs to save themselves and Spike for the time being, since their fearless leader is unconscious as we close the issue. How are they going to get out of this one? One thing's for sure, Spike's life isn't all smooth-sailing just because he doesn't have to deal with a fickle Slayer anymore.
Rating: 4 / 5 Stars