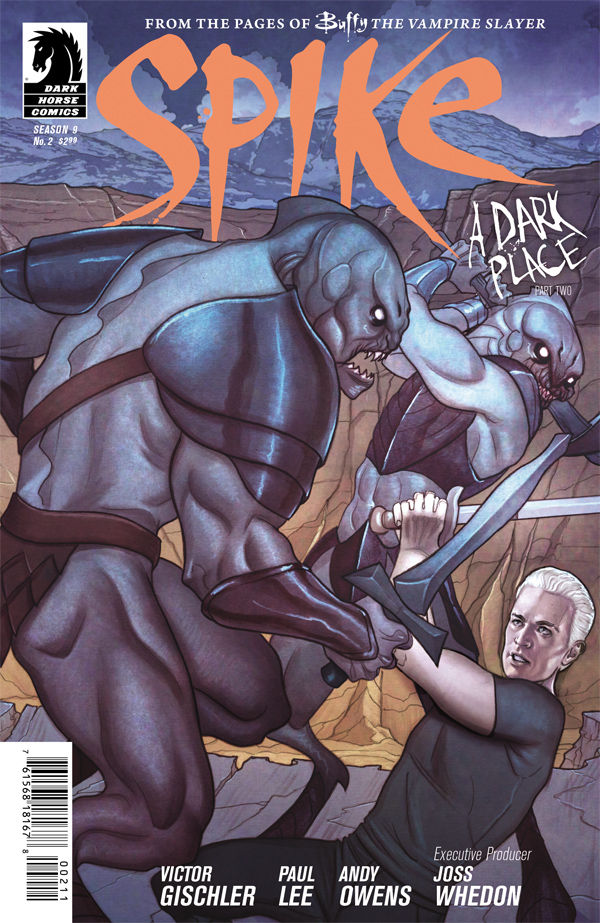 Issue: Spike #2
Release Date: September 2012
Writer: Victor Gischler
Pencils: Paul Lee
Inks: Andy Owens
Colors: Cris Peter
Letters: Richard Starkings and COMICRAFT'S Jimmy Betancourt
Cover A: Jenny Frison
Cover B: Steve Morris
Publisher: Dark Horse Comics
Spike's ship has been overtaken, his bug minions are in danger, and he is minutes away from being jettisoned out into space. Just another day in the life of our favorite vampire. However, as we learn quickly, the harder he tries to run away from his old life, the faster he gets pulled back in.
So, the monsters that claimed Spike's ride pretty much live up to everything a villain can do. They are nasty and too-sure of themselves and they tend to overshare their plans. Yeah, I guess they don't get movies or television up there on the moon, else they'd know that is a stupid way to approach the situation. Throughout it all, Spike keeps his cool. He asks for a last cigarette, which he gets, but doesn't grace them with any last words. Why should he? The vampire knows he's going to get out of this situation, he just has to figure out how. In the meantime, he tries to find out as much as he can about his captors and where they're headed. Guess what? He knows the place well.
Turns out the kidnappers are headed back to Sunnydale in order to get the remnants of the Seed. They were at the prior battle and hopped on some bug/squid thing to make their escape to safety. Only, it wasn't such a good plan. The creature was headed into deep space, so they did what they had to do and killed it before it could go too far. That meant they were stranded on the moon and had to wait for someone to come along and provide them with a means of escape. Enter Spike, who was in the wrong place at the wrong time. But he hasn't lived this long just to give up at the first sight of danger. Instead, he uses the information to his advantage. He was at the last battle and would have intimate knowledge of where the parts of the Seed are now, so why not use him as a guide?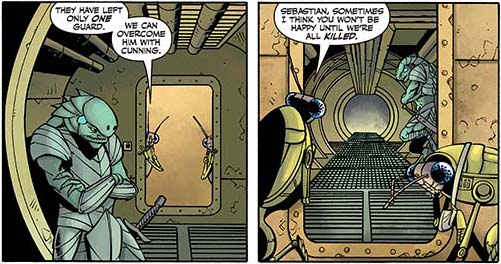 While Spike's trying to save himself, his bug minions are trying to save their Master as well. At first, though, they're a bit divided on whether or not it's wise. Sebastian is all for it, but Frisky thinks it's a fool move and that they should try to keep themselves safe. After Sebastian manages to change his mind through the power of persuasion, they plot one of the greatest rescue attempts ever. I adore these bugs, I really do. They take down one of the guards through the use of alcohol, a lighter, and a breath of fire. They are fantastic! And they are loyal to Spike, perhaps to a fault, since the love tends to be more one-sided.
Spike's off doing this thing, working on his own, and having yet another internal crisis. Look, we get it. He keeps trying to walk away and forget Buffy, but he can't. He's got a soul and that ties him to people and places he has come to care about. Even when his life would be much better off if he just left it all behind, he will always be drawn back to those he left behind. That doesn't mean he can't try to survive, though. It's not an ideal life, but it's his.
As expected, Spike leads his kidnappers to the Seed chamber, but it's empty. Of course it is, because they're not the only ones looking for the shards. Magic has ceased to be, so many are searching for any remaining bit of power they can find. In the chamber itself there's even a female demonic creature hanging around, seeking the same reward Spike's kidnappers were, only she's more about pairing up with Spike than killing him. Together they defeat the monsters, decide to tentatively team up, and then yet another problem emerges. In an explosion that rocked the chamber, who should pop up but the sibling duo of Pearl and Nash. I may well get my comic crossover after all! And that has made the storyline even more interesting. I love it when a plot comes together.
Rating: 4 / 5 Stars