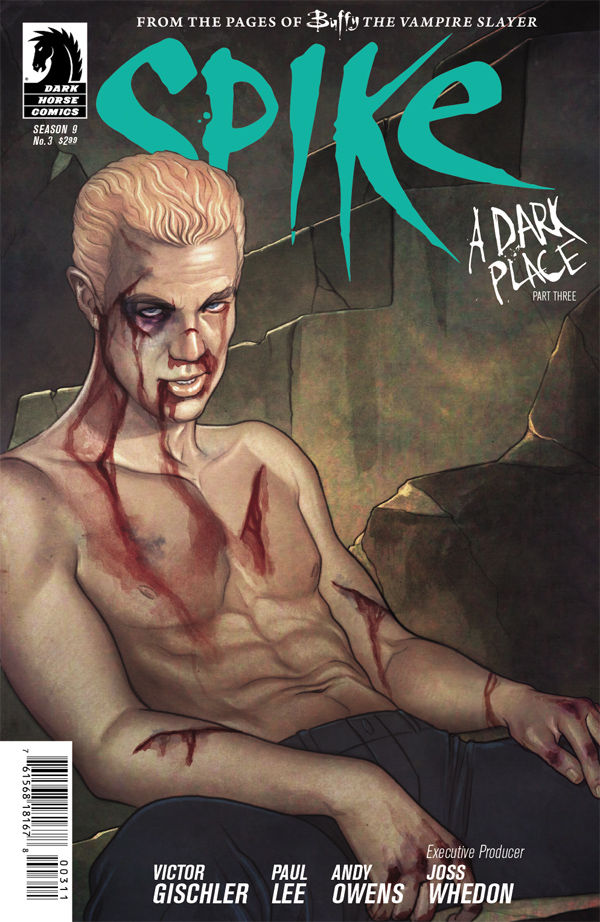 Issue: Spike #3
Release Date: October 2012
Writer: Victor Gischler
Pencils: Paul Lee
Inks: Andy Owens
Colors: Cris Peter
Letters: Richard Starkings and COMICRAFT'S Jimmy Betancourt
Cover A: Jenny Frison
Cover B: Steve Morris
Publisher: Dark Horse Comics
Spike's trying to make his way on his own, but with tag-along passengers and bug minions, it's hard to do. Unfortunately, the wait to see how it all works out is prolonged another month, considering this issue felt more like a bridge than anything. We got to touch on a bit of the backstory between Pearl, Nash, and Spike, though not enough. We also got to see Spike being lured under Morgan's spell and his bug minions being concerned. The plot's advancing, just not as quickly as usual.
We began with a flashback to Rome in 1953, where an 18-year-old Pearl was sent by her mother to get pregnant. I'm not quite sure why this was her mission, but Pearl committed to the task. Sadly, she should have learned to pick better partners, considering the current one turned out to be a Black Widower demon. Upon attack, she calls for her brother Nash, who is there immediately… almost like he was waiting right outside the door, listening in. That was a mental image I didn't really need. But while two against one didn't help them in their fight, a certain vampire did. The demon owed Spike some money from a card game and he came to collect on the debt by cutting off the demon's head. Pearl was grateful, Spike was indifferent, and we were still left wondering what she did to reward him.
As the three meet up again, Pearl is more hardened, Spike is more caring, and Nash is the same guy he's always been. Well, two out of three isn't bad. And what once might have been a truce between them isn't going to be that way any longer. Spike manages to not only distract the siblings long enough to get Morgan and his bug minions out, but also take down a wall to trap Pearl and Nash inside while Spike makes his escape. Something tells me that's not the last we'll hear from them, but for the rest of the issue Spike, Morgan, and the minions were safe in orbit aboard his ship. Well, seemingly safe.
Morgan is starting to show a bit of her true colors. She wants to go to the nearest Hellmouth, a request that Spike grants her, but Sebastian and the other bug minions aren't so sure they should be trusting her outright. She is a Succubus, after all. The pleas go unheeded by Spike until Seb brings up the good point about the remnants of the Seed. Morgan may well have a piece and be planning to use it to open the Hellmouth. When Spike goes to investigate this theory, Morgan welcomes him with open arms and decides it's time they get their secrets out in the open. Between the two of them, though, openness isn't going to happen. We know Spike's backstory, even if Morgan doesn't, and we learn that she is a Courtesan demon who was the confidante of ancient rulers. Watching the conversation between her and Spike, it's easy to understand why she was so successful. Will Spike be lured in and put in danger? Or will his bug minions save the day again? Check back next month and we may get an answer.
Rating: 4 / 5 Stars