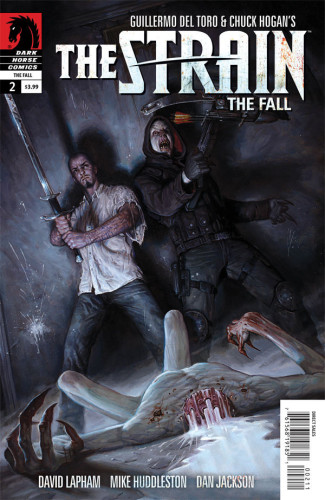 The Master and his followers have taken over New York City. Manhattan is infested. The fate of the world hangs in the balance, with only small, disorganized, or largely delusional pockets of resistance standing against the onslaught of the plague. Until now.
The Master's attack violated an ancient vampire treaty, giving his oldest enemies ample justification to punish him for his transgression. Now Augustin "Gus" Elizalde, dubbed the sun warrior, is faced with an excruciatingly difficult decision, one made easier solely based on the value of the leverage held against him. Unfortunately for Gus, this isn't a situation from which he simply can walk away.
Strange, supernatural threats to humanity lead to even stranger bedfellows, so Gus doesn't have to face the New York City infestation single-handedly — thankfully, considering that this vampiric plague is unlike anything out of Bram Stoker or True Blood. Artist Mike Huddleston and colorist Dan Jackson bring del Toro and Hogan's nightmarish vision to life with a dash of something vaguely reminiscent of Lovecraftian tentacled horrors or the result of the Umbrella Corporation's T virus (let me put it this way: you're not going to want to French kiss anyone for a while after reading these comics, that's for sure).
Even with allies, Elizalde will have his work cut out for him, especially with government officials in denial about the outbreak. Without a doubt, The Strain: The Fall #2 is setting up something big, and readers won't be able to wait to get their hands on the next issue in this series, whether they've read del Toro and Hogan's trilogy or not.
As an avid horror comic book fan, I highly recommend picking up a copy of Dark Horse's The Strain: The Fall #2 (as well as the preceding issue and the award-winning adaptation of The Strain that precedes that). The overall aesthetic reminds me of some other popular comic book series — think Dark Horse's B.P.R.D. and Hellboy, or IDW's 30 Days of Night — in that it uses a dark, but highly expressive palette and remains consistent, despite its more "artsy" illustration style (inconsistency being something that plagues many series from smaller, less established publishers that put out comic books of a similar visual style).
If The Strain: The Fall #2 sounds like your cup of bloody tea and you want to catch up on The Strain, you can purchase The Strain Volumes 1 and 2 from Dark Horse's website or from most places comic books are sold. Also, keep an eye out for recaps/reviews of these volumes, as well as The Strain: The Fall #1, as I catch up on them myself!
Rating: 4 / 5 Stars