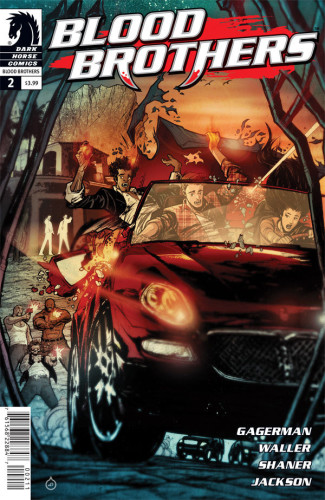 It's a buddy cop movie. Except instead of a movie, it's a comic book series. And instead of cops, Nick and Tree are vampires. Okay, so maybe Blood Brothers isn't really like a buddy cop movie at all. But Nick and Tree, the series' protagonists, are best friends who have a century's worth of adventures behind them — including smoking opium with Genghis Khan and having orgies in Michaelangelo's studio, apparently.
In the second issue of the series, Nick and Tree are after a group of bail jumpers that kidnapped Nick's (human) girlfriend, Jill. Although the two join forces to hunt down the lowlifes that captured Jill, there is tension in the air — trouble in paradise for the lifelong pals. Nick is completely focused on finding his girlfriend, while Tree spends most of the time the two are together making cracks about a human-vampire relationship and pointing out the many, many reasons why Nick and Jill are doomed for romantic failure.
While Tree's quips are funny — especially when they're accompanied by imagined scenes of Jill's dad staking Nick on the altar, for example — they also border on annoying, probably because Gagerman and Waller have done such a good job of making the best-friend dynamic realistic. It's a classic case of "third-wheel-syndrome," with Tree doing his best to discourage Nick's hopes of becoming human again and settling down with Jill.
Best-friend bickering aside, Blood Brothers has a couple things going for it, not the least of which are the series' illustrations, courtesy of Evan Shaner (Buddy Cops, Eerie, Green Hornet Year One) and Dan Jackson. I like the lines, I like the colors; altogether, the artwork is my favorite part of Blood Brothers. That said, I have to give credit to Gagerman and Waller again because this is some of the most natural dialogue I've read in a comic book series in a long time. There are two interactions in particular that I'd like to highlight on page 8 of issue #2, because they mark the point at which I realized how impressive the series' writing really is:
Tree: Cedric took the "vampires walk among us" speech pretty well, I think.
Nick: Might not have been the best time to drop your "Jesus was a vampire" theory on him.
Tree: A guy shows up alive three days after being crucified. There is no other explanation.
Tree: Dude's obviously got his V card, but I don't recognize him.
Nick: Me neither. But if we need to find a vampire, the best thing to do is talk to other vampires.
Tree: Do we have to? Those meetings are so depressing.
Blood Brothers's dialogue is great because it mimics the way most people actually speak without going overboard, as many comic book series that try to be informal and colloquial tend to do. The way that Tree says "Dude's" in the second interaction, rather than something more stilted and grammatically correct, like "The dude has," is an excellent example.
Because this is a review and not a recap, I'm not going to give any more of the plot away by discussing it in detail, but I'm interested to see where the rest of this series goes and whether Nick and Tree are able to tone down the degree of "old married couple" that characterizes their relationship.