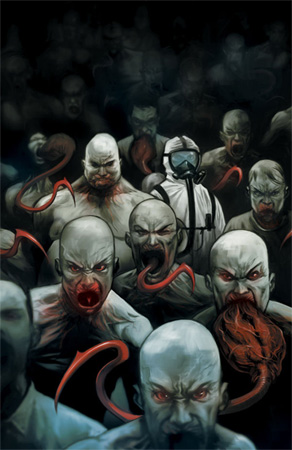 Issue: The Strain #1
Writer/Artist: David Lapham, Mike Huddleston
Colors: Dan Jackson
Publisher: Dark Horse Comics
Based on the bestselling novel by Guillermo Del Toro and Chuck Hogan, The Strain chronicles the Apocalypse brought on by a terrifying vampiric virus. The story starts in 1920s Romania, where a young Abraham Setrakian is listening to a tale spun for him by his grandmother about a kind giant of a man who was loved by the local villagers. The man, Jusef Sardu, had gone missing and when he returned he was not the gentle giant the villagers had loved. Soon after, villagers began to go missing.
In modern-day New York, a plane lands at John F. Kennedy International Airport, but there seems to be a problem: there has been no communication, or signs of life, from the plane since touching down. Centers for Disease Control (CDC) agent Dr. Ephraim Goodweather is assigned to handle the incident, but when they find a mysterious item in the cargo hold, something that doesn't appear in the plane's manifest, everyone realizes they're about to face something unprecedented. Something that will bring humanity to the edge of extinction in just a few short months.

I've actually read the novel The Strain and the sequel, The Fall, and being a fan of those, I was excited to see a more visual take on this modern-day vampire story. This first issue sets things up nicely, with introductions of the aged vampire hunter, Setrakian, and Dr. Goodweather, a man who's good at his job but in many ways is willing to put his family first. The comic, scripted by David Lapham (Stray Bullets, The Darkness) does spend a few generous panels on Ephraim's personal life, namely his divorce from his wife and the strong bond he has with his son, Zack. Even if I hadn't already read the novels, I could tell Ephraim's relationship with his son is going to play an important part in the story.
The artwork by Mike Huddleston (Harley Quinn, Batgirl) and Dan Jackson is solid, with an overall dark and muted color palette and the occasional splash of color (like Sardu's red cape). There were a few panels where I felt there was some cutting of corners, like when we see lines of police and emergency vehicles and the lights look like blobs of pinkish red. Or light sources from flashlights have a hard edge to them, making them appear like muzzle flashes.
The Strain #1 is a solid start to the graphic novel series, and it ends on an appropriate cliffhanger. If Twilight isn't your thing, and you're more of a CSI fan, give The Strain a shot.