After a month of working we're going to go back to a simpler time. Well, simpler in terms of not having to pay bills and rent, but emotionally — being a teen is still a burden. For July we'll focus on shows that were geared towards teenagers and, in most cases, were all about them and their experiences. So in my mind there was no better place to start than The O.C. Remember the addiction of this show in the early '00s?
Name of Episode: "The End's Not Near, It's Here"
Premiere Date: August 5, 2003
Finale Date: February 22, 2007
Site: The O.C.
Impact on Pop Culture
It'd only been a few years since another show about rich kids in Southern California went off the air and for some reason Fox could not stand the absence. In walked The O.C. and it didn't take long for this show to become the must-watch event of the week for teens and tweens. I remember a cool jock type guy in high school talked to us about it the day after it aired in AP Art History class. It was that darn good that a cool kid would speak to the brains about it. We fell for the drama, we fell for the soundtrack, we fell for Seth Cohen. Adam Brody breathed life into this character and it's arguable that all these years later, he's the most memorable and beloved person from that show. Still today, there are people out there who praise his performance based solely on him being the ideal mate. Who didn't want a Seth Cohen by their side? Uh, crazy people, that's who. Of course, the show had many highs, but man oh man the lows — they killed off a main character and after that the show got rocky and some fans (me) decided to move away from the sunny drama of the show. Despite losing some of their dedicated fan base along the way, The O.C. still remains high on teen show lists today.
Facts & Stats
Ben McKenzie was working as a telemarketer when he got cast as the rebel Ryan Atwood.
The show's creator Josh Schwartz kept Princess Sparkle and Captain Oats after the series ended.
Olivia Wilde was one of the two finalists for the role of Marissa Cooper. She obviously didn't get it, but did get cast as Marissa's girlfriend in season two.
The pool in the Cohen's backyard was only four feet deep.
Early on in the series, they wanted to make Ryan Sandy's illegitimate child. Now that would've been a twist!
What I Knew Before Watching the End
Day one I was there with my eyes on the prize, instantly sucked into the story of this rebel from Chino decked out in a wife beater who was being saved by a rich man with bigger than life brows. Of course, like many, the prize went from a new show to love to Seth Cohen. To this day his relationship with the girl-next-door Summer Roberts is still one of my favorites from the small screen. So before this finale, I was well aware of their history but after Marissa went and died, I just didn't care all that much for the show. As much as I wanted to find and marry my own Seth, things had gotten a little too out there for me to keep up with. Plus, I was heading into college and TV was taking a backseat to concerts and, well, concerts. I wish I could say I had more of a social life then, but nope. Fun fact though: I did try and make my first college boyfriend into a Seth — yeah, that didn't last.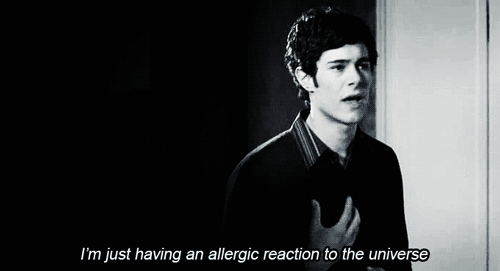 Final(e) Thoughts
There were plans to watch this finale the night it aired, but I had a concert that night and just never got around to it. So honest truth, this weekend was the first time I ever took the time to watch the series finale of The O.C. and, well, it was okay. Okay, it was better than okay as far as standards for a finale. Loose ends were tied, there were weddings, babies, moving on. It felt like a true blue finale. So placed in the barrel with the other shows watched in this series it was better than okay, but at the same time, was it what I wanted? I went back and forth from loving how they wrapped it up to being like, hmm, why do things always work out well for people with money?
Perhaps that thought spawned from watching a program about race and the LAPD in the early '90s the night before watching this finale, but rich people — life always works out for them and that was the case with this finale. The Cohens can't move back into their house because of earthquake damage. They have a baby on the way and nothing in Newport Beach feels right. So what happens? The couple inhabiting their old home in Berkeley finally decides to sell their house to the Cohens after a baby is born and a wedding almost happens there. Of course. In reality, who has enough money to just fly upstate AND who has a billionaire friend with a private jet? I get this was a nighttime soap of sorts but come on. Rich people problems being solved easily aside, them getting that house back and starting anew in Berkeley with a new baby, that was a beautiful way to move on to the next chapter of their lives as everyone else did the same.
When a show ends you want that growth. Life is all about growth. If you are ten years out of high school and 100% the same, you are a boring person. You've allowed nothing in your life to change, nothing at all? We saw the once spoiled Summer turn into an activist, we saw the lovestruck Seth let the one he loved most go for her dreams (knowing all too well that they'd be okay), we saw a once-upon-a-time rebel head off to college and make something of himself, we saw the neighbor with one too many lovers actually accomplish something for herself instead of for a man. Growth. This show ended with a heap of it and I was quite surprised by that. Mainly because its predecessor Beverly Hills, 90210 was such a… well, there wasn't much greatness found when that left the air a few years prior.
Ignoring the fact that people with money will almost always have their problems solved within an hour's time, The O.C.'s finale ranks high thanks to delivering three-dimensional characters who grew by the time things wrapped up.