Whether you're the mean girl whose social circle is full of plastics or the loner who only has one friend to call their own, friendship is something we'll all experience. Since most of us find a friend long before love, it's no surprise that a ton of sitcoms focus on a group of likeminded individuals who share their lives and, later, romances with one another. When it comes to a girls' night, I know there is no other show that could ever compare to The Golden Girls. Every generation since it went off the air has found their way to it, and every time they fall madly in love with a show about a group of four old ladies, each with a personality more lovable than the other.
Name of Episode: "One Flew Out of the Cuckoo's Nest"
Premiere Date: September 14, 1985
Finale Date: May 9, 1992
Fan Site Shout Out: Golden Girls Central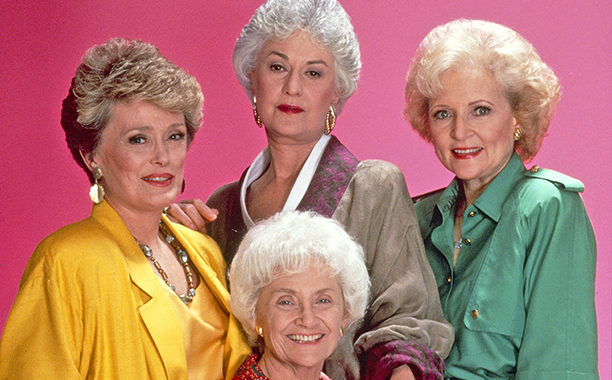 Impact on Pop Culture
At the time I'm sure a show featuring four older women was a shock, even more so when it became a hit and lasted seven seasons. Again, though, people continue to fall in love with these gals over and over again because it's a well-written sitcom that's hilarious but heartfelt. Plus, with each character being so different from the last, they've managed to outlive the actors that played them. All except Betty White because she's immortal. You're a Rose if you're a little ditzy, a Dorothy is you're blunt, a Sophia if you're feisty and, of course, a Blanche if you aren't afraid of your sexuality. Based on the amount of Golden Girls t-shirts worn by people in their 20s and 30s, it's hard to argue the lasting power and influence of this show. I'm sure in time my 4-year-old nephew will be wearing a tee with Bea Arthur on it when he's a teenager.
Facts & Stats
Poor Bea Arthur — she hated cheesecake in real life.
By the end of the series every character had been married or engaged.
Although she appeared the coolest, Estelle Getty had horrible stage fright.
In the end Rue McClanahan got to keep all of Blanche's clothes. What a score!
Every actress won an Emmy for their performance. That had only been done by All in the Family before them and Will & Grace after them.
What I Knew Before Watching the End
Thanks to syndication and not being able to sleep at night, I knew just about everything before watching this finale. I'd even seen it a few times, and it never fails to make me bawl. In a world where we're stuck to devices and texting, it's weird to see friends just sit, face to face, and be with one another. Anyways, every character has a special place in my heart but it always gets me thinking about which Girl it was hardest to say goodbye to in the end.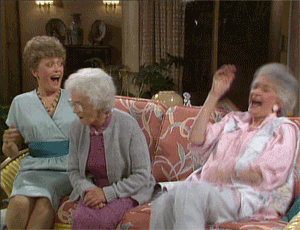 Final(e) Thoughts
The only people who don't know the premise of this show have to be the Amish, and I'm pretty sure they've even heard through the corn fields what it's about: four older women who come together later in life after their husbands are gone by means of death or divorce, and their children are grown. I have to point out that the show is summed up beautifully in the finale when Dorothy states what her mother has taught her and notes, "Life does not end because you reach a certain age." We're quick to dismiss people once they celebrate a particular birthday but this show proved that it doesn't matter how old you are, you can still sleep around, have adventures, and make new, longstanding friends.
In the end Blanche sets up her Uncle Lucas and Dorothy so she can go out and hook up with some new guy. When they learn they were tricked into the date, they fake a proposal but after only a few days fall for one another. Leslie Nielsen guest stars as Uncle Lucas and after he really pops the question, it's clear that Dorothy will be moving back to Atlanta with him. Sophia plans to go with them at first, but then decides to stay with "her girls" in Florida. If that does not make you weep, you're heartless.
What makes this a great finale is that there is a life-changing goodbye, a final growth for the show. Yes, they tried to keep the story going without Bea in a spinoff but I don't count that show. Anyways, it was a nice cap on their story and their friendship and since I've been doing some research on growing up for another site, the fact that Sophia tells her daughter that she needs to go on without her and have her own life, that shows a real life factor of life that needs to happen. We need to be ourselves and grow away from certain people in order to grow in a new direction.
All in all though, it's a pretty quick finale. I know the night it aired it was two parts airing in an hour span, but the pace was fast. They meet, fall in love, get married, and adios. I personally understand how fast love can take you over, but I only wish Uncle Lucas would've come around a little beforehand so they had maybe a couple of episodes of history. So while a great finale for the show as a whole, I'm not sure a first time watcher would care all too much about it.