One of the most syndicated shows in history, I was very surprised to learn The Brady Bunch only ran for five seasons. While it didn't last as long as one may've guessed off the top of their head, it's forever synonymous with classic TV and fits in just right with this month's theme. It also continues the tradition this month seems to have with crappy finales that give no real closure to the series.
Name of Episode: "The Hair-Brained Scheme"
Premiere Date: September 26, 1969
Finale Date: March 8, 1974
Site: The Brady Bunch
Impact on Pop Culture
A few years before The Brady Bunch came to be, creator Sherwood Schwartz was flipping through The Los Angeles Times and read an article that said 30% of marriages at the time had at least one kid from a previous marriage. Likely wanting to showcase more of a reality based show than his last hit, Gilligan's Island, did, he started to lay the groundwork for the Bradys. For five seasons The Brady Bunch did okay, but it was in syndication that it really hit its stride. The universal themes dealing with growing up and family spoke to each generation it has come across since.
Facts & Stats
464 kids were auditioned for the roles of the Brady kids.
TV was weird back then. Censors didn't want the toilet shown, hence why the bathroom didn't appear to have one.
Although many think this was the first show to showcase a married couple in the same bed, that was Mary Kay and Johnny.
Although TV Guide voted Mike Brady one of the best TV dads ever, Schwartz didn't believe so. Word is that Robert Reed was such a bad employee that the creator thought about killing him off.
If the series had gone on to have one more season, Schwartz would have written it in that Carol become pregnant with twins.
What I Knew Before Watching the End
Anyone with a TV has seen this show at least once. The luckier ones have watched the ridiculous movies that came in the '90s based on the pop culture staple. So before watching every character was in place, the theme song was set, and I was ready to go. What I didn't expect was one Brady being MIA.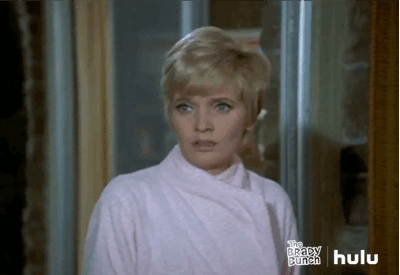 Final(e) Thoughts
When I went to find the title for this episode to ensure that I was watching the right one on Hulu, I read that Mike Brady was not in it. This wouldn't have bothered me if this was a season finale, but it was the last time this cast was together in this sense and he opted out because he didn't like the storyline about the stupid hair junk Bobby was selling? Again, this guy was voted one of the best TV dads ever, but in the grand scheme of things this episode saw Greg graduating and no parent is the best if they miss that. Just saying.
Which, this series finale had a lot of potential to be very moving and sentimental with a graduation but instead they treated this milestone in their eldest son's life as just another day. What seemed more important was Bobby and Cindy's get-rich-quick schemes. I get the babies of the family are always hogging the attention, but a graduation coming in second to rabbit breeding and hair product? Seems a little out of place for a family that takes being close to an extreme.
Because they failed to care about this graduation and make it a moment, I have to say I'm rather disappointed with how this panned out.