Welcome to the month celebrating what most of us '90s kids can agree was the perfect bookend to our week dealing with homework, being "it" at recess, and all the other drama that came with being a kid then — T.G.I.F. Other than the idea of Saturday Morning Cartoons, this was the highlight of the weekend. Every show was a gem in its own way; even the short-lived series Teen Angel was up their in the ranks. That's why this month we're going to either be reliving the series finales of some of the best the Friday night lineup had to offer, or for some, are hearing about them for the first time. Without further ado, we're starting with the most magical of all — literally — Sabrina, the Teenage Witch.
Name of Episode: "Soul Mates"
Premiere Date: September 27, 1996
Finale Date: April 24, 2003
Site: Sabrina, the Teenage Witch
Impact on Pop Culture
Will this show go on to move mountains and be in a time capsule somewhere among the likes of Friends and M*A*S*H? Likely not, but what it did was give kids a taste of something old and new all at the same time. Based on a comic series, Sabrina took that idea and brought it into the way modern era of the late '90s and early '00s. The fashion itself was something to be marveled, but on top of that were the parade of guest stars that were, at the time, possibly the coolest thing to see ever. Hello, Backstreet Boys playing basketball and Brian Austin Green being the perfect date.
Facts & Stats
Beth Broderick, better known as Aunt Zelda, left the show because she felt like her character didn't have any more room for development.
Sabrina and Salem were the only characters to appear in every episode.
A few cats played Salem over the course of the series.
Some of the biggest artists from the '00s were on this show: Eden's Crush, Sixpence None the Richer, and Daniel Bedingfield. Big then, not so much now.
There are rumors swirling that Sabrina may be coming back to TV — perhaps she has her own teenager this time?
What I Knew Before Watching the End
Let's admit it though, the downfall of this show came when Sabrina graduated and went from a teenage witch to a not-so-interesting adult. Plus, her love affair with Harvey was put on hold while we watched her date other men. Um, gross. So when she headed off to college, I was less stressed about tuning in every week but I could likely get a solid B+ on a BuzzFeed inspired quiz about the ins and outs of this series. Try me!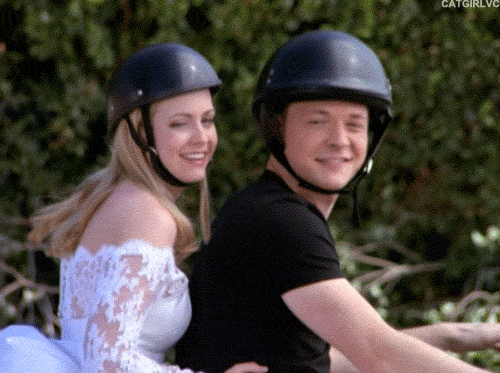 Final(e) Thoughts
It's a little biased to say, but this is one of my all-time favorite finales and I'm going to tell you why. Again, this show wasn't the greatest but you can bet I'll watch a rerun without a doubt. But when it came time for it to end, I had to make sure I saw if she ultimately ended up with the one guy we all knew was it from the start. I know winding up with your high school sweetheart is so 1954, but the idea of love lasting forever in a television show is what viewers love to see. Had Rachel not gotten off that plane, you can bet there would've been a larger than life riot outside NBC studios.
Look at how bad fans took the ending of How I Met Your Mother. Really, the mother was some random chick who wound up dying? Cool guys, cool. Back to Sabrina though. The episode itself was quick and easy. She's supposed to get married to Aaron, wakes up with blocks of ice on her feet symbolizing the dreaded cold feet, meets doubt, sees her and Aaron's soul stones don't match, and then draws out the wedding ceremony far too long until realizing that she was meant to be with Harvey the entire time. That is seriously the play by play of the episode minus the snarky remarks from her feline friend.
Would I have loved to see both aunts at the wedding and Sabrina's OG parents? Yes, of course — those are the little things that make you sit and knock off points, because when things come to an end, you want to feel as whole as Harvey and Sabrina's soul stones made one another feel. On that note though, I will stand by this finale because it did the top thing fans wanted — it ensured us that our favorite teenage witch lived happily ever after with her first love. As one of my favorite TV couples ever, it's hard not to cry every. single. time this episode is on.
So on a personal level, this finale did what fans needed it to do. On a broader scale, it'd be hard to really grasp the importance of Harvey and Sabrina's soul stones perfectly matching at the end. A newcomer to this finale would likely find the show laughable, possibly not in a good way, and brush it off as something only a person who grew up back then could ever really care for. With all that said, I'll come at this as a person who loves this show enough to know that when stacked up against the rest it fares better than Seinfeld because it wasn't drawn out nonsense, but it isn't as concrete as The Wonder Years.