Suburbia has always frightened me. Houses that mirror one another, fake smiles and salutations from neighbors, and homeowner's associations? I'd rather live in the ghettos. This month has covered the anti-suburban mindset of television — shows that showcased families who would scare the crap out of perfect subdivisions. From Archie Bunker back in the day to the mobsters of The Sopranos to the Conners. There couldn't be a better family to cap this month of dysfunction off, so let's get to the one and only Roseanne.
Name of Episode: "Into That Good Night"
Premiere Date: October 18, 1988
Finale Date: May 20, 1997
Site: Roseanne
Impact on Pop Culture
The number one family when Roseanne came out were the Huxtables. They were well-off and really put a light on the brighter side of what a black family could be. They weren't living check to check seeing how both parents were well educated, and their kids were all picture perfect. Then in walked the Conners and, well, they were anything but. Roseanne and Dan were working class and their kids weren't exactly the student of the month type. Becky was doing well, but then she met Mark and, well, you know the story. This show was the polar opposite of The Cosby Show in many ways and people really attached themselves to it. While we love to get lost in heartfelt stories and even the fantasy of shows like Melrose Place, audiences like to see people like them on TV as well.
Facts & Stats
Many well-known writers once worked on the Roseanne writing staff: Amy Sherman-Palladino, who created Gilmore Girls, The Big Bang Theory's Chuck Lorre, and just a little guy you may know, Joss Whedon.
All three of Roseanne Barr's husbands appeared on the show during its run.
Macaulay Culkin was once considered for the role of DJ.
Speaking of child stars, Oscar winner Leonardo DiCaprio, Joseph Gordon-Levitt, and Tobey Maguire all had bit parts in the series.
Johnny Galecki's character was originally named Kevin.
What I Knew Before Watching the End
Watching as a kid, there was a lot I missed but I knew I identified with Darlene and that I wanted a boyfriend like David one day. When I got older I would watch the hell out of reruns, and you can even find me deep in a marathon from time to time. Unless of course it's that ridiculous last season. The characters and stories were very familiar to me and all these years later, I was still confused and mad about how it all ended.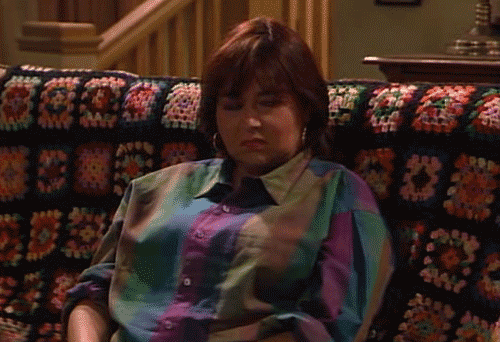 Final(e) Thoughts
The first time I ever watched this finale, I was like, "HUH?" I was 10, my mom wasn't home and I remember calling her and trying to explain what happened. I failed. Fast forward to today, almost two decades later and while I understand it now, I'm still like, "HUH?"
When all's said and done, we're to believe Roseanne had just been writing about her life this whole time and that she'd changed aspects about it she did not like. In reality, that whole last season was completely made up because they'd not won the lottery, but rather — Dan had passed away after the heart attack after Darlene's wedding. You have to wonder if that had been the plan all along or if they said that just because so many hated that final season. Like, "No guys, we didn't really start to live lavishly — it was all made up."
Anyways, when shows are "all a dream" in the end it feels like you were cheated. You watched for x-amount of years only to find out that nothing you felt so passionately for was even real. I mean, I know it's not real anyways because it's a TV show, but you get what I'm trying to say? As someone who absolutely loved Darlene and David, it was a shot to the heart to learn Darlene and Mark had been the couple and David had really been with Becky. Also, if Jackie had really been the lesbian and not their mother, does that mean she wasn't a failure at love? We saw her constantly date and fail with men throughout the years, but — uh, I'm confused.
What's funny though is that the idea of this show being a story based on a working class woman's life, with some parts she didn't like changed a bit, wasn't well-received. But it kind of went out the way Newhart did. Newhart's finale is regarded as one of the most memorable, while Roseanne's was dubbed one of the most forgettable in 2011. Why though? I think it's because the Conners were based so much in reality, that to find out it wasn't what we thought it to be, it was a letdown. This is one of my favorite shows, possibly top three, but this finale is one of my least favorite. It's right up there with Dexter's final run. In fact, both of those shows went on one season too long.