Looking at the NBC lineup today, it's kind of hard to believe that once upon a time they owned a whole night of television. Yeah, they have The Voice but when no one remembers who wins those shows, it's basically a ratings machine that's void of a soul. So when it was time to look back in time at the shows that once not only called this network home but lived on its most prominent night, it was surprising. Most of the shows we think of as great TV were once a part of this night and lineup, including My Name is Earl. Yeah, it doesn't have the pop culture icon prowess of Seinfeld or Cheers, but what it did was give normal (aka broke) people a chance to see themselves on TV once more. Before that we had Sanford and Son and The Jeffersons before they moved on up. With that, let's get to the final episode of a show that's as great in syndication and on Netflix as it was when it aired on a weekly basis.
Name of Episode: "Dodge's Dad"
Premiere Date: September 20, 2005
Finale Date: May 14, 2009
Site: My Name is Earl
Impact on Pop Culture
There's something about living that low income life that makes you smile when you see people on TV that aren't as financially unstable as you. Race representation matters greatly, but so do levels of class. Modern Family and Black-ish boast about this idea of bringing a much needed case of diversity to the family dynamic on television but watching those when you live check to check isn't always ideal. When their plots deal more with first world problems, it's a bit of a turn off. That's why My Name is Earl resonated with the fans it did. People like my mom, who have lived in a trailer for over two decades now and once battled a very heavy gambling problem, loved this show. It's also the reason I feel The Middle stands out from the aforementioned ABC hits. Giving audiences people who don't "have it all" is and was refreshing, to say the least.
Facts & Stats
Ethan Suplee was discovered for the role after the show's creator saw him in Without a Paddle.
Jason Lee was once a professional skateboarder.
Giovanni Ribisi, Alyssa Milano, and Ben Foster have all guest starred on this show.
Someone says "son of a bitch" at least once in every episode.
When the last episode aired, Earl had completed 95 of the 277 items on his list.
What I Knew Before Watching the End
Never a show I tuned into when it was actually on the air, I started watching this show thanks to reruns and got the concept right away. Earl was a horrible person who had a near death experience that inspired him to make good on all the bad he'd done in the past. Whether it was when he wore a shirt that landed his friend in prison or pretended to be dead so he didn't have to face breaking up with a girl, he was going to atone for them all, and I saw him do a lot of them thanks to the lovely people at TBS and Netflix. Plus, I liked the show even more after I got into Raising Hope, which was created by the same guy.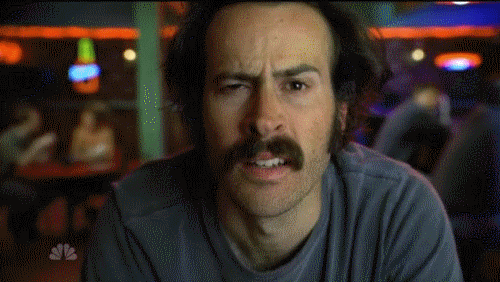 Final(e) Thoughts
This was the last episode to ever air of My Name is Earl, but it went away with good intentions of coming back — NBC just didn't feel the same. So what was a season finale became the series finale. Either way, we're going to still talk about it.
Earl was once married to Joy and thought her first born was his, but he wasn't. Well, it then comes to light that the guy Joy claims impregnated her didn't and Dodge really was Earl's all along. The big twist came when Earl Jr. wasn't Darnell's. While it's a hilarious episode that fit in well with the rest of the show, what sucks is that because of a cancellation, we'll never know if Earl started acting like a father to his son-not-son-son-again, or who Earl Jr.'s real dad is. While that mystery worked in The Sopranos, here it just leaves you feeling like you got robbed. It'd be like Sabrina, the Teenage Witch ending with Sabrina leaving the wedding and us never seeing if Harvey was actually there waiting for her, or if we were left wondering who Joey finally wound up with on Dawson's Creek. The only other time this worked, other than The Sopranos, was when the plane landed on Frasier. We were left wondering if, or rather hoping, he'd finally found love.
Of course this is by no means the show's fault. They didn't expect to never come back BUT the creator has said since then what he would've had happen if the show hadn't ended abruptly. Earl wouldn't have completed his list, and Earl Jr.'s dad would've been someone like Lil John. However, on the creator's next show, Raising Hope, a newscast says in the background that a local man completed his list. So, perhaps Earl does complete the task. Of course, we'll never really know and because of that, I'll say this was just a so-so finale. The mystery will keep us guessing but not in a "search for conspiracy theories online at 3am" kind of way, but more in the "you're talking about old shows, My Name is Earl is mentioned and you talk for five minutes about what may've happened" kind of way.
While not as random an unexpected ending as we've seen from Taxi and Married…with Children, it still ranks low due to the "To be continued…" never continuing.