We've had crude and rude families this month, and even some that wouldn't think twice about making shifty neighbors swim with the fishes. This week's show features a family that could be paid based on the mere volume of their mother's incessant yelling. Lois may very well be one of the best mothers to ever have graced a small screen, and we all know what Hal went on to do out in New Mexico, but the real reason this family will always be one of the most dysfunctional yet lovable is the insanity that bound them together.
Name of Episode: "Graduation"
Premiere Date: January 9, 2000
Finale Date: May 14, 2006
Site: Malcolm in the Middle
Impact on Pop Culture
Looking back, you'd like to think shows like Arrested Development and The Office are the ones to really shift us into wanting comedies without the laugh track. I, too, would've said they were some of the first to do so, but we'd all be wrong. Malcolm did the whole cold open thing that had absolutely nothing to do with the actual plot before The Office aired on any continent, and it also was void of a studio audience and a laugh track a few years before the Bluths joined them on Fox. The one thing Malcolm did take from another show, though, was the breaking of the fourth wall. Malcolm would often talk to the camera like Zack Morris and make us feel like we were a part of the actual show.
Facts & Stats
They were very vague on this show. It was never revealed what city they lived in or what Hal even did for a living.
While we never knew where they lived, the outside of the house was a home in Studio City.
Aaron Paul wanted the role of Francis, but never even got the chance to audition. It may've been too weird to see him with Bryan Cranston on Breaking Bad if he had landed the role.
Fox almost never had this one. It was originally planned to go to UPN. Remember when that was a channel?
They had some of the best guest stars — some before they were household names, and some icons: Eric Stonestreet, Ashlee Simpson, Magic Johnson, Hayden Panettiere, and Bea Arthur, just to name a few.
What I Knew Before Watching the End
Growing up the brainy middle child in between two mischievous brothers, this show was an early favorite of mine. So before I rewatched (and wept during) the finale, I knew the characters and what they were all about. While I'd watched heavily, I really could not recall the exact plot of the finale, only the final scene. Returning to it, though, made me want to binge the entire season all over again all these years later.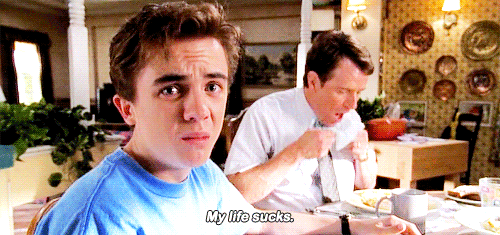 Final(e) Thoughts
The day has finally come with the finale. Malcolm has obviously worked hard to earn the top spot in his class, and while his family is proud he's going to be valedictorian, they're also stressed about how they're going to pay for college. Scholarships and whatnot aside, they're still a little short. While one son is preparing for Harvard, his older brother Reese is looking forward to being a janitor at their high school after graduation, and Dewey is looking to hold onto anything that will keep that brotherly bond in the house once those two move out and on with their lives. Oh yeah, and his dad is doing anything possible to make that extra money for him.
Without even knowing what came before the moment when Malcolm's mom, Lois, takes a six-figure job offer off the table for him, you can tell what kind of mother she is. She isn't a helicopter mom, she is a kamikaze pilot parent. She will do whatever she has to for her kids, but in the most brutal way. As someone who grew up with only a mom working check to check, I know what it means to be without financial security and I know what it's like to have a mom teach you about the value of working harder than most, even when the payoff isn't as instant. So if there was any scene that fully captured the essence of this episode, and frankly the series, as a whole, it was when Lois blew up at Malcolm when he went off about the job offer. I got flashbacks to a similar (with less yelling) conversation I had with my own mom a few years ago when it seemed like everyone around me was heading towards success. She and Lois are wise women, and just had to tell their children that life sucks, but you have to keep working your butt off despite what those around you have because when you finally reach that point of success you've been striving for, you'll appreciate it a hell of a lot more than those who didn't.
It wasn't a drawn out finale, which I think would've ruined it in the end. It was a good ending that not only summed up things but also gave us a look at where these characters were eventually going. Unlike The Sopranos that consciously left us wondering, Malcolm let us sort of know where the characters were heading next in life. So if they ever wanted to pick the show back up for a special reunion, we would not be surprised at where they were today.