Done and done with a month-long look at the Must See TV of the past, and now onto shows that are often considered the classics of television. The shows that are timeless, meaning that no matter which generation is watching, they are finding them as entertaining as the people that came before them or that will come after them. That's why we had to start with what I consider the best TV series — ever. Sorry Breaking Bad, it ain't you. I'm talking about I Love Lucy.
Name of Episode: "The Ricardos Dedicate a Statue"
Premiere Date: October 15, 1951
Finale Date: May 6, 1957
Site: I Love Lucy
Impact on Pop Culture
Over the years I Love Lucy has been regarded by numerous outlets as the best show to ever come across a small screen and for good reason. Not only was it the first show to be shot on 35mm film, but it also set the comedic, sitcom standard for every show that followed. What I find the funniest is that while the addition to a show today may seem like jumping the shark, for Lucy it was golden and regarded as a momentous occasion. Today the show is still in syndication all over the world and continues to find new fans with each passing year.
Facts & Stats
Lucy was one of the first programs from the US to be shown on British TV.
In 2013 more than eight million people tuned in to see the colorized Christmas special.
The original plot was supposed to follow Lucy and Desi's celebrity lives, but they were smart and noted how no one would be able to relate to that.
Lucy was 41 when the first episode aired. Proving that you're never too old to make it in this world.
While many often skip over this, I Love Lucy was indeed the first show to showcase an interracial couple.
What I Knew Before Watching the End
This was a show I absolutely loathed as a child because what kind of kid wants to watch black and white when there are Tiny Toons to be seen? I quickly learned to love Lucy as much as the title said thanks to my then sister-in-law refusing to watch anything but. So I grew up with this show and to this day will watch if I see it's on. The comedy still holds up and before watching this last episode, I was pretty familiar with all Lucy had to offer and her damn antics that never failed to make me laugh.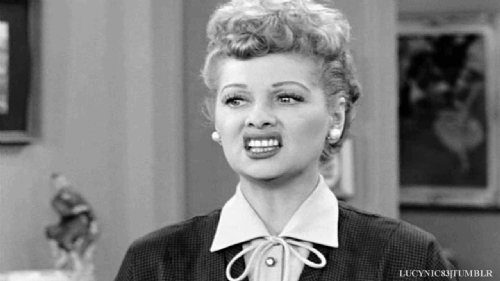 Final(e) Thoughts
Did you know that after I Love Lucy, these characters went on for a few more seasons under a different title? Well I found that out but decided that nope — we'd watch the final episode of I Love Lucy because here, the name means everything. With that, this is not an official finale of sorts. There are no goodbyes, no deaths, no wrapping things up. It's the same typical hilarity you'd see week to week, and while that's appreciated, you have to knock them down points for not doing something to at least cap off the I Love Lucy chapter of these characters before they moved onto something else.
So in this episode Lucy has an event to plan, all while trying to convince Ricky that their dog is well behaved. Yeah, not really a momentous finale compared to other shows. She acts like a dog, ruins a statue, paints herself like said statute and, of course, makes a damn fool of herself to make us laugh BUT this could have been any episode at any time of the series run. Well, any time after they moved outside of the city.
Even looking at the other three seasons that came after, that final episode didn't really do much either. Did they not know what series finales were back then? Maybe because TV was still in the beginning stages they didn't realize that you had to give fans an ending. Not just roll some credits over the last script you wrote, and then call it a day. It sucks because this show is so iconic. It set so many standards but missed the mark on making a lasting impression with a finale. While I love you Lucy, I have to say this is going to land you lower on the final finale list than I would have liked.