I'm afraid I will never see how Carrie Bradshaw will end her time in the city of sex because she's once again been replaced. Still having trouble finding the HBO show somewhere online, I had to replace her with a whole new option that went with this month's theme of "ladies night." After the excitement circling around the mini return of Gilmore Girls, that was the obvious choice.
Name of Episode: "Bon Voyage"
Premiere Date: October 5, 2000
Finale Date: May 15, 2007
Site: Gilmore Girls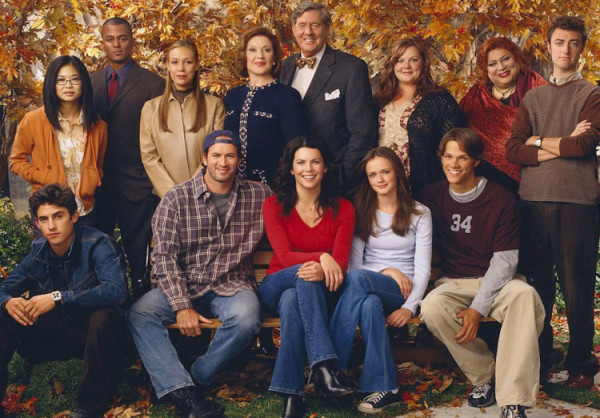 Impact on Pop Culture
This show came when The WB was on top of its game. They were all about representing teens and along with that came the kick ass ways of Buffy, the emotions of Dawson, and the smarts of Rory Gilmore. Plus, to me, it was one of the first shows to really focus in on a mother-daughter relationship that was void of a father figure, or some other outside force. Yeah, Rory had a cascade of insanely attractive boys come in and out of her life and apparently a whole town that loved her, but at the core of that show was the bond between Lorelai and Rory. Make any list about moms and their daughters on the small screen and you can be sure that these two will sit at #1.
Facts & Stats
Stars Hollow was based off a real place called Washington Depot, Connecticut.
Alexis Bledel was applying to be a waitress and a census taker when she decided to try out for the role of Rory.
Usually a page's worth of script takes a minute to read through on any other show. The fast talking of this show cut that down to about half that time.
Creator Amy Sherman-Palladino wrote for Roseanne before having her own series.
If you thought the "kids" on 90210 were too old to play high schoolers, Keiko Agena (who played Rory's BFF) was 27 when she landed the role.
What I Knew Before Watching the End
Very little. When this show came out I knew one girl who watched and she went on to become our valedictorian. In my head this show was for super smart girls. Yeah, we had a lot of the same classes but the type of smart I felt related to Rory were the girls who knew what they wanted to do with their intelligence. I'm almost 30 and I'm still unsure about too many aspects of my life. Other than that, I knew the names of two characters and that attractive boys in Tiger Beat were always cast, and I was like — really, in life I don't see these hot dudes hanging around the AP classes. Lastly, I know this show has one of the most diehard fan bases. Superhero fans think they're intense, and then they meet a Gilmore Girls fan and feel small in comparison.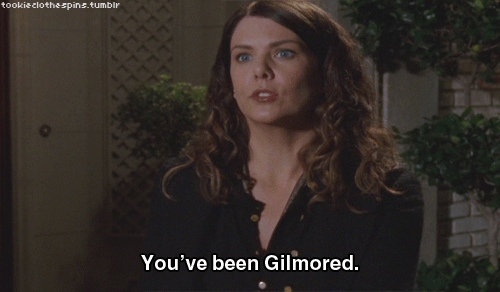 Final(e) Thoughts
About 15 minutes in I was ready to walk over to the computer and tear this show apart. As someone who has to make a living putting words down, I was so annoyed by the fact that Rory walked out of college freaked out about what to do in the world of journalism, went out for one drink to network, and landed on Obama's campaign trail. I get it's just a TV show and that in reality things don't work out that easy and that Rory is Stars Hollow's perfect specimen and she needed to succeed in the end, but really? I sat up, jotted down some notes in anger, laid back down, actually laughed at something and then not even 10 minutes later tears were rolling down my face.
Like I said before, this show at the core was always about the mother and daughter and, not having seen any other episode, I felt that after watching less than an hour of them onscreen together. I was a little creeped out that they were that close that they'd be planning a cross country trip after Rory graduated college, but how Lorelai reacted to her daughter having to leave in a few days after landing a dream gig — that was real. Every mom gets like that, they busy themselves to push the fact that their baby is leaving the nest, and the idea that they won't just be a drive away. Hell, parents who have that deep connection to their kids would react like that seeing their kids move down the street. Again, watching their interaction, it made me want to call my own mom to just tell her I loved her, but it was nearly 2 am and she would've just tossed some profanity my way for waking her up.
Another thing you could see was the importance of the town and the relationship the main characters had with all the minor ones. Not every show will end showcasing the little guys but this one did so in a manner that highlighted how much they meant to Lorelei and Rory and how much that mom and daughter meant to them. Coming from a small town… while I hated it due to the boredom, I know it's the absolute best place to raise a child with a real sense of self and community, much like Rory left with. Don't you agree that people who grow up in cities are just more smug about life, they feel like the sun of the universe? Had this show been set in LA, no one would've done half as much as anyone in Stars Hollow did for that girl's going away party. They would've just hired a party planner or had their assistant phone it in.
In the end I will say more shows need to showcase writing careers like they do on Difficult People, I could not stay mad at this show. Like with M*A*S*H, I'd never seen this show and I lacked any sort of connection to the characters but you cannot deny great writing and characterization. You may see this one in the top 10 come the end of this series.