It's hard to put all the shows that have ever graced the T.G.I.F. lineup on a list and pick the best because we all have favorites for different reasons and this week we are not ending with mine. Boy Meets World is not only one  of my favorite shows ever, it's my #1 from Friday nights as a kid. Alas, I wanted to end this month with one that can take anyone back to those nights at the end of a grueling school week, a show that has continued to bring joy all these years later, a show that, like Boy Meets World, continued on with a new chapter — none other than Full House. From the catchphrases to the crush Uncle Jesse spawned in 99.9% of those who watched, Full House is likely the king of the lineup when compared but, dang, their finale was kind of a bummer, right?
Name of Episode: "Michelle Rides Again"
Premiere Date: September 22, 1987
Finale Date: May 23, 1995
Site: Full House
Impact on Pop Culture
Other than the catchphrases that continue to be synonymous with this show, the biggest thing this show did for pop culture was birth the Olsen twins. Yes, the show didn't create their adorable, identical (they're actually fraternal, what?!) faces in a lab — but it may as well have. Outside of the show, those two were giants in pop culture. It's hard to believe they went on to be semi-normal adults. One is married to a man who could likely be her grandpa, but dang. You have to respect the empire they, and their team, built over the years, from big and small screen movies that dominated the VHS game to dolls, clothing, and more. Full House may've been the starting point but the Olsen twins' billion dollar accounts were the large result. It's sad one of them couldn't find the time to make an appearance on Fuller House but something tells me the success of the first season will garner Mary-Kate's and/or Ashley's attention.
Facts & Stats
Before they settled on Full House, they wanted to call the show House of Comics.
Word on the street is that Mary-Kate and Ashley Olsen landed the role of Michelle because they were the only set of babies that didn't cry when they auditioned.
The location of the house used for the classic outside shot is 1709 Broderick Street in San Francisco.
Bob Saget said the first line in the pilot and the last one in the finale.
What I Knew Before Watching the End
Was this one of the cheesiest shows ever created? Yes, yes it was but ugh, but why was it so dang addicting? I watched it growing up, I watched reruns as a teen, and today as an adult, I spent a few sleepless nights binging on the Netflix show that picks up with DJ's life alongside Stephanie and Kimmy. So when it comes to what I knew before the finale, I was well versed and even remember watching the actual finale back in the day and being weirded out at the sort of dark turn this Gouda show took.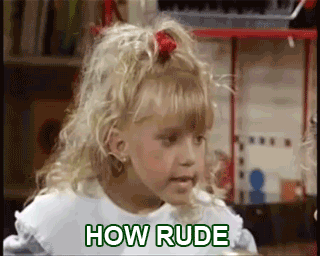 Final(e) Thoughts
Without knowing the show, if you grew up in the '90s you know how big of an asset the Olsen twins were. So when they went and made Michelle lose her memory after falling off a horse — dead. Plus, first time watchers would freak because they put one of their youngest family members at risk like that. Will they allow her to remember anything by the end, will she be fine, will we never know? Of course things get pretty emotional after everyone in this extremely large household tries to get this amnesia patient to recall her life before the horse accident. Talk about a comedy turning into a soap opera drama real fast. All is well though by the end as Michelle regains her memory back and you have to shed a little tear because the kid is okay people, the kid is okay! What I liked though was that DJ seemed to have gotten the only prom date she really would've been happy with: Steve.
Here's my problem with this finale: it's very Michelle-centric. I get the Olsens were the hot commodity then but come on — there were 500 other people in this family who needed a few more shake ups towards the end. All Stephanie got was a kiss? Also, it was a little annoying when the family said they got through Michelle's injury and Danny says, "Just like we always will." Knowing the show, I know that this family never dealt with too much realistic turmoil. Only being a widow in the pilot, and that was almost a decade prior. So you have to be sort of like, WTF Danny when he says that because really, life's not that hard for this modern family living in a beautiful home in San Francisco. Looking back, this amnesia was the most dramatic thing to happen to the Tanners (other than mom dying) since Stephanie puffed a cigarette back in middle school.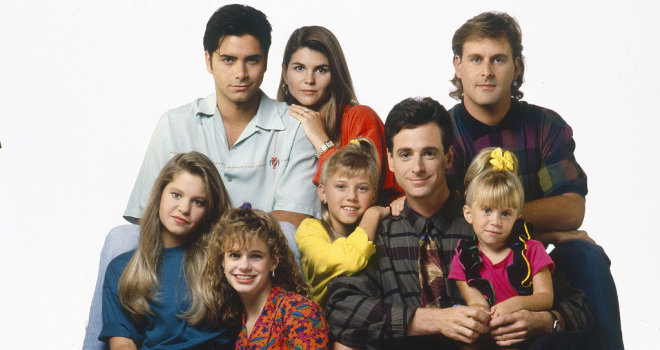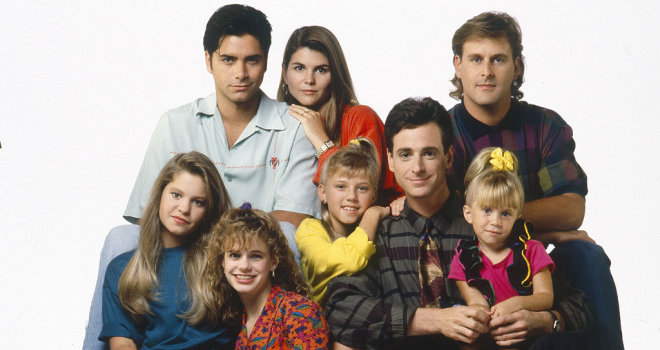 As a whole, this finale brought drama to an otherwise G-rated show. No one was being murdered or anything like that but for the Tanners, falling off a horse was insanity. So for that, kudos, but overall I feel like this was a weak finale for a show that sits among the giants of its time. I would've liked to see something a little more in terms of moving on and closure but I guess they gave us that when they dropped Fuller House. Comparing it to just the finales we've taken a look at in the T.G.I.F. month, it wasn't as dark and final as Dinosaurs and it didn't quite give us a new chapter to look forward to like Boy Meets World. It kind of just ended and that was that. So it'd place last stacked up against those and, well, you'll have to stay tuned to see where it lands at the end of the year.