Still freaking out over the fact that the Cheers finale is an hour and a half, I had to go with the show's spin-off this week. So I dove into Frasier. I'd never seen an episode but I will admit that as of right now, it's possibly the second best series finale I've encountered since starting this project. Who knew I'd be simultaneously laughing and crying while watching Sideshow Bob's show?
Name of Episode: "Goodnight, Seattle"
Premiere Date: September 16, 1993
Finale Date: May 13, 2004
Site: Frasier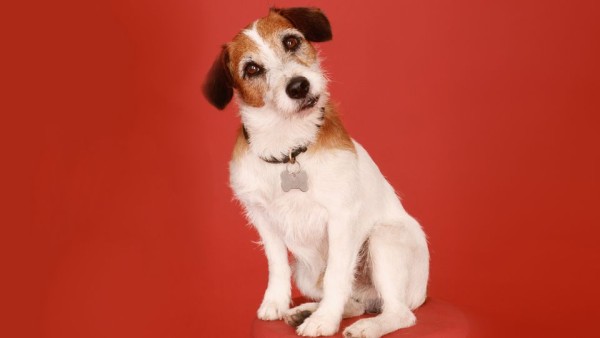 Impact on Pop Culture
When you have a hit series, you never want it to end and many will try and keep things going with a spin-off. It's hard though because you can fail at capturing the essence the show that preceded it had, or the network may've picked the wrong character to follow. We absolutely loved Joey when he had friends, but on his own? Not so much. What about when Fox tried to keep Party of Five going with a party of one with Jennifer Love Hewitt's Time of Your Life? Well, Frasier showcased how to make a spin-off, and how to make it right. It came from Cheers and lasted just as long, both clocking in at 11 seasons.
Facts & Stats
Lisa Kudrow and Rosie Perez were almost Roz and Daphne. How much do you think that would've changed the show?
Kelsey Grammer actually sang the theme song.
The original Eddie retired after season seven. After that, his son took over the role. However, the OG Eddie did return for the final taping to take a bow. He'd gone gray and was a little hard of hearing by then, but David Hyde Pierce said the dog recognized the sound of applause. If that doesn't make you cry, you have no heart.
Grammer was the first actor to be Emmy-nominated for the same role on three different shows: Cheers, Frasier, and Wings.
The delivery man you see in the finale is the same one from the pilot.
What I Knew Before Watching the End
It was only in recent years that I learned this show spawned from Cheers, so you can imagine how much I cared about Frasier as a whole. I didn't know what he did for a living, where it was set — basically, everything but the name was a mystery to me.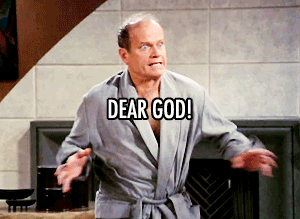 Final(e) Thoughts
Shows like The Sopranos left fans forever wondering with absolutely no idea as to what could've happened. There are a million and one scenarios thanks to that black screen they left behind. Frasier, on the other hand, sort of did that with three words, but really only created a mini-mystery with a couple of possibilities. It's hard to pick a point to start at because this finale pulled out all the stops minus someone dying. Well, they did all think Frasier was dying but it was a comical moment that didn't control the whole episode. They had a wedding, a birth, and a move. They created new chapters for the core characters and did so in a natural manner that wasn't too dramatic (like Melrose Place).
The finale is set on a plane. Frasier is heading somewhere and ends up talking to a fellow psychiatrist to avoid the nerves brought on by turbulence. He starts to tell his final tale — how he recently had to say goodbye to a woman named Charlotte as she had to return to Chicago, and I can only assume was "the one." He had to deal with that hard goodbye just as an incredible job offer popped up in San Francisco. Meanwhile his brother and Daphne were edging towards the end of their pregnancy, and thanks to a date mix up because of a man's love for his dog, Martin and Ronee's wedding went from months away to eight days away. Frasier and Niles manage to plan the whole thing, but after Eddie eats the rings, Daphne ends up going into labor at the vet.
Seeing his dad married and brother becoming a dad, Frasier realizes he has to start a new chapter of his own. After rejecting that job offer a couple of times, he finally decides to take it. He then does his last show in Seattle and delivers this proclamation about the importance of taking risks and not being afraid to do so. We're then taken back to the plane just as it lands and we hear the pilot say they're in Chicago and with that, Frasier tells the psychiatrist, "Wish me luck…"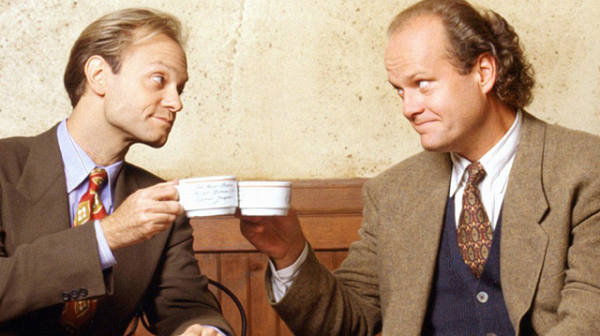 Maybe it was because I wrote about the importance of risks earlier that night before I sat down and watched, or maybe it's because I'm dealing with the idea of taking some major ones myself, but that was beautiful. Here we sat thinking he was heading to San Francisco to take a job that would've paid a lot more and given him a TV slot, but instead he followed his heart and chased after Charlotte. She either welcomed him or they didn't end up together, but I feel like whatever happened is less important than the actual risk he wound up taking.
Well crafted, well delivered, well done, Frasier. Their finale gave you closure, but also left a little door open to wonder — and all the while taught a valuable lesson about life and the idea that risks are worth taking because if you don't, you're really not living.