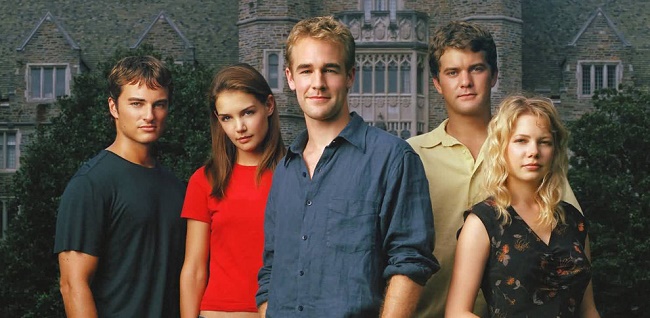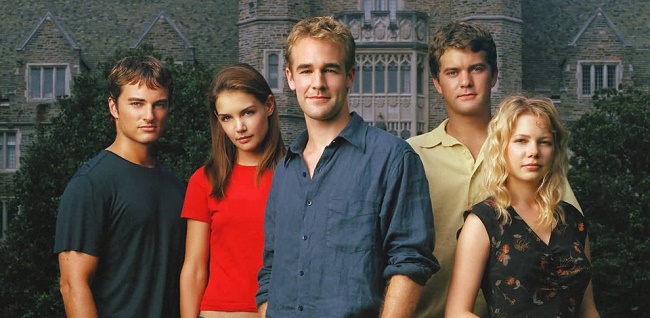 Originally Dawson's Creek didn't even make my list last year when this series came to mind, but I'm glad it did because come on — when it comes to teen shows, this one is possibly one of the most beloved. And while I thought this show was garbage growing up, I soon took my words back as I got way too into this two-part finale that had quite a bit going on. Yes, there were moments that reeked of cheese but that was more than expected.
Name of Episode: "All Good Things…" & "…Must Come to An End"
Premiere Date: January 20, 1998
Finale Date: May 14, 2003
Site: Dawson's Creek
Impact on Pop Culture
Even watching it in 2016, I was taken aback by the use of the f-word and not the one that rhymes with duck. Yes, the gay characters said the shortened version of it but I couldn't believe it. Is that even allowed today? Perhaps I'm not watching the shows that would utter it, but nevertheless, Dawson's Creek does hold some high regard in the gay community. They were the first show to ever showcase a gay male kiss on primetime television — and on a show about young people, no less. I'm sure that spoke, hell, screamed volumes at the changing times and helped other shows and viewers see that a kiss is just a kiss and that love trumps all. Plus, can we all agree that this show helped put Paula Cole on the map, even if she did get lost not too long after? Not to mention the main four actors have all managed to continue working well after the Creek dried up.
Facts & Stats
Joshua Jackson mooned people on set.
Dawson's initial haircut was inspired by Brad Pitt's The Devil's Own style.
Hmm, could you imagine if Adrian Grenier got the role of Dawson, Jason Biggs was Pacey, and Selma Blair was Joey? Well, they all auditioned.
Katie Holmes is the only actor who appeared in every episode.
Dawson's room was full of props from Scream and I Know What You Did Last Summer.
What I Knew Before Watching the End
Honestly, I didn't even know Michelle Williams's character's name until watching this. I knew the other three thanks to teen magazines and being in tune a little but yeah, sorry Michelle. Other than a few names and the triangle that was Joey, Dawson, and Pacey, I was clueless.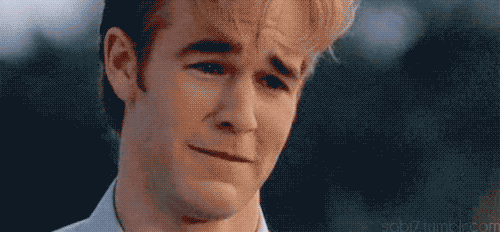 Final(e) Thoughts
Here's a quick rundown of what a first time watcher took away from the overall setup of the finale:
Dawson works in TV and took the easy way out making a show based on his real life "creatively" called The Creek.
Joey works with books or something in New York City and her boyfriend is a cocky Jeremy Sisto. Really? Is he not 15 years her senior? Then again, Katie did marry Tom "Crazy Pants" Cruise in reality. Anyways, after all these years, she's STILL confused as to who to pick when it comes to Pacey and Dawson.
Pacey owns a restaurant and is sleeping with a married woman, even though he still loves Joey.
Jen is a single mom who, with one too many drinks in her, makes conversations awkward. She also has a heart condition and will die by the time the credits roll.
Jack is Jen's gay BFF whose boyfriend is a closeted policeman.
Now that that's out of the way, let's — okay, it's hard because I had way too many thoughts about this show I've never seen before. I'll just go with my biggest qualm of the whole thing: Joey. Why was she the best girl at the creek? Really though, in less than two hours time I was in love with Jen. Her whole essence was above and beyond anything Joey's neuroticism was giving me. Even on her deathbed, she was real, she was raw, she was making light of life. Jen got robbed in the romance department in my eyes. Dawson and Pacey — really though, basic Joey?
That aside, I felt this was as good a finale as you are going to get with a teen drama. Yes, they were grown by the time the finale came around but in retrospect, it will always be a teen drama in our eyes. Nevertheless, I thought it presented where the characters were in their lives at the moment well without going into too much detail. Watching the first time, you got where and who they were in an instant and even that love triangle was presented loud and clear.
Plus, it had a death. While you never want to see a main character you've come to adore over the years (or couple of hours) pass — they made the right call. Killing one of the points of the triangle would've made zero sense, and Jen's death sort of birthed change in the lives she left behind. Leaving her daughter to Jack helped to mend his relationship and made his boyfriend take a tiny step out of his closet, and Joey was finally able to make a decision that was long overdue. I'm sure fans were relieved to see her put to rest the whole Dawson or Pacey thing.
Back to Jen though — a character whose name I couldn't have even guessed before this moment was soon one of my favorite people. Her acceptance of death was remarkable and while it came with a little fear, as to be expected, she went like a boss in the end and every word that escaped her lips while in her last days was a life lesson to be carried. My favorite being "make mistakes and grow". Because those who live a life of perfection that is void of struggle and worry, they'll never grow and learn from anything. Their lives will lack anything to make them worthwhile in the end. Mistakes are what make us human in the end. Oh Jen, I get why it couldn't have been Joey — but really, it should have been Joey.
This show could've banked on way more flashbacks than they did, but lord knows I am glad they did not. They were minimal at best and kudos to them for not being That '70s Show and filling 80% of their finale with old footage. That, plus the fact that we got a sense of where the characters were off to in their next chapter, and the beautiful final words of another — Dawson's Creek surprised the hell out of me at being one of the best finales to come across this series thus far.