These are always more fun and interesting to write when you go in cold. This week it's burning hot. Boy Meets World isn't just a show I looked forward to every Friday night, it's a show I will still watch the hell out of today if I see that it's on. One of the best, most beloved, and most recognizable from the T.G.I.F. lineup — it was supposed to come later in this series, but who the heck knew it'd be that hard to find Step by Step online?
Name of Episode: "Brave New World"
Premiere Date: September 24, 1993
Finale Date: May 5, 2000
Site: Boy Meets World
Impact on Pop Culture
There are very few shows you can watch from your adolescence that don't seem downright ridiculous as you get older. (I'm sorry, Seth Cohen, but The O.C., I just can't anymore.) Not Boy Meets World though. While the fashion and lingo may be a world away from where we are today, it's managed to maintain quite the fan base over the years for bringing forth universal tales from characters everyone could relate to, whether you were the brain, the rebel, or the average kid who thought nobody noticed. That's likely why Girl Meets World has seen its own share of success and popularity; the apple doesn't fall far from the tree.
Facts & Stats
Shawn has a sister he mentioned only once.
Topanga was named after Topanga Canyon out in California.
The high school in the show was the same one in The Wonder Years. Which makes sense since Cory was Kevin Arnold's little brother in real life.
Rider Strong almost left after the fifth season when they weren't sure his college schedule would work with shooting the show — AKA Kendra almost stopped watching after season five.
While Girl Meets World resides on Disney, some of BMW's episodes have been banned from the network. Yeah, the ones about drinking and sex — not okay with Mickey Mouse.
What I Knew Before Watching the End
See here and here for what this show means to me and then ask me what I knew before watching the end.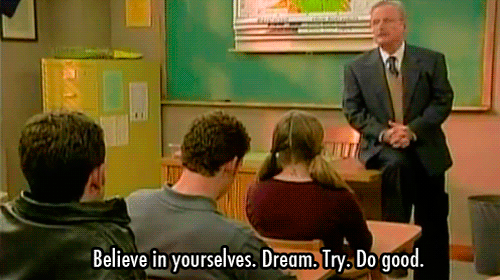 Final(e) Thoughts
When you can watch a piece of television time and time again and still cry, that's not to say the writing was phenomenal or anything, it's just that you have such a strong attachment to the characters, the relationships, the show as a whole. Hell, that's why I teared up last week watching Sabrina, and that wasn't the best TV ever. Boy Meets World holds a special place in my heart and I wasn't sure I could look at it from an outsider perspective — but I tried.
It's time to say goodbye. These are obvious adults finally ready to "meet the world" and while they're branching out, some are moving on together. The flashbacks let you know the history that comes with each person, each relationship, each friendship. That builds a foundation to letting the viewer care a little more about people they may've just met. Then you have to think, how old are these people? Why is leaving such a big deal for a bunch of 20-something-year-olds — they should've flown the nest years ago. At least that's what I'd say if I'd never watched.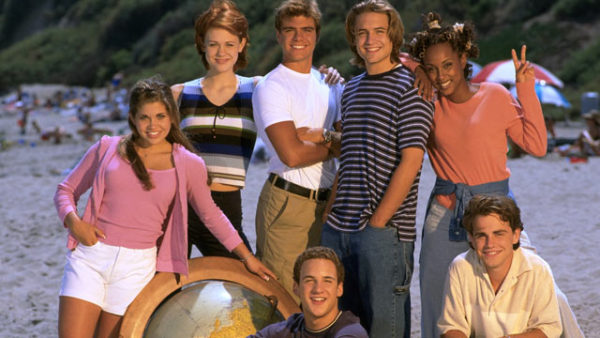 A fan forever or a new viewer, you have to be forever moved by the scene between the core trio and their longtime educator. Everyone should have at least one teacher who changed them for the better, and caused them to "do good" in the world and that's what comes to mind when watching these three say their final farewell to a man who's obviously been their moral compass for as long as they could remember. Who was that for you? For me it was Mrs. Marquis and Mr. Montague. One showed me what my words had the power to do, and the other taught me to never count anyone out.
Compared to the other finales showcased in this year-long journey, Boy Meets World does a great job at giving fans an out for where their favorite characters are heading. There's no black screen mystery. There's a sentimental goodbye but also a breath of life in the end to give you hope that it could come back — which, well, yeah.