Let's just start this off with a little honesty, which is more than Hulu will ever give you. This past week I sat down and spent 40 or so minutes watching what I thought was the last episode of the Beverly Hills 90210. After the credits started to roll and I was left utterly confused I did some Googling and discovered Hulu has all 10 seasons but somehow managed to leave out the series finale. Really though, why Hulu — why? I did find out that the night this show ended there were two episodes but come on, how are you going to have every single episode and leave out the last piece of the puzzle?
Name of Episode: "Ode to Joy"
Premiere Date: October 4, 1990
Finale Date: May 17, 2000
Site: Beverly Hills 90210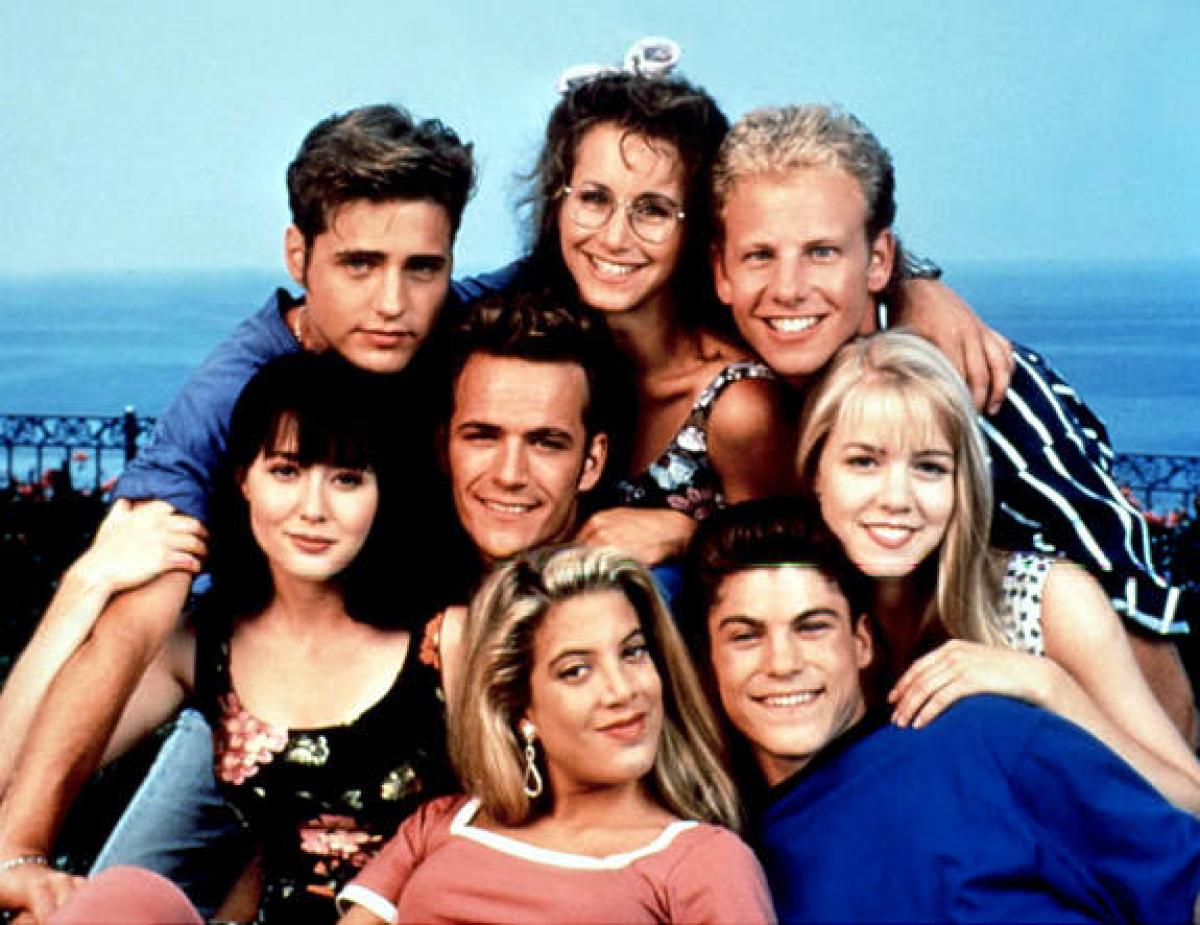 Impact on Pop Culture
Coming before Melrose Place, this took the idea of soap operas at night and focused the attention on young people. Never before had the lives of teens been so scandalous. Really though, can you imagine Cory and Shawn ever dealing with some of the things Dylan and David did? Teen movies in the '80s had ushered in a new way to look at the youth, and thanks to John Hughes, we dove a little deeper inside their minds — but what about the day to day of teenagers come the '90s? For some reason Aaron Spelling decided he'd be the man to bring these tales to homes every week. I only say that because I can only remember him looking 98 when that show started. Anyways, while Saved by the Bell was showcasing the happy-go-lucky aspect of teens with money in California (minus Kelly, feel you girl!), 90210 was shining a light on more real life issues like rape — yeah, like Degrassi, they went there.
Facts & Stats
Could you see Drew Barrymore as Valerie? Well, she was offered the role, but obviously didn't take it.
The show was almost set in Maryland and called Potomac 20854. Uh, no.
The high school they shot at was the same one the cast of Buffy the Vampire Slayer used.
Before he landed on 90210, Luke Perry was working hard laying asphalt.
Due to Tori Spelling being the producer's daughter, she was the only character to lose her virginity after high school.
What I Knew Before Watching the End
The core cast of characters… the drama that came with each episode. I remember little things from when I watched with my mom but I know we didn't stay with it too long. That finale was so unfamiliar to me,  I didn't even realize I was watching the second to last and not the legit final hour. What I knew most though before going into it was that Luke Perry was my boyfriend but more so because of his involvement in the Buffy the Vampire Slayer movie. Watch that and try not to love his rebellious ways.
Final(e) Thoughts
What sucks is I got a little more than the finale thanks to Hulu being void of every single episode. So I watched the last one knowing about David and Donna's engagement that would ultimately lead to what seemed like the quickest wedding ever, and the engagement broken off by Kelly and the loser who cheated on her and then just flat out told her, thinking she already knew. What an idiot. Whatever, she belonged to Dylan anyways.
My number one thought as I watched this (on top of the fact that it looks like a cable adult movie when watched in HD) was Dylan's major choice. He majored in Humanities. Being that was mine as well, I couldn't help but laugh and believe he was now living without a job and girlfriend because Kelly soon figured he was as useless as his degree.
Personal educational feelings aside, it was an expected finale for anyone who knows the bare bones of these characters. You could've watched the pilot and guessed that years down the road those two pairs would end up together. What I wouldn't have guessed was Brandon mailing it in, literally.
As far as finales go, though, there weren't any major deaths and what they ended on was a happily ever after note. That note came after two horrendous bachelor and bachelorette parties. Really though, I felt like this was a rushed finale. They had a decade and to end with ridiculous dancing to the infectious yet annoying sound of "Celebration"? I felt like they could've done a little more.