The brodown continues as one of Fox's favorites comes into play this week. Kiefer Sutherland's most notable role to someone my age as a Counter Terrorist Unit agent (whatever that is) captivated TV watchers for eight seasons and even had enough fan power to make a notable comeback after all was said and done. Today, though, we're just going to focus on the first time viewers said goodbye to Bauer.
Name of Episode: "Day 8: 3:00 p.m. – 4:00 p.m."
Premiere Date: November 6, 2001
Finale Date: May 24, 2010
Site: 24
Impact on Pop Culture
Critically acclaimed, I'm not sure as to why — but it was, and both was and is regarded as some of the best television to have ever come into play. How the show played out was considered groundbreaking in ways in that you watched in what appeared to be real time for the characters. Which meant every second counted and there was no time to waste on filler episodes you see in shows like Bones and The Big Bang Theory. Oh you know the ones, the episodes that give you nothing to grasp onto, a brain fart for the writer's room that week. With 24, there seemed to be no time for messing around. Each episode was as important as the next as each season unraveled, constantly keeping fans on edge.
Facts & Stats
To keep things in order as far as appearance was concerned, everyone in the cast had to have their hair cut every five days.
Elisha Cuthbert was really bitten by a mountain lion on set during season two.
When Jack Bauer got a tattoo in season three, Sutherland didn't want to have to endure makeup every time his character's ink had to be shown, so he got one in real life.
This was Sutherland's first regular role on a series.
It may not have been his favorite place to work since dealing with him was such a pain. Freddie Prinze, Jr. said that working with him almost made him leave the business.
What I Knew Before Watching the End
Working for a man who had some type of complex when it came to masculinity a number of years ago, I had to hear about 24 when he stumbled across it on Netflix — or whatever it is he found it on. However, never really caring what he had to say I mostly shut off and all I ever knew up until watching the finale this week was Sutherland played Jack Bauer and that it had something to do with the government.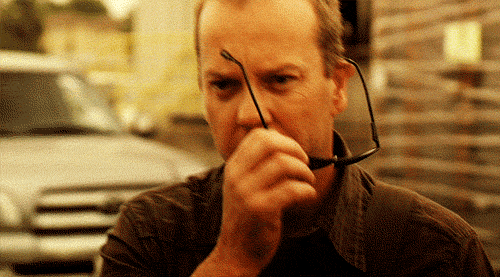 Final(e) Thoughts
There are some shows that will stand the test of time long after everyone alive today is long gone. I Love Lucy is one of those shows, and I would go out on a limb and say that 24 is not. The acting was so over dramatic, it was like watching that TBS series Angie Tribeca. Only that show is satirical and is supposed to be ridiculous. So through questioning looks, often wondering how this was a popular, Emmy-winning series, I had some quick thoughts:
So yup, teen idol of my youth Freddie Prinze, Jr. was indeed on this show.
It seems easy enough to follow since they are nice enough to recap and knowing that no time has passed between then and now, I am not missing anything. I think.
Again, the acting is as dramatic as a millennial discussing their current state in life.
The lame guy from Franklin & Bash is on this show?
OMFG Jack Bauer just Mike Tyson'd the lame guy from Franklin & Bash! That was the clear highlight of this show.
Oh wait, NOPE. Some guy just shot some other guy and then himself.
Wait a minute, are we supposed to be following a guy named Jack? Where is this guy? Oh yeah, he told his friend to shoot him as part of a bigger plan…
Come trivia night, I will not be an asset when it comes to 24. I thought this show would be intense and easy to follow. I was wrong. I wasn't drawn to care about any of the characters until the very end. Yup, not even Jack attacking that guy's ear could keep my attention. It's obvious that this season was set up so that the end could happen. The show was about Jack Bauer and in the end of this day, these 24 hours, he could be no more. Without him, they'd be able to leave it at that. So that's what they did and I can see this being an okay finale then for those who watched and really, it was a less than okay episode for someone watching for the first time.
It was like tuning into an action movie 45 minutes in. There were some things I missed and I may be confused as to who everyone is and their relation to one another, but there was enough action to keep you a bit intrigued. Personally though, I was not a fan and would not consider binge-watching this any time soon. Not because of the premise, which in actuality I think is very interesting, but because of the acting. That needed to be taken down a notch or five in order for me to be able to take their action packed finale.
On one hand the series couldn't have really strayed too far from their well placed format to have a finale. They did it their way and for that, kudos. Fans got a goodbye and what appeared to be a sentimental moment between him and his buddy, Chloe. Was this the best finale in the history of series finales? No. Again, it was like an okay action movie you fell upon while channel surfing, it was already 45 minutes deep BUT nothing else was on so you stuck around and got the gist. Enough that you didn't think you needed to actually make a mental note to see the start.