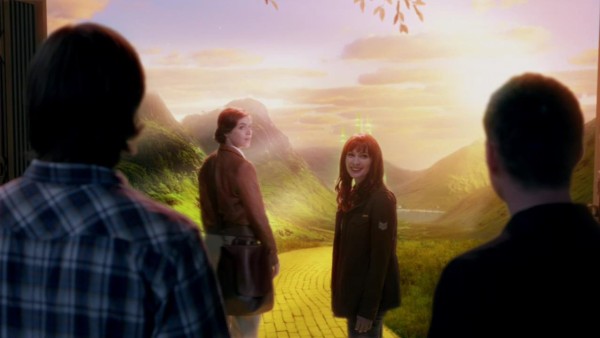 Even in the drama of all that's been going on with the boys, it's nice to take a break and have a one-off episode once in a while. And if you're going to involve my favorite nerd girl Charlie and the lovely bunker that Dean calls home? Even better!
Note: This recap may contain spoilers!
The episode revolved around an adaptation of The Wizard of Oz. You may think it's just a story, but sometimes fiction is based in reality. I really liked the show's interpretation of the story, as well as its depiction of Dorothy Gale. This isn't the little girl you remember skipping down the yellow brick road. This is a strong, female hunter who has been through struggles and has been locked away with her enemy for going on 75 years. This is a woman who, along with her soon-to-be partner in arms, shows us that sometimes the Winchesters need a little saving, too. I love that it was Dorothy and Charlie that triumphed over the witch in the end. These two are going to just fine on their Oz adventure. I can tell.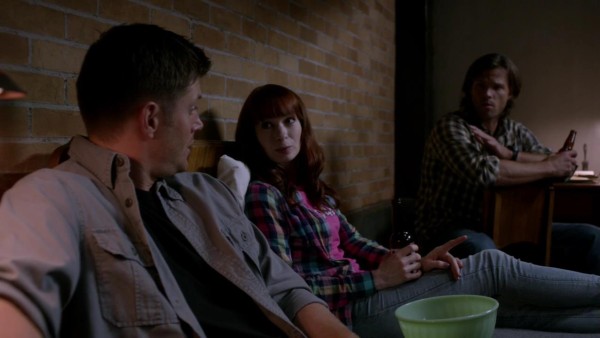 I love Charlie, I always love Charlie. When the character was introduced, I instantly latched onto her. She's fun and snarky and brave and cool… like the little sister the boys never had. The fact that she matches Dean toe to toe is what makes her the most fun, to me. She can challenge him and push him to open up in ways that he never would with other people. It helps that they share plenty of geeky loves. Secret!Nerd!Dean, always a pleasure.
The evolution of Charlie's character over the years has been interesting to see. She's always been self-sufficient, never needing to rely on others to protect her or save her when the going got tough, but she let the Winchesters in and learned that relying on someone doesn't have to be a bad thing. And in the process she gained a family. Just like Dean considers Kevin and Cas part of their small circle, Charlie has a permanent place there, too. She fits in effortlessly, which is a plus. Yes, her life has been forever changed by knowing the boys, but she's also opened herself up to new adventures. Hunting, finding her quest, and cracking an ancient computer system. It's all in a day's work for this Woman of Letters.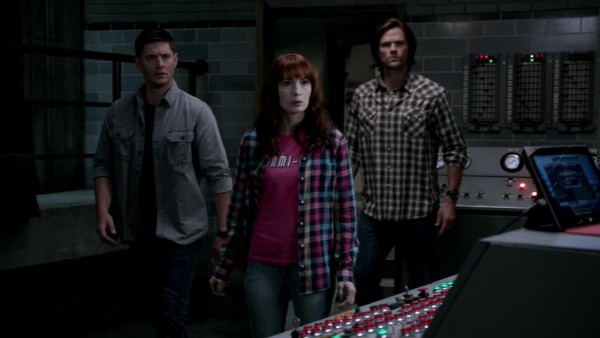 And though she's off on a new adventure, I hope she returns to us soon. I can't imagine saying a permanent goodbye to her. Dean can't either, which is why the choice between saving Charlie and killing the witch was no choice at all. She's family, she's important. And she's also another example of what a delicate place Dean is in at the moment. The man is wielding his angel on a leash with a little bit too much ease. Ezekiel has brought back Cas, he's brought back Charlie. The old saying of "what's dead should stay dead" only applies when it's not a Winchester family member. That much power in Dean's hands is not an easy burden to carry. Nor is it good for him because he's going to get used to his friends going through temporary deaths instead of accepting that one time it's got to be permanent.
I do like that Sam is finally questioning the whole Zeke thing. He has to start putting the pieces together. Hearing Dean say the name, getting continually knocked out during pivotal moments, having Dean be not so good with the lying. The whole truth is bound to come out soon — I'm thinking mid-season finale — and then we're going to see a pretty big blow-up. I mean, I hope Sam doesn't completely rip into Dean and at least considers the reason his brother did it, but on the other hand there are some serious consent issues going on with Ezekiel's possession of Sam.
As an aside, though, Jared is rocking it with his acting. You don't even need the flash of blue eyes anymore, you can just tell when he instantly goes from Sam to Zeke. The bedroom doorway scene where he just slides right into it was phenomenal. Hoping to get to see a lot more of that before Sam casts out his unwanted passenger.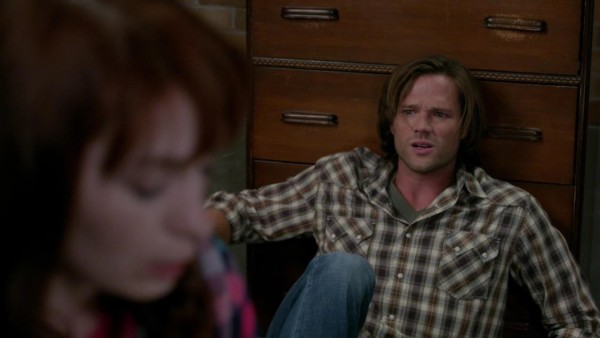 Another great part of the episode was more exploration of the bunker and what it means to the boys. Dean sees it as a home, a place for him and Sam to settle down and feel safe. Also a place where he can explore his domestic side and take care of Sammy in a better environment. I love that Dean has a kitchen now, that he keep tidy and uses to feed Sam all kinds of wonderful meals. Sam, on the other hand, just sees the bunker as a workplace. Somewhere that has great archives, but isn't a permanence. Yes, he's had bad luck with homes in the past, but that doesn't mean he shouldn't give this one a try. It's their legacy, it's where they belong. I'm hoping Sam comes to see that and actually puts down roots.
Also, I hope they will explore the bunker more. Who knows how many great rooms are hiding away? They have a dungeon, a library, a shooting range, and now a newly-discovered garage with so many pretty cars I lost count. The Impala looks right at home among them. And the boys look right at home among the bunker's treasures. The outside world is full of danger and it's going to crash in on them soon, but for now they can stay in the safety of the bat cave knowing that they are protected and they are together.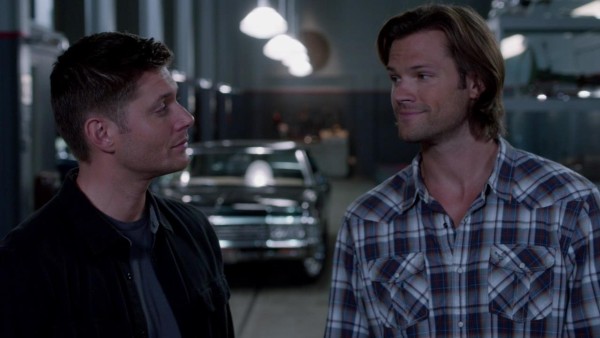 Rating: 5 / 5 Stars
Screencaps by spn-caps