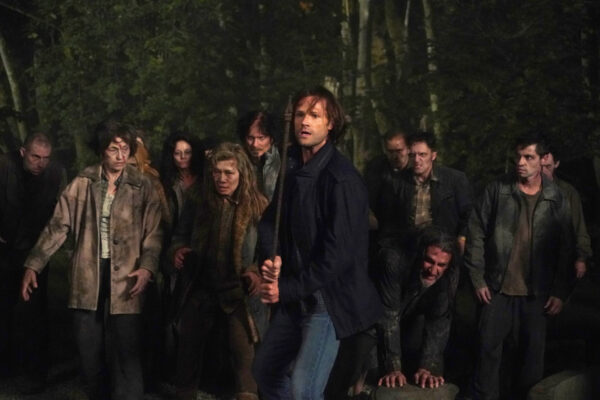 The end of the road is drawing nearer for the Winchesters and we begin the last season looking back, hoping the final battle is one that Dean and Sam can withstand. All their work, all their sacrifices, cannot be for naught. We still have work to do.
Note: This recap may contain spoilers!
Having "The Famous Final Scene" serenading the boys' fight against the newly-risen dead in the graveyard is very fitting. The mess Chuck left them with seemed insurmountable as we left last season and it doesn't appear any more hopeful as this season opens. Zombies everywhere, nowhere to turn, the boys are running out of options fast. The world is in chaos and it doesn't seem like there will be any hope in sight, at least for the moment.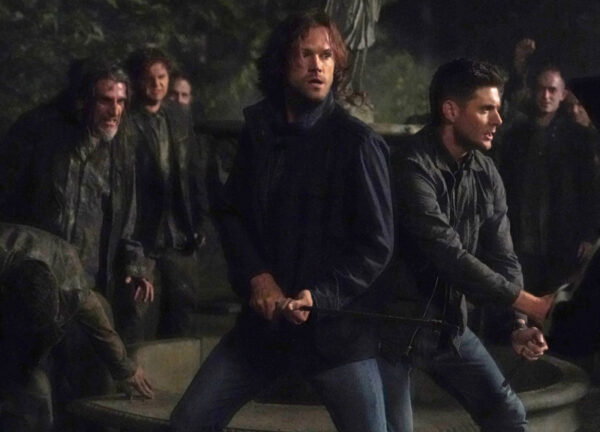 Dean, Sam, and Cas retreat to a tomb within the graveyard, with Cas bringing Jack's dead body with him, in order to regroup and figure out what their next move should be. The zombies outside are not letting up either, banging at the door and raising the pressure of the situation. It seems like a no-win scenario. They can go outside and keep fighting, but would soon be overrun, or they can stay inside and try to ward off the attacks while slowly starving to death. Even Sam's momentary hope of digging out to the drainage or sewer system he thinks he can hear is brought to a halt when a zombie starts crawling into the hole they made in the wall. When Chuck gives up on a world, he doesn't leave much in the way of survival options.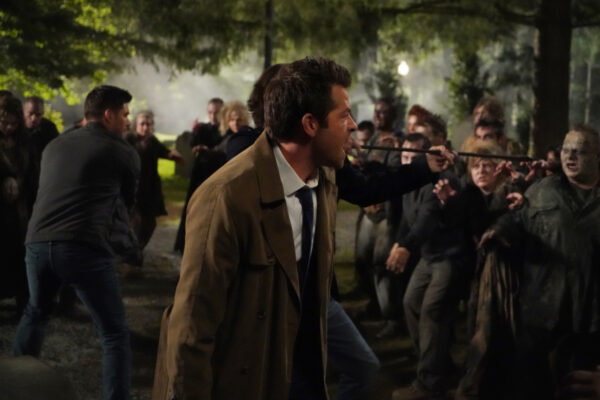 Hope comes from a very unlikely and disconcerting source. Jack's body rises, his eyes still burned out and looking horrible. But instead of their adoptive son come back to life, it is instead a demon named Belphegor possessing his meat suit for a bit. The sunglasses he soon dons does little to help alleviate the situation since he acts nothing like Jack. However, despite his appearance and actions, he offers to help the Winchesters since they both want the same thing – a return to the way things once were. Put Hell back the way it was and return all those escaped souls back to where they belong.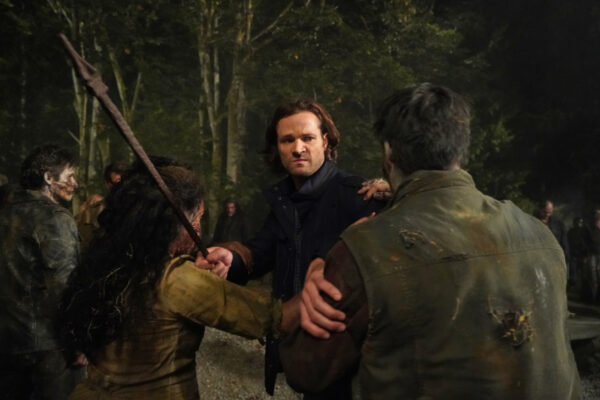 First step in his mission of helpfulness is a spell that banishes the zombies for the moment. All the misplaced souls were banished from the dead bodies, allowing Dean, Sam, and Cas safe passage back to the Impala. It's a temporary solution, but one they must take in order to get on the road and away from the site of their first battle. However, the chaos is growing outward from that origination point and is set to hit the nearby town of Harlan, Kansas next. With two to three billion souls from Hell just floating around looking for bodies or victims, it's going to get much worse very fast.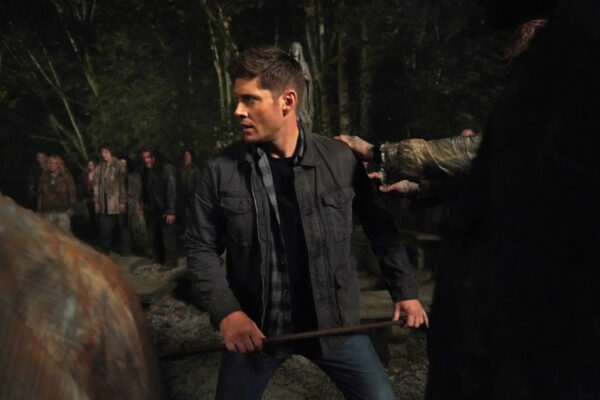 We already got hints of the troubles at the end of last season, with glimpses of some old monsters making their reappearance. And they are marking their returns with death and destruction. Bloody Mary is haunting the mirrors of two girls, then strikes out to take their lives. The Woman in White is looking for another ride, before killing the driver who picks her up. And the deadly clown is tormenting a mother and her daughter, after having slaughtered the other people in attendance at a neighborhood birthday party.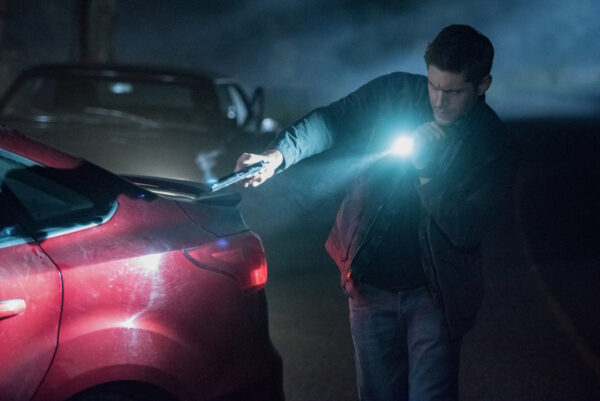 Belphegor's next plan is to do a spell to cast a protective barrier over Harlan. It won't save the world, but it will give the Winchesters a place to retreat to and figure out what to do next. So, Sam goes into town as an FBI agent to try and get the townspeople evacuated to the nearby high school. The original plan of having Dean accompany him doesn't go as planned, since Cas refuses to be near Belphegor while he is defiling Jack's body. So, it's Sam and Cas out in town with Dean paired up with the demon. Neither group is having an easy time of it, but at least there is progress and revelations to be had.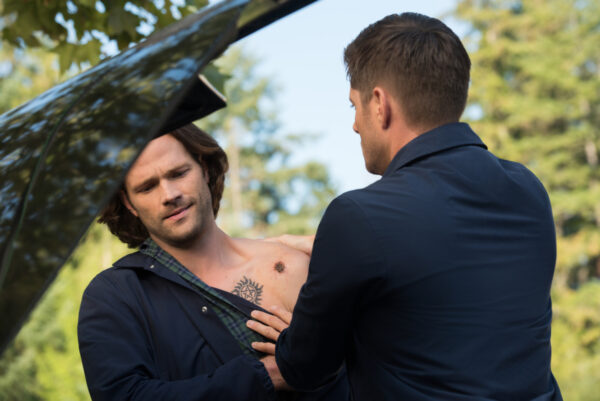 With Sam and Cas, we get to find out the wound on Sam's shoulder as a result of shooting Chuck is not doing so well. There's an energy there that Cas has never felt before and I fear that it might create problems for Sam in the near future. With Dean and Belphegor, we get Dean admitting once again that Jack was kinda their kid. I love when he talks about Jack as their son. We also find out that Dean's reputation in Hell for his torture techniques is still alive and well. He may be uncomfortable with that time in his past, but he was very good at what he was tasked to do. Hopefully that experience will help him with fighting off everything that's come pouring out of Hell. Every door was opened down there, even the door to the Cage, so Michael is free to roam if he so wishes. Not a good prospect.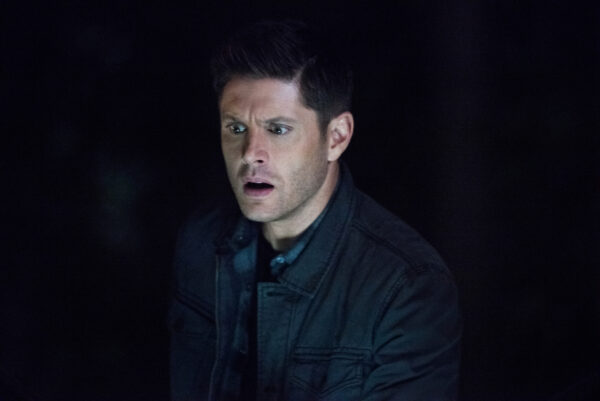 Finally, at the sacrifice of the town's sheriff, Belphegor gathers all the ingredients needed for his spell and casts a protective barrier around the town. It's not a permanent solution, more like putting a band-aid on a gaping wound, but it's what they can do for now. And Dean's put in a call for help to Rowena, so perhaps more back-up will arrive and help them come up with a way to move forward and save the world from these numerous tortured souls just wandering around top-side. There's a lot of work left to do, but the Winchesters can face anything as long as they are together. No more Chuck pulling the strings. It's Sam and Dean against the world. Get ready for the end!
Rating: 5 / 5 Stars
Screencaps by SupernaturalWiki