I've been through Supernatural season finales where I was shocked and saddened and confused as to how the boys were going to get out of their situations. Season 14's finale gave me all of those feelings, but I'm also extremely excited. The final season is going to rock with the potential presented here!
Note: This recap may contain spoilers!
As always, we began with the tradition of "Carry On My Wayward Son" as we got the season recap. It's amazing how far we came this year, and what plot points we touched upon. From believing Michael!Dean would be the Big Bad to getting Dad back for a visit and losing Mary to finally seeing an adopted Winchester lose his way, it's been one hard-fought journey that brought us here – to the Deus Ex Machina. But, above all else, remember that writers lie. And God is the ultimate writer of it all.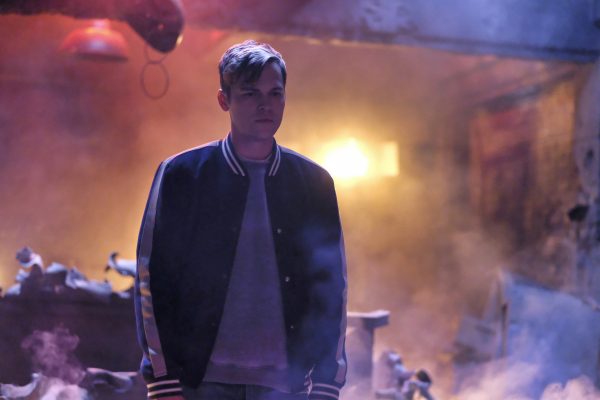 I was all for Jack throughout his life. He wanted to be good and he became an adopted Winchester. He was family. And he sacrificed his very soul to protect the ones he loved. I respect that. But that sacrifice cost him his humanity. He's no longer the person we came to know and love. Instead, he's become a monster, and the Winchesters tend to hunt monsters. Well, unless it's their own family and…okay, it's complicated.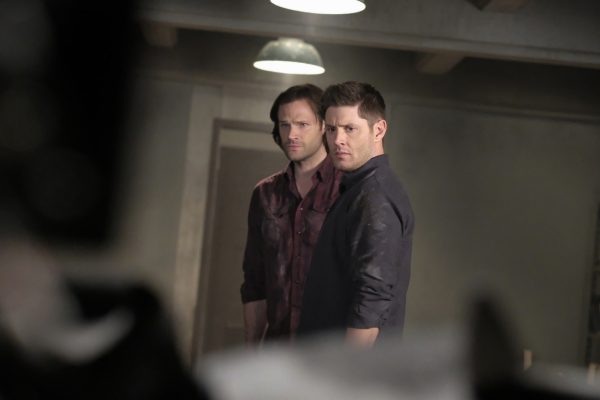 That raised tension was very clear throughout the beginning of the episode. Jack's become too powerful, he must be stopped, and Dean's willing to be the man to do it. Cas on the other hand, and even Sam to a small extent, were still on the saving train in hopes they could restore Jack's soul and bring him back to the son they once had. And while I did believe that Jack didn't understand the ramifications of his actions, it was clear from his "no more lies" command that his power can have far-reaching and dangerous consequences. He had to be stopped, and finally even God got clued in on that.
I was really excited that Chuck came back! But I had the same questions as the Winchesters. Where has he been? Why didn't he intervene sooner? Why is it always the Winchesters who have to be his guys, cleaning up the messes of the world, often with their own lives or the lives of their loved ones? If he can just snap his fingers and fix the mess Jack created with the "no lying" wish, then it was highly likely he could fix the Jack situation entirely as well. However, that's not the way Chuck works. No, he wants balance and lessons and, most of all, a good story. And we already know he's created different worlds, different versions of reality, to satisfy his whims. This situation was yet another one of those examples, with Sam and Dean paying the price.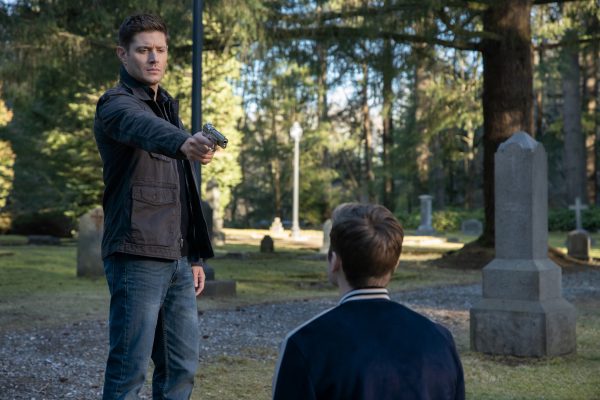 I liked that Jack tried to redeem himself before Dean took him out. He keeps trying to be good, but he just feels nothing. He's empty and knows that's wrong. When he knelt down, ready to accept his fate as Dean faced off with him, I felt the pangs of sadness at the boy we lost. And it was touching that, in the end, Dean couldn't kill his adopted son either. All the characters rang true to who they were, even Chuck. The story did not go the way he wanted and he's always been about the good story. It has to go his way or else he will discard the draft and try again. Sadly, this time, the discarded draft turned out to be our world.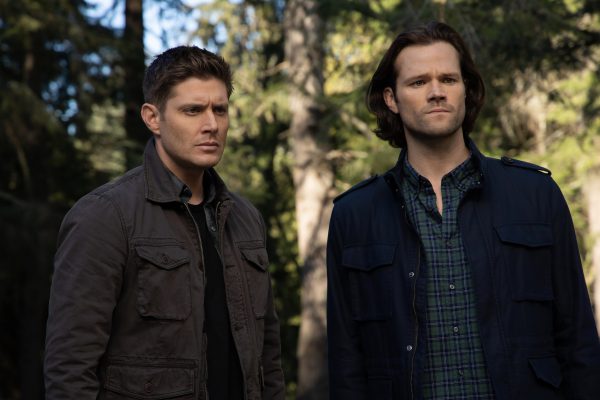 It was a very manipulative step for Chuck to promise to bring Mary back if Dean would pick up the gun again and finish the job of killing Jack, but even that wasn't enough to push his characters into behaving the way he wanted them to. And that's what the Winchesters have been their whole lives, characters in the story God ultimately created. But when the characters rebel, the creator has to take action. With a snap of his fingers, he pulls Jack's essence from him and releases all the souls from Hell. We got to see the Woman in White, John Wayne Gacy, Bloody Mary, and all the oldies. The boys are going to have to go back to some old school hunting if they hope to win this battle, but somehow it feels a bit more final this go-around. Welcome to the end. It's going to be a thrilling ride for sure!
Rating: 5 / 5 Stars
Screencaps by SupernaturalWiki