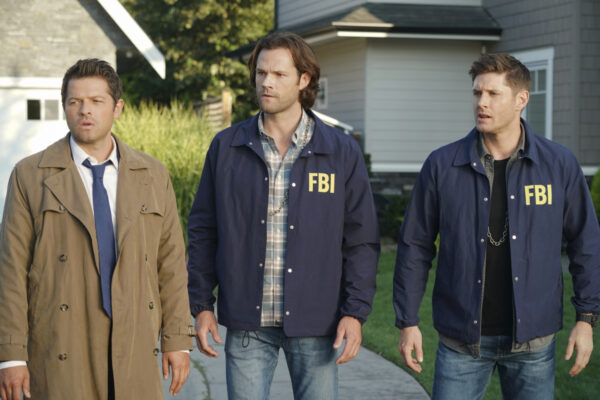 The ghosts are still trapped, along with the boys, and time is running out to explain the situation before the residents start getting restless. Creative maneuvers and a visit from old friends help prevent the situation from falling into true chaos, but the clock is ticking down and no real solutions are in sight.
Note: This recap may contain spoilers!
Harlan, Kansas looks like it's a ghost town. Ironic, since that's basically what it's become. The problem is that the residents are still clueless about what's really going on and that's putting them in real danger when they wander out on their own, as evidenced by Nan getting stabbed by her neighbor as she's out for a walk. Restlessness is rising, as is the pressure to put this situation to rest once and for all. Unfortunately, the Winchesters don't have a way to destroy all the ghosts or enhance the barrier just yet.
The tremendous number of normal ghosts would be enough to handle on their own, but of course there's got to be some even worse ones thrown in to make things interesting. Case in point, Francis Tumblety aka Jack the Ripper. Yes, he's there, and he's ready to lead his fellow ghosts out of this unnatural barrier so that they can explore the world and spread their path of death and destruction outward. As an aside, the character was played by the wonderful Lane Davies, who has had an esteemed career on screen and stage, but will forever be Mason Capwell of Santa Barbara fame to me. I love it when familiar actors show up on episodes!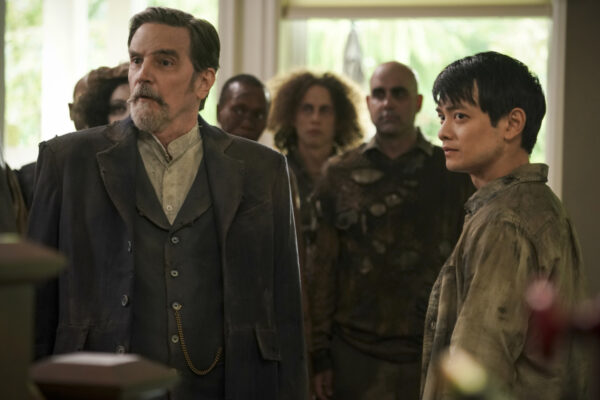 Back to town, the secrets over what's going on with the quarantine is just making things more dangerous. Nan's husband, fearing for his wife's safety, decides to search for her on his own. That is, despite the fact Cas and Sam know she's already dead, as they found her body prior and had not informed her family yet. Perhaps if they did, her husband would have stayed in the safety of the school and not gone out and got himself possessed. Ah, but hindsight is 20/20 it seems.
The boys aren't totally on their own, though. Rowena shows up, at their request, to help develop a spell that might trap the ghosts. They want her to do another soul bomb, like she did with Amara, to suck up the ghosts and hopefully rid the town of their presence. Good in theory, but not so viable in execution. She does try, though, because she's Rowena and she can do some wonderful things with her magical abilities.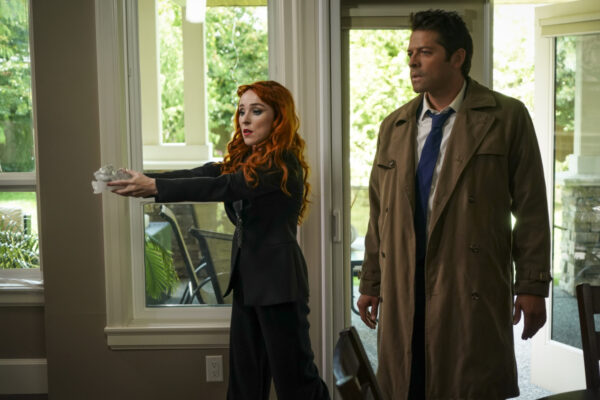 The second person to lend a hand is the always-delightful, yet sometimes untrustworthy Ketch. He's got some nifty weapons with him and his eyes firmly planted on a red-headed witch. Their flirting is something to witness. I wonder if they might have had something if circumstances were different.
And Kevin Tran is also thrown in the mix, having arrived topside and trapped in town when the barrier went up. Turns out he was not sent to Heaven, as God promised, but instead has been tortured in Hell all this time. Unfortunately, without God's intervention, he will never be allowed into Heaven now, so he made the ultimate choice by the end of the episode to wander the world on his own. It might drive him crazy over time, but at least he won't be tortured anymore. Small victories.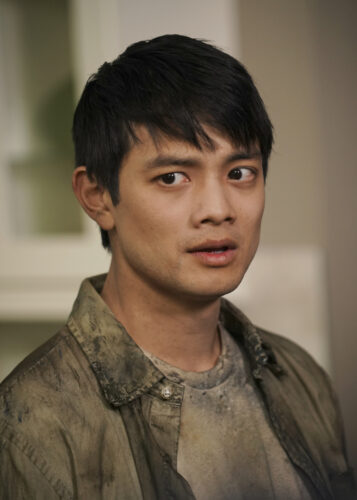 Outside of town, there's family drama going on. Amara has settled into the good life in Reno and does not want her brother to come calling, needing help or wanting to prolong their family bonding time. She's been there, done that, and does not want a repeat. And she sees right through his facade and figures out that he's in a bad situation. Injured, his power reduced, he cannot do much without Amara's help, which she's not willing to give. Long ago, he sealed her away. Now, she's doing the same to him. He's trapped, cannot escape this world, and has nowhere else to turn. I cannot see this turning out well for anyone involved, especially the Winchesters. We already saw that God and Sam are sharing the pain of the wound and got hints that Sam has a bit of God's power as a result. Can he use this to their advantage? I hope so. The boys need all the luck and help they can get.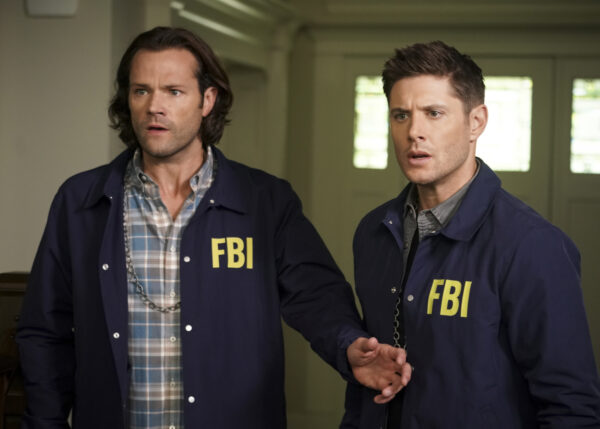 I look forward to seeing how the boys escape town and take on the larger destruction that is affecting the world as a result of the gates of Hell opening. I suspect we'll get to see a few more familiar faces before it's all over. The end is coming and it's up to Dean and Sam to stop it, or die trying.
Rating: 5 / 5 Stars
Screencaps by SupernaturalWiki