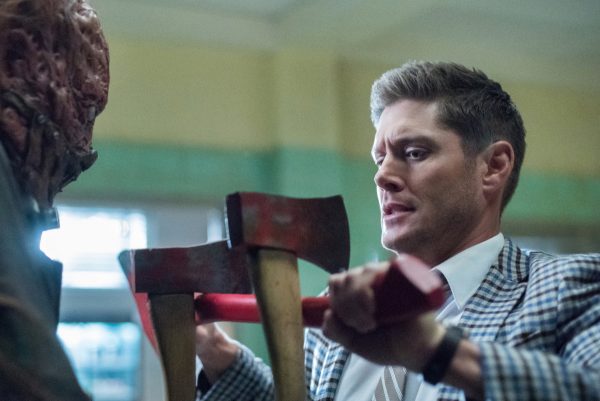 Horror movies come to life in the Halloween edition of Supernatural. And this case was the perfect way to get Dean out of his funk and focus on the joy of hunting, along with getting to show his fanboy geek-outs over his favorite horror character. It was a fun, stand-alone episode that felt like a throwback to simpler times.
Note: This recap may contain spoilers!
The episode was focused on a haunting surrounding a comic book store and one of its employees. I was a bit concerned over the portrayal of Stuart, as well as the case itself, but I can understand why it was set up this way. Stuart was a very socially-awkward young man, which has been used as a stereotype of geeks for a while, but the show did try to balance it with Samantha, a geek girl who is much more socially-integrated. Another issue I had was the motivation of Ghost!Jordan on trying to kill Stuart. Yes, Stuart has been shut out of the business because of his tendency to steal, but Samantha helped cover the costs by taking money out of Stuart's paycheck. Maybe Jordan was unaware of that, but taking it to the extreme of killing felt a bit much. Scare Stuart, threaten him to teach him a lesson, but don't take it to killing so quickly. But it did make for some exciting back and forth in the episode, so I can't mind too much.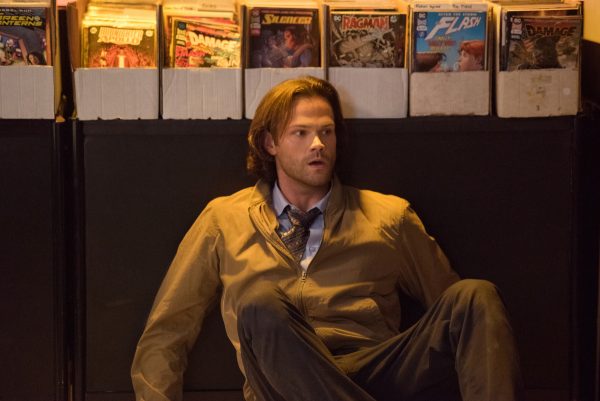 The pop culture representation in the episode was great. First we had Panthro, famed member of the Thundercats, as the first attacker on Stuart. The animation of the figure and interactions were great! That's what intrigued Dean right off, since he was a fan of both Thundercats and the idea of toys attacking. Then we got to see Red Hood represented in the comic book store, which was a joy for me since I'm a huge fan of Jason Todd, and served as a shout-out to Jensen Ackles, who voiced the character in Under The Red Hood. And finally we got Hatchet Man, which was an homage to many iconic horror movie characters and a fan favorite of Dean's, which only increased his appreciation of the case when Hatchet Man came to life. Definitely a great send-up to popular culture encapsulated in the episode.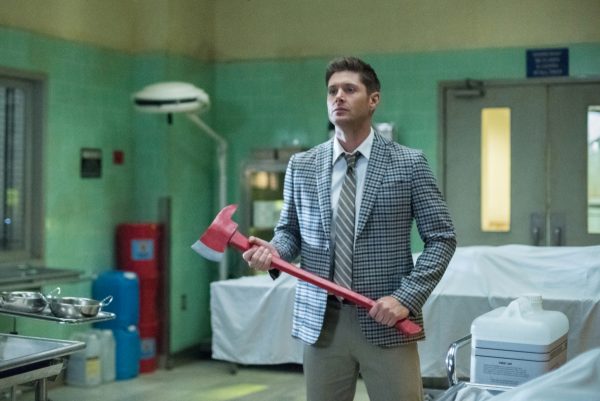 Focusing on the boys, we got some good exploration of where their mindsets are now. Since Michael left him, Dean's been withdrawn and hiding out in his room. And maybe that was the typical way he deals with overwhelming situations, but we know that's not healthy. And the episode marked a turning point for both Dean and Sam in terms with moving on and dealing. Starting off, Sam had shaved off his grief beard, so his processing had a more visual marker, but by the end of the episode we also got Dean processing and moving on a bit, too. While he is going to continue to feel guilty for whatever damage Michael causes, he does agree to stop hiding in his room. And we even got some brotherly bonding to round off the episode, with Dean throwing out different duo costumes he and Sam could wear next Halloween. Plus, we finally found out why Sammy has hated Halloween for so long. I was expecting it to be related to some trauma he experienced during hunting growing up, but instead it was trauma from a very normal situation. Embarrassing yourself in front of the girl you have a crush on can be very traumatic for a sixth grader, so that experience has affected Sam ever since. It's nice to get an answer to that after all these years and get a reward for the long-game.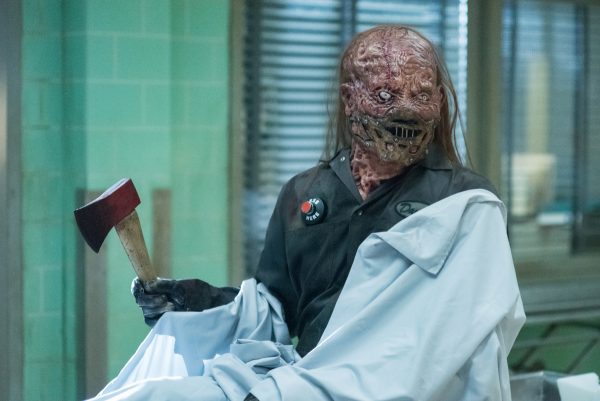 I look forward to seeing where we go from here, now that Dean is going to try to be more integrated into the bunker activities and the brothers are attempting to present a united front in the fight. However, I expect the ramifications of Dean's possession, Jack's health, and Nick's situation are going to cause some negative issues. The journey is going to be interesting, that's for sure.
Rating: 4 / 5 Stars
Screencaps by SupernaturalWiki