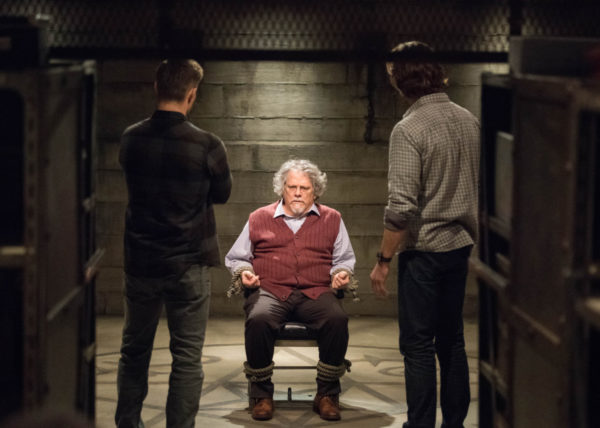 An ally in Apocalypse World may help Mary and Jack survive, while an ally in our world almost causes Dean and Sam to die. Things are getting serious in both realities and I foresee a tragic conclusion before it's all over.
Note: This recap may contain spoilers!
Jack is going through some hardcore mental torture at the hands of Michael and Zachariah. First he thinks he's back in the bunker, happy and safe, only to have Sam and Dean perish in a fire. Then he thinks he sees Cas, but the angel's constant push to get Jack to use his powers, while discrediting Sam and Dean's feelings towards him, gives a clue to Jack that he is not in the real world. I feel really sorry for the kid. All he wants is to get back to his adopted family, to be good, and in his attempts he's been tortured and rejected. It's a hard situation to deal with.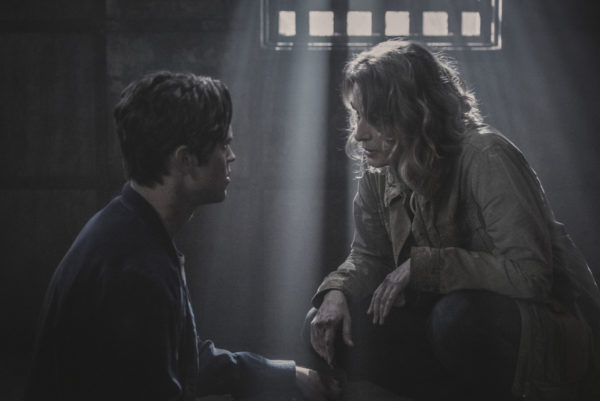 Thankfully, he gets thrown in a cell with Mary. Between the two of them, they have a good chance of escape and survival. She was there when he was born and knows his heritage, but she's also very loyal to protecting him. Once they break out of their cell and make their way across the wasteland, they happen upon Apocalypse!Bobby. Finally, an ally to help them! But, even though Bobby's indebted to his world's Mary, he is not trusting of Jack because of his half-angel lineage. Thankfully that distrust is washed away when Jack puts himself on the line to save Mary and kill Zachariah. Next up, Michael! It's a lofty goal, but perhaps the only way Apocalypse!Bobby and the others can hope to be safe.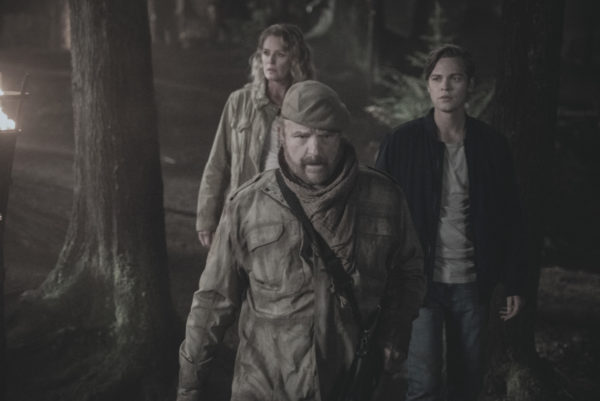 Meanwhile, in our world, the attempts to open the rift to retrieve Mary and Jack isn't going well, despite their perceived leads. Donatello continues to try and figure out the spell, even though it's driving him crazy in the process. And when he finally does come up with a translation, the only missing ingredient they must retrieve are the hearts of Gog and Magog. Off Dean and Cas go to fight the brothers while Sam and Donatello stay behind to get the rest of the ingredients ready. Unfortunately, Donatello is not being the truthful ally that they believe.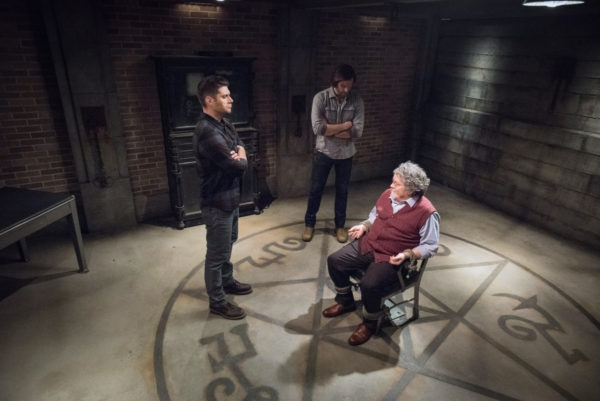 Dean and Cas take down Gog and Magog, but once they do Cas discovers the brothers are made of rock and sand, which means they don't have hearts. Rushing back to the bunker, they find Sam nursing a head wound after Donatello tried to take him out with a bottle to the skull. Sam's got him locked up now, though the man is ranting off his head. What could have caused this? He's a prophet, so any power from the spell should have flowed right through him. Well, yes, if he had a soul. But, as we remember, Amara took care of that. So, now he's gone dark and there doesn't seem to be a way to save him or retrieve the spell. And when he tries to suffocate Dean, that pushes Cas over the edge.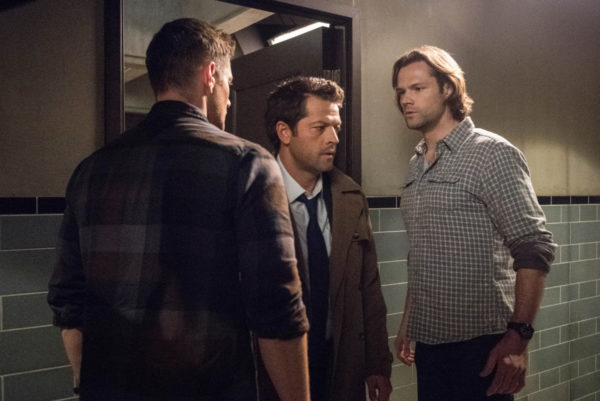 The angel uses his power to physically extract the spell from Donatello's mind. Yes, it leaves the prophet brain-dead, but Cas believes it's a sacrifice that has to be made. Besides, as he learns, Donatello's been unwillingly working with Asmodeus, so perhaps the ends did justify the means? The boys are still unsure, but Cas is very focused on the end goal. They have to get Mary and Jack back, no matter the cost. And one of the spell's ingredients, the grace of an archangel, makes me fear that Gabriel's going to have to sacrifice himself for the greater good before this is all over. Until we know for sure, we wait and watch and hope that not too many allies will have to fall in order to save our world from the darkness that is encroaching upon it.
Rating: 4 / 5 Stars
Screencaps by SupernaturalWiki