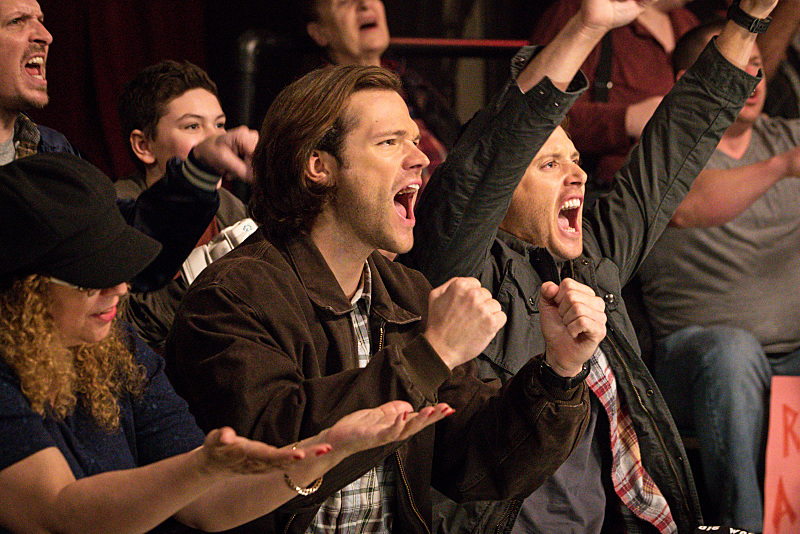 In addition to two distinct storylines, in the latest episode of Supernatural we got Fanboy!Dean, Manipulative!Cas, Reacher!Sam, and Powerful!Crowley. I didn't even mind that the boys took a break from their ongoing search for Amara and Cas because they needed it. With the weight of the world on their shoulders, a reconnection to happiness from their childhood is warranted.
Note: This recap may contain spoilers!
I loved the Winchesters going all fanboy over the wrestlers. Well, Dean at least. Sammy being all infatuated with Rio was sweet, too. He had such a non-traditional childhood that I doubt he was able to keep that poster over his bed for long, but at least he got to gaze at her for a bit. I like when we get some glimpses of their childhood, what they liked and what positive influence John might have had on them, even if these moments were few and far between. The surprise cameo by Jared and Jensen's bodyguard, Clif Kosterman, was a cute as well. The last time we saw him, he was Tiny, the not-so-small prisoner, in the Season Two episode "Folsom Prison Blues."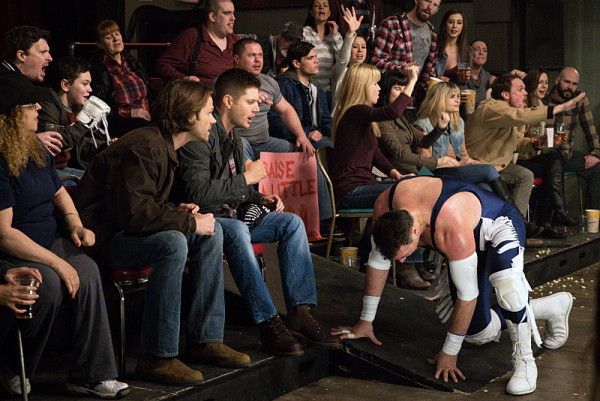 Getting back to the main plot, I like the touches to old school hunting elements. Demon deals and Hellhounds — it's been a long time since the boys' lives were as simple as that. I'm still unclear why Gunnar's demon wanted him to kill those specific people. I didn't see a reason why The Hangman and the drunk father needed to die, other than the demon didn't like them and the more souls the better. Plucking the spark of life from them, harvesting their souls with no care as to who the victim was… maybe I'm trying to see some deeper meaning that doesn't exist. But at least the whole thing over Gunnar redeeming himself and then facing up to the Hellhounds re-energized Dean. Or made him fatalistic. They're going to win or die trying.
Over to Hell, those were some fantastic twists and turns. After Lucifer!Cas humiliated Crowley, I was ready to see some revenge exacted. I got all fired up and supportive when Crowley got broken out by his minion and came back to his senses. Crowley's back! And he's got a follower on his side! Or not, boo. So much double-crossing between demons. What we learned from this exchange was that the Hand of God objects are one-shot-deals, which Crowley had to learn the hard way, and that Lucifer!Cas is going to be doubly ticked off when he finds the demon king again. I do wonder how many other prizes Crowley had stashed in his lock-up, and what Lucifer!Cas might do with them. And how Crowley's going to manage to keep alive on his own. Maybe he's going to pull another "enemy of my enemy is my ally" thing with the Winchesters. They all want to kill the Darkness and Lucifer!Cas, so they're working towards a common goal. But, going by their history, it will always end in tragedy and double-crossing.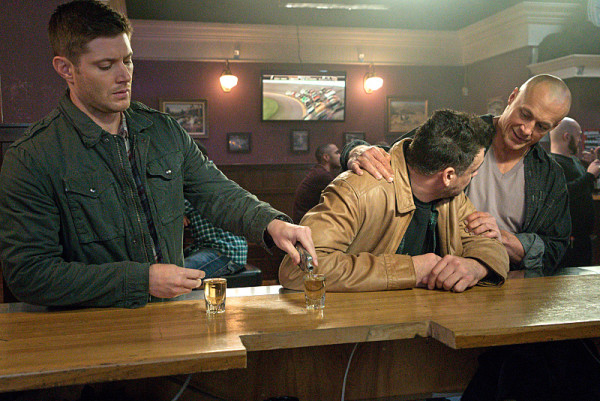 We get a month-long hiatus until the next episode, thanks to basketball. In the meantime, the thoughts of Dean pretending to be a wrestler will keep me happy, in between pondering how the Winchesters are ever going to get out of this mess. And is Dean ever going to come to terms with the fact that Cas chose his fate, and maybe doesn't want to be saved? Denial can only last them for so long. Somebody's got to die, and I hope it's not a certain brotherly duo.
Rating: 3 / 5 Stars
Screencaps by SupernaturalWiki