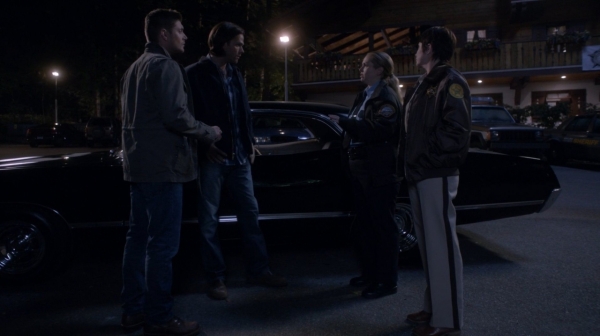 Strong women, kicking butt and taking names. We don't get to see enough of that on Supernatural, so this week's episode was a real treat! Doubly so, since the two women in question were beloved guest stars making reappearances. Nice to see that even the Winchesters need a little saving now and again.
Note: This recap may contain spoilers!
First up, we have Sheriff Jody Mills. We have seen her grow and change from the woman who was unaware of the things that go bump in the night to the hunter-in-training she is today, but always with the memories of what she's lost and what she's been through. She's not had an easy life, what with losing her husband and son, as well as her could-be-boyfriend, and now raising a teenager who is the typical hormone-driven monster versus a supernatural-driven one. I actually forgot she still had Alex, but it's nice to see that Jody is raising her and trying to make the best life she can for the two of them. And she's just as lovely and motherly toward the boys as she always was. She is an equal in their eyes, which means a lot. And now Jody's got a new friend in Sheriff Donna Hanscum to share stories of monsters and mysteries with. Sharing the truth about the supernatural helps lessen the load.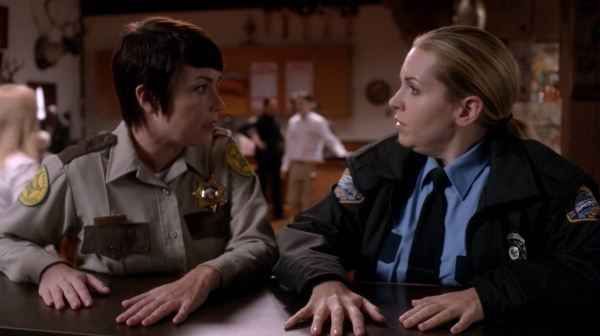 In the first appearance of Donna, I liked her, but I didn't grow attached to her. This time around, I loved her, mostly because we got to see the natural evolution of someone being introduced to the craziness of the Winchesters' lives and reacting as one typically would — with surprise and fear and disbelief, but then with acceptance and bravery. I am so glad she was the one who took charge and saved the day by chopping the vampire's head off. She's got the chops to be just as valuable as Jody is, and I wouldn't mind seeing the two of them team up again. Now we've got two female cop characters that can come back and help on a hunt.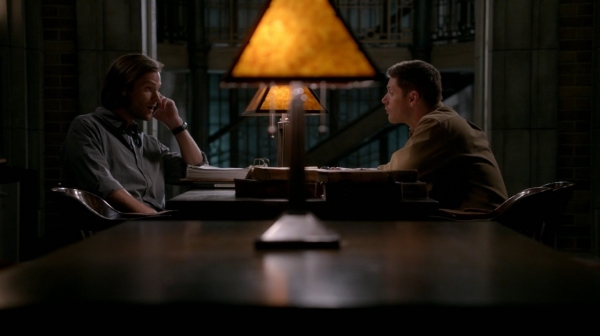 But the ladies weren't alone in their hunting. Those Winchesters got in on the action, too, and had a couple of revelations to go along with their satisfactory kills. Dean seems like he's back to his old self, and he's even been researching to find out information on the Mark of Cain. Alas, his researching turned up nothing, but at least he's trying. But the thing is, I'm not sure I believe the show he's putting on. Sure, he says the Mark is no longer affecting him, and that he wasn't filled with the blood-lust during the kills for the first time in forever, but is he doing so merely for Sam's benefit? Lying is second nature to Dean, especially if it will protect Sammy, so there's always the feeling that Dean's hiding something the whole time he's putting on a brave face. And going by Sam's reaction, I don't think he believes his brother any more than I do.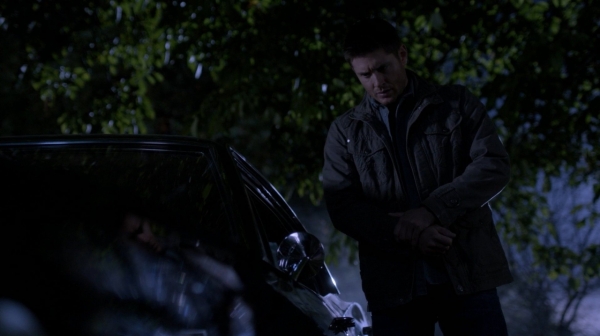 Based on the preview for the next episode, which is the mid-season finale, I guess we're right to doubt the elder Winchester. I want Dean to get better, to not be controlled, but it's good to see they didn't drop the storyline entirely. I do wonder how he will finally be released from the Mark's hold. Will he find another willing volunteer to take on the burden? Or will Cain come back to reclaim it, even though he's got no reason to? Dean has certainly got his own demons to deal with, and we're in for a nice roller coaster ride as he does so. Focusing on Dean's inner turmoil is bad for him, but fun for us as viewers. Bring on the angst!
Rating: 4 / 5 Stars
Screencaps by screencappednet