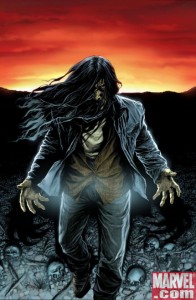 Stephen King's epic Dark Tower series has spawned two (so far) successful comic series adaptations and still is going strong at Marvel under the stewardship of comic scribe extraordinaire Peter David. Now it's time for another of King's works to make the leap from prose to graphic story–The Stand. Many consider The Stand to be Stephen King's ultimate work of fiction and a classic in its own right.
The Stand, originally printed in 1978, is a tale of the end of the world, brought on by a massive killer plague called Captain Trips, and the factional rebuilding that follows. The originally published version of The Stand was a much shorter novel than King originally wrote, omitting whole plotlines and major characters from the story. A "Complete and Uncut" edition was published in 1990, filling in all the missing content, and won a whole new clan of followers.
The comics adaptation from Marvel will be a faithful retelling of the uncut novel. Editor Bill Rosemann promises, "From the very first cough to the sinister showdown with the Walkin' Dude himself, this is the official and authentic translation of Stephen King's sprawling saga." Roberto Aguirre-Sacasa will be scripting the adaptation, with Mike Perkins on art.
Source: Marvel