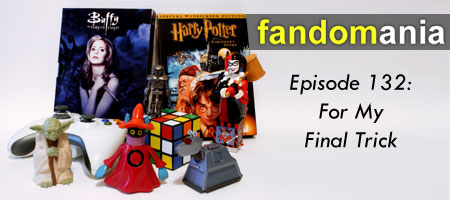 [audio:http://traffic.libsyn.com/fandomania/Episode_0132_-_For_My_Final_Trick.mp3]
On this week's episode:
00:00:17 – Episode Opening
00:01:23 – Contest: We're giving away Life on Mars: The Complete Collection on DVD this week!
Game Talk:
00:02:22 – Mailbag about the Nintendo 3DS and the Sony NGP
00:10:06 – As an aside, we talk about the latest Comic-Con fiasco.
00:11:51 – We talk about some of the games we played this week, including Mass Effect 2 and a couple of easy achievement titles.
Movie Talk:
00:18:24 – There have been some new casting announcements in the world of Superman.
00:21:20 – Following that, we talk about the latest casting info for the next Batman movie.
00:22:51 – Warner Bros is making a new movie based on Stephen King's The Stand.
00:24:52 – Is the Arrested Development movie finally being made?
TV Talk:
00:27:26 – We talk about some new and upcoming TV shows, including Grimm and Poe.
00:31:24 – TV ratings are all over the place, and we talk about some of the numbers for The Cape, Human Target, Fringe, and more.
00:38:04 – Human Target: "Kill Bob" and "The Trouble with Harry" (spoilers!)
00:48:07 – Fringe: "Concentrate and Ask Again" (spoilers!)
00:55:17 – Nikita: "Coup De Grace" (spoilers!)
00:59:54 – Episode Closing