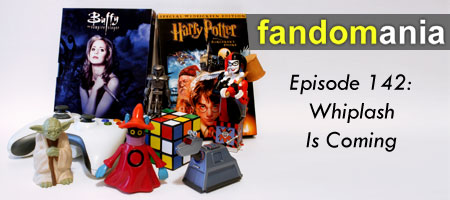 [audio:http://traffic.libsyn.com/fandomania/Episode_0142_-_Whiplash_Is_Coming.mp3]
On this week's episode:
00:00:16 – Episode Opening
00:00:48 – Contests: We're giving away goodies from Scream and Game of Thrones this week.
TV Talk:
00:02:37 – We discuss Ginia Bellafante's ridiculous and sexist non-review of Game of Thrones.
00:12:35 – Camelot: "Homecoming," "The Sword and the Crown," "Guinevere," and "Lady of the Lake" (spoilers!)
00:20:12 – Nikita: "Covenants" and "Into the Dark" (spoilers!)
00:25:49 – Fringe: "Lysergic Acid Diethylamide" (spoilers!)
Movie Talk:
00:35:57 – A villain has been cast for the new Superman movie.
00:36:42 – The Crow is being remade. No, really.
Game Talk:
00:38:55 – The Maw
00:40:41 – Dynasty Warriors 7
00:46:38 – Celeste has been playing Dragon Age 2, Spider-Man: Shattered Dimensions, and Oblivion
00:49:41 – Episode Closing