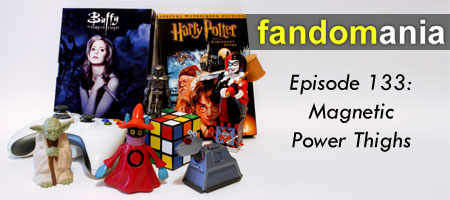 [audio:http://traffic.libsyn.com/fandomania/Episode_0133_-_Magnetic_Power_Thighs.mp3]
00:00:16 – Episode Opening
00:00:55 – This week we're giving away Doctor Who: A Christmas Carol and five movies from the Warner Archive.
00:02:19 – Our friend Simon has a new podcast, and we're giving him a plug!
Movie Talk:
00:03:16 – Rumors have surfaced about Ms. Marvel possibly being cast for the Avengers movie.
00:05:42 – Maria Hill's casting has been confirmed for The Avengers.
Game Talk:
00:07:27 – One 8-year-old girl is the world's biggest Smurfs' Village fan.
00:09:16 – Fox News thinks Bulletstorm is the worst video game ever.
00:18:58 – On a related topic, we discuss the Penny Arcade "The Sixth Slave" controversy.
00:26:33 – Activision has axed a key franchise while supposedly setting their sites on world domination.
TV Talk:
00:32:54 – We talk about the CW's upcoming witch series, Secret Circle.
00:39:03 – Human Target: "Marshall Pucci" (spoilers!)
00:49:09 – Nikita: "The Next Seduction" (spoilers!)
00:53:36 – Fringe: "Immortality" (spoilers!)
00:58:43 – Episode Closing