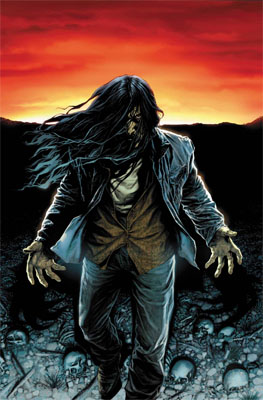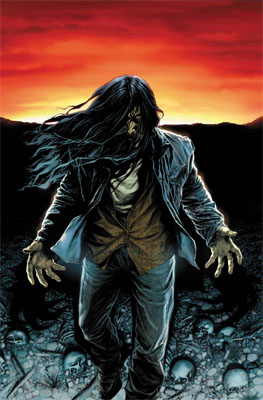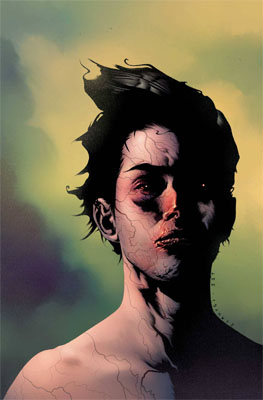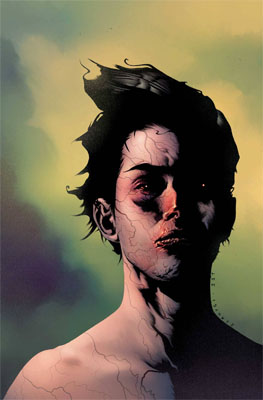 Two new Stephen King based series have been solicited from Marvel Comics in the July issue of Diamond Comics' Previews catalog. The first is the adaptation of the classic novel, The Stand, which I wrote about previously. The comic adaptation is called The Stand: Captain Trips. Here's the official blurb:
It begins here: the apocalyptic epic battle between good and evil based on the classic bestseller by master of horror Stephen King! On a secret army base in the Californian desert, something has gone horribly, terribly wrong. Something that will send Charlie Campion and his wife and daughter fleeing in the middle of the night. Unfortunately for the Campion family–and the rest of America–they are unaware that all three of them are carrying a deadly cargo: A virus that will spread from person to person like wildfire, triggering a massive wave of disease and death, prefacing humanity's last stand! Be there as writer Roberto Aguirre-Sacasa (Secret Invasion: Fantastic Four) teams with artist Mike Perkins (Captain America) for the first arc in the next great Stephen King event!
The second new series is the third miniseries in the ongoing Dark Tower spinoff. The Dark Tower is Stephen King's central work, a series of seven novels spanning his whole career and touching nearly all of his other books. The comics series have been prequels to the main action of the novels, and that continues with this newest series, Dark Tower: Treachery. Marvel's description of the first issue follows:
The ka-tet of Roland, Alain and Cuthbert have returned safely to their home in Gilead. But all is not well. Roland has kept the evil Maerlyn's Grapefruit and has become obsessed with peering into its pinkish depths despite the deadly toll it's taken on his health. And what the young gunslinger sees brings him the darkest of nightmares. Meanwhile, Roland's father has led a posse in search of those who threatened his son's life in Hambry-John Farson and the Big Coffin Hunters. And in this encounter, Stephen Deschain's life may be forfeit.
You can preorder the first issue of each series here: Link