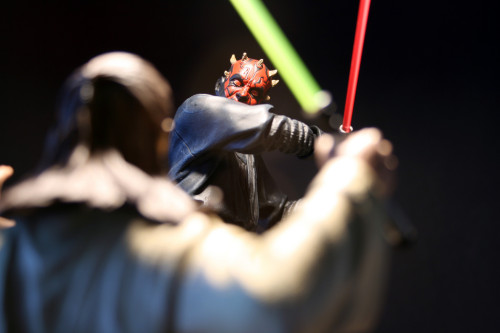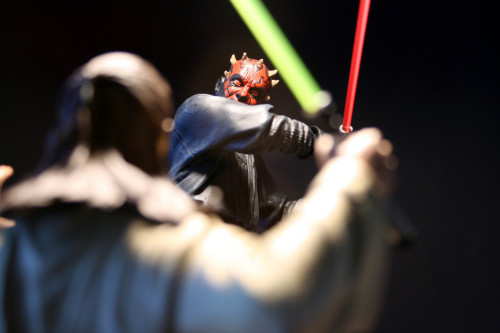 It's no secret that Sideshow Collectibles' line of Star Wars dioramas is completely awesome. The latest in this stellar series is the Duel of the Fates statues, spotlighting the epic battle between Obi-Wan Kenobi, Qui-Gon Jinn, and Darth Maul from the end of The Phantom Menace. I got my hands on the piece this week and have the review with photos after the jump.
The first and most obvious thing to note about the Star Wars dioramas is that they're huge. Each of the human-sized characters is represented in an approximate 10″ scale, which makes the overall piece a big one each time. The largest so far is the Obi-Wan vs Anakin diorama I reviewed previously, but this newest one is the next largest and the first to have three characters mixing it up. From the bottom of the base to the top of Qui-Gon's lightsaber, the overall diorama is around 14″ tall.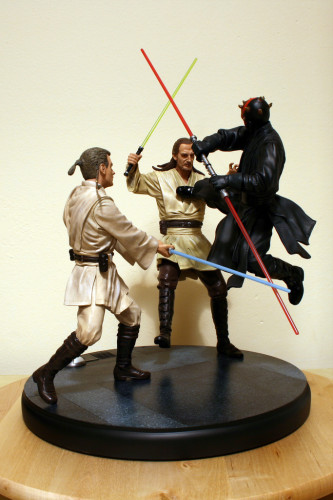 The likenesses on these dioramas have been consistently great. Such is the case here with our miniature versions of Ewan McGregor, Liam Neeson, and Ray Park. The faces are very accurate as well as emotive for the battle. We're seeing Darth Maul in mid-kick with his foot firmly planted in Qui-Gon's chest, Qui-Gon toppling backwards, and Obi-Wan making a parried lightsaber swing. All three figures look great. The entire statue is polystone, with the exception of Obi-Wan's padawan braid, which is made from a more flexible material. This is an excellent choice, because having the braid be polystone would make it far too brittle, and I can't forsee any of them surviving the packing and shipping process that way.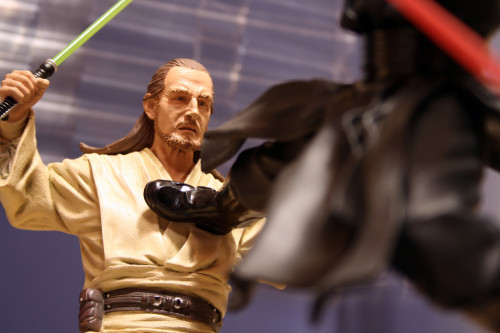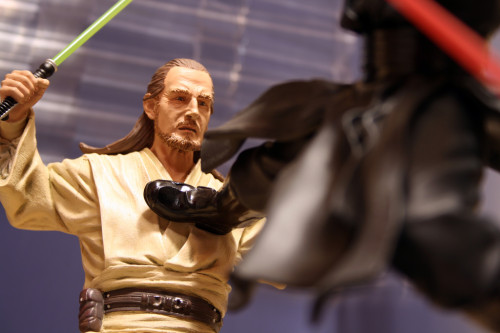 As awesome as the statue is, the Qui-Gon and Darth Maul figures make me a little nervous. Through miraculous feats of engineering, physics, and Jedi sorcery, Darth Maul is completely supported by the foot he has planted in Qui-Gon's chest. There's a peg in Maul's foot that locks into a hole and indentation on Qui-Gon, and Qui-Gon has a peg on his foot that sticks into the base, keeping the whole thing upright. My faith in the Force (and general physics) doesn't keep me from being afraid that at some point, unlikely as it may be, Darth Maul is just going to drop right off the support. That's probably a very unlikely circumstance, though, and is just me being a worry wart. My worries aside, having Maul suspended in mid kick looks amazing. My fiancee actually waved her hand under him stage-magician-style to verify that there weren't any hidden supports.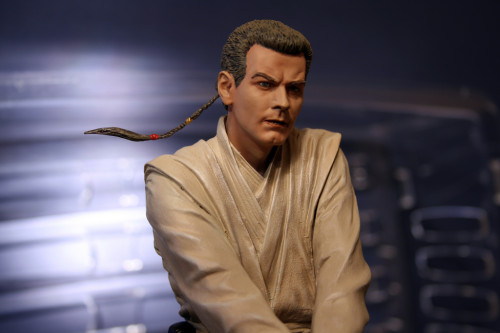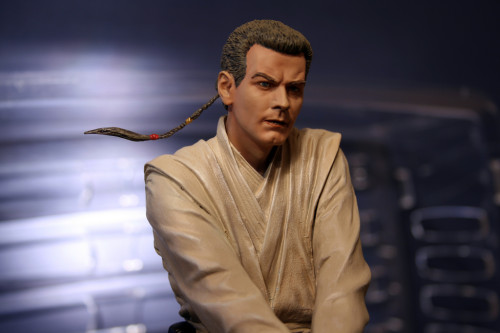 This is a fantastic piece, and I recommend it to any Star Wars collectors, whether you're a completist for this diorama series or not. Sideshow is sold out of it (it's a limited edition of 1250), but you can still get on their wait list here: Link.