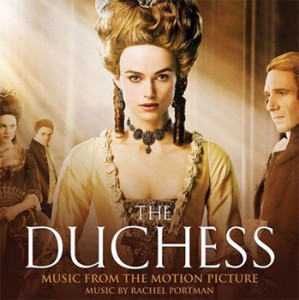 If there is one thing I love almost as much as books, it's music. If there is a movie genre that I have a guilty pleasure of, it's period pieces. It's easy to see, then, how when I was given the chance to listen to The Duchess soundtrack orchestrated by Rachel Portman and released through Lakeshore Records that I was a happy girl indeed. While I do have a proclaimed love for period movies, I was a little uncertain about whether or not I wanted to see this, not being the biggest fan of some of the acting talent; however, my mind was completely changed once I heard the score. My one problem: no theater near me is playing it. What's going on?!
The music is absolutely beautiful, and for a while I was stumped to elaborate, but after a few more listens the part of me that played oboe for nine years and appreciates beautiful instrumental music showed up. The theme is cohesive throughout, but the mood from track to track really had me guessing what would be happening in the scenes attached. While some were quick and bright, others, like Track 9 (entitled "Rape") are dark and ominous. I truly felt that the soundtrack itself was a splendid storyteller, and really made me want to listen all of the way through.
I believe the one drawback is that it is a soundtrack. I would have loved more of Rachel Portman's orchestration, and a few tracks left me wanting more. While I say it's a drawback, I also mean it as a compliment, as I wanted more, wanted to hear where the flow of the music was going but was sometimes let down. The musicians' talent had me wanting to do nothing else but close my eyes and concentrate on listening. Tracks 7 and 14 are pieces by Beethoven and Haydn, respectively, adding their clout to the soundtrack's offerings.
Overall I would have to say it was an incredibly enjoyable listen. It reminded me of why I love classical and instrumental music. Understand, though, that it is a soundtrack, so you're not going to get the full-length version of every single song, and some tracks are rather short. It did however give me the desire to go see the movie to hear how the music fit in. Now, if only I could find a theater showing it! Is the music historically accurate? I couldn't say, but it does what it should: evoke emotion. I would definitely give this four out of five stars, easily.