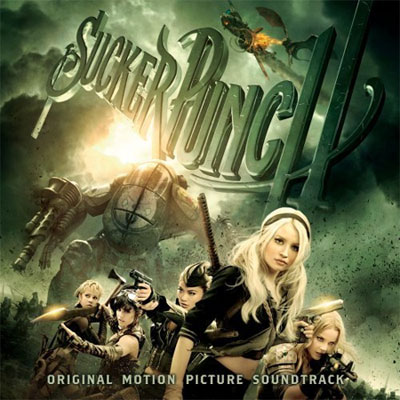 Zack Snyder's genre-jumping Sucker Punch, one of the most highly anticipated movies of the year, hits theaters this week. In the lead up, the new soundtrack to the movie releases tomorrow from Warner Bros. Here's a look at Sucker Punch: The Original Motion Picture Soundtrack.
Relying solely on the marketing and promotion I've seen at Comic-Con and in clips and trailers, I feel safe in assuming that Sucker Punch will be a very unique movie that takes a lot of things that have been awesome in the past — robots, dragons, and schoolgirls with swords — and gives them a decidedly cool and current twist by combining them in unexpected ways. The same can be said of the film's soundtrack, featuring an assortment of brand new covers of some classic songs, as well as some notable remixes and mash-ups.
The artists filling out the track list include the likes of Björk and Queen alongside some of the actors from the movie such as Emily Browning and Carla Gugino. It's a fairly short soundtrack, coming in at nine tracks, but this is definitely a situation of quality over quantity. All nine tracks are intriguing and occasionally haunting versions of familiar songs, and every one of them is worth a listen or twenty. The soundtrack's packaging is similarly impressive. The disc comes in a fold-out box covered with gorgeous and colorful imagery from the movie, and a booklet with liner notes and Sucker Punch photos inserts into one of the fold-out flaps.
The full track list features the following songs:
"Sweet Dreams (Are Made of This)" by Emily Browning
"Army of Me" (Sucker Punch Remix) by Björk featuring Skunk Anansie
"White Rabbit" by Emiliana Torrini
"I Want It All" / "We Will Rock You" Mash-Up by Queen with Armageddon aka Geddy
"Search and Destroy" by Skunk Anansie
"Tomorrow Never Knows" by Alison Mosshart and Carla Azar
"Where Is My Mind?" by Yoav featuring Emily Browning
"Asleep" by Emily Browning
"Love Is the Drug" by Carla Gugino and Oscar Isaac
The Sucker Punch soundtrack is available March 22, 2011.