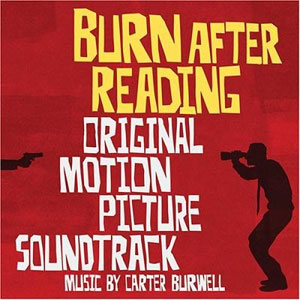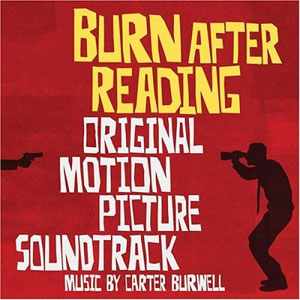 Burn After Reading: Original Motion Picture Soundtrack
Composer: Carter Burwell
From Lakeshore Records
Let's get the essentials out of the way. For those who don't know, Carter Burwell is an outstanding composer. After listening to this score and reflecting on his track record, I realized that this is a composer who seems to have eluded the public eye after all these years, despite the fact that he has written some amazing scores for some of the most important films of our generation. His scores are extremely effective in setting the mood, and the music blends with the cinematography with a sort of balletic poise. His scores for Fargo and Being John Malkovich are particular standouts in my book. Burwell has this gift for stripping a scene down to its heart and finding the song within. That says a lot when you consider how difficult it must be to approach the aforementioned, unorthodox films in the way he has. He has composed scores for a bulk of the Coen Brothers' films and all of Spike Jonze's films, and one of the things that always stood out to me was Burwell's subtle melodic touch.
In the case of his latest collaboration with the Coens, the demented spy comedy Burn After Reading, the Burwell magic is definitely there in spades. I think his brand of music elevates the film from being just a comedy. Like I've said before, music has a substantial effect on the tone of a film. With the music of Burn After Reading, Carter Burwell kicks it up a notch by overdramatizing every scene. For all intents and purposes, the film is a screwball comedy of the Coen Brothers variety. Traditionally in a screwball comedy you'd expect an upbeat bubbly score. In the the case of Burn After Reading it's a screwball comedy revolving around a group of characters who are seriously F.U.B.A.R. Practically everything every character does in this story is wrong, and as the events unfold, they become utterly ridiculous. What Burwell sells through his score is the way these characters make everything more dramatic than it actually is. Whether it be Harry's escalating paranoia about nothing, and how the paranoia ultimately creates something, Linda's ill-advised approach toward solving all of her problems in one fell swoop, or Osborne's desperately pathetic attempts to cling to his sanity, all of these mental states are conveyed beautifully thanks to Burwell's score. It leads to the revelation that if you need a composer to deliver a rich mood setting score to a multi-dimensional character piece, the only name on your list needs to be Carter Burwell.
As far as the soundtrack goes, well, here's where some of the problems lie. There are scores out there that are so iconic and so memorable that if you wanted to listen to them solo, you'd have absolutely no problem feeling the score's potency. Obvious examples are the many works of John Williams, Danny Elfman, Howard Shore, and the late Michael Kamen. Burwell's scores for Fargo and Malkovich fall underneath that heading as well. The point I'm leading to is this: despite the fact that the score for Burn After Reading is extremely effective, it isn't really a stand alone score and thus doesn't have the magic of his previous efforts. Watching the film, I felt the music flow elegantly but never once did it have me thinking, "I've got to get the soundtrack." The music's connection to the film is very symbiotic. One thrives when connected with the other. Taking the film away from the score, and listening to it solo, it almost feels nondescript. If I were to walk into the room and this score was playing I'd probably mistake it for the score of three other films before I guessed that it was from Burn After Reading.
IN ESSENCE: Though the score fits beautifully with the film, it's not really iconic enough to justify listening to it on its own.
SCORE GRADE: B+
CD GRADE: C+
FINAL GRADE: B-