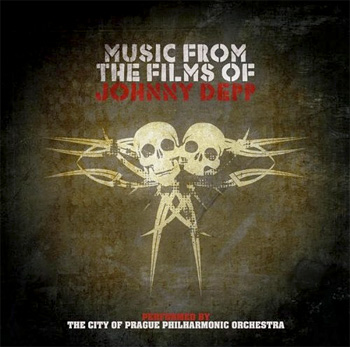 Soundtrack Review: Music From The Films Of Johnny Depp
Performed By: City Of Prague Philharmonic Orchestra
Label: Silva Screen Records
Release Date: June 2, 2009
Johnny Depp is, without a doubt, a cool and sexy actor. Men want to be him, women want to be with him.  I know this because, when I told my wife I was going to review movies from the films of Johnny Depp, she got all weak in the knees and mumbled something like "Johnny Depp, films, music… oh…"  This collection of music from his films is, like the actor himself, both cool and sexy.
It is not just the fact that this music is attached to the Johnny Depp name.  Even if you thought Depp's career ended with 21 Jump Street, you'll want to pick up a copy of this brain tingler.
The Pirates of the Caribbean pieces provide the most gusto.  Anyone who has seen Pirates of the Caribbean, or even who has just seen the trailer, will instantly recognize the sweeping, dangerous sounds of At World's End, The Black Pearl, or Dead Man's Chest.  Put those babies in your iPod, hop on the treadmill, and you'll be running six minute miles in no time.  These symphonic scores cast adventurous images into your brain: dangerous pirates, swashbuckling damsels, and the dangerous depths of Davy Jones' locker.
The Charlie and the Chocolate Factory piece, on the other hand, is quite heavy on the strings, and borders on the melodramatic.  That is to be expected from a movie score, so it is not too much of a downer.  Still, make sure you're in a rather pretentious mood before you sit down to really soak up this one.  The Neverland track is more forgiving, with excellent use of piano and strings to complement the main theme.
The Sweeney Todd track, much like the movie, will leave you feeling both bittersweet and creeped out at the same time.  It is difficult to capture the bizarre combination of feelings a good Tim Burton movie will evoke, but the Sweeney Todd track comes pretty darn close.  The main disappointment for me regarding Sweeney Todd is that there is nothing with Depp himself singing.  I heard somewhere that Depp tried his hand as a rock star before giving up and trying acting, so it would be a great compliment to the musical scores on this CD to hear his pipes in action.  But I guess they saved that for the movie soundtrack.
This is a collection of music that is well worth possessing.
Track Listing
1. Pirates Of The Caribbean: At World's End – Drink Up, Me Hearties (4:35)
2. Sweeney Todd: The Demon Barber Of Fleet Street – Main Titles (3:22)
3. Pirates Of The Caribbean: Dead Man's Chest – Jack Sparrow (5:59)
4. Charlie And The Chocolate Factory – Finale (3:36)
5. The Corpse Bride – The Piano Duet / Victor's Piano Solo (3:05)
6. Finding Neverland – Impossible Opening (3:38)
7. Pirates Of The Caribbean: Curse of the Black Pearl – The Black Pearl / Will And Elizabeth (4:19)
8. Chocolat – Main Theme (4:01)
9. Sleepy Hollow – End Titles (3:12)
10. Ed Wood – Main Theme (5:10)
11. Edward Scissorhands – Main Title / Ice Dance (5:29)
12. Platoon – Adagio For Strings (6:46)
13. Nightmare On Elm Street – Main Theme (4:15)