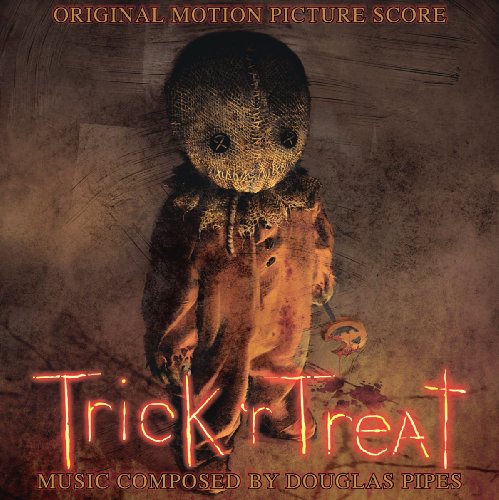 Soundtrack: Trick 'r Treat
Composer: Douglas Pipes
Label: La-La Land Records
Release Date: September 22, 2009
Although I haven't yet seen Trick 'r Treat, the horror film that seems to be on the tip of everyone's tongue lately, I was given the opportunity to listen to the film's score. The musical score for Trick 'r Treat is the brainchild of composer Douglas Pipes, who also created the score for the 2006 animated comedy-horror Monster House. Although the Monster House score was nominated for a Best Music Saturn Award and for the World Soundtrack Award's Discovery of the Year, Pipes has faced some significant obstacles during the course of his composing career. In 2008 Pipes scored Gil Kenan's City of Ember, but just weeks before the film's release his music was replaced with a score from Andrew Lockington. This makes Trick 'r Treat one of only a handful of movie scores that Pipes has released.
What Pipes may lack in quantity he makes up in quality: the Trick 'r Treat musical score is an exceptional collection of compositions that makes director Michael Dougherty's decision to have Pipes score his film seem like a no-brainer. The director has compared Pipes's Trick 'r Treat score to the "haunting yet beautiful themes from The Omen, Poltergeist and Suspiria" based on the "memorable themes, coherent melodies, and a bold style" that characterize the compositions.
The Trick 'r Treat score is written for an 85-piece orchestra and children's choir, the combination of which adds nicely to the celebratory nature of the soundtrack. And Trick 'r Treat certainly is a celebration; the soundtrack is at all once huge and gothic, spine-tinglingly spooky, yet nostalgic and whimsical. Although several themes run throughout Pipes's Trick 'r Treat score, the compositions will keep listeners on the edge of their seats. From the piano in "It's Halloween, Not Hanukkah" to the chorals in "The Halloween Schoolbus Massacre" and the screeching strings of "Main Titles," the first track on the disc, Trick 'r Treat delivers time and again. The tour de force of the score undoubtedly is the 12-minute "Pumpkin Shooter/Meet Sam," the fourteenth track of the eighteen-track disc. Perhaps the masterpiece of the collection, "Pumpkin Shooter/Meet Sam" employs every instrument at Pipes's disposal to create a tapestry of highs and lows, lulls and crescendos.
Can't get enough of Pipes's work after listening to Trick 'r Treat? His earlier compositional work includes contributions to the scores for the 1989 Moonstalker, 1990 Grandpa, and 2004 The Three Body Problem. For more information on Douglas Pipes, check out his official web site.
Track Listing:
1. "Main Titles" (2:21)
2. "Meet Charlie" (:46)
3. "It's Halloween, Not Hanukkah" (3:13)
4. "Charlie Bites It" (1:42)
5. "Father and Son" (6:18)
6. "Meet Rhonda" (1:34)
7. "To The Quarry" (1:42)
8. "The Halloween Schoolbus Massacre" (4:56)
9. "The Elevator/Laurie On the Prowl" (2:03)
10. "Halloween Prank" (4:25)
11. "Not a Trick/Red and Black" (3:52)
12. "Laurie's First Time" (2:49)
13. "Old Mr. Kreeg" (1:53)
14. "Pumpkin Shooter/Meet Sam" (12:04)
15. "The Bus Driver" (:40)
16. "The Neighborhood" (1:51)
17. "Trick 'r Treat" (:31)
18. "End Credits" (6:41)