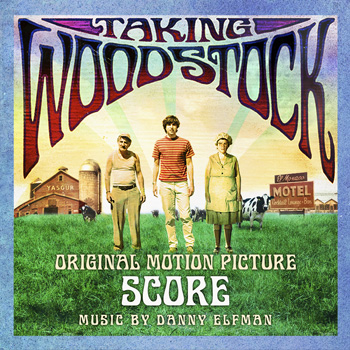 Soundtrack: Taking Woodstock
Composer: Danny Elfman
Label: La-La Land Records
Release Date: September 29, 2009
Even though I did not have the chance to see this film in theaters, my attention was grabbed by the score, wonderfully written and produced by Danny Elfman. It really captures the essence of the era of Flower Power and awesome rock 'n' roll. Former Oingo Boingo group member Elfman, who has scored a slew of films for long-time friend Tim Burton, the Spider-Man movie series (to date), and the Men in Black series, brings to this Ang Lee-helmed film an added haze to the acid-inducing ride that was the Hippie Counterculture.
With its use of instruments that would've seemed commonplace back in that era to the really subdued feeling one gets when listening to it, this album is infused with the spirit of the '60s in every way imaginable. One thing that I would like to mention is the really inventive use of both the acoustic and electric guitars, both of which seem to be the leading instrument throughout the entire album. Even though the '60s were electric-heavy, there were some rare instances where an acoustic guitar was the main focus for several bands from that era.
To me this soundtrack represents all that the film represents: a tale of the life of a young man who had the grooviest time in the '60s.
Rating: 4.5 / 5 Stars
Track Listing
1. "Taking Woodstock – Titles" (3:25)
2. "Elliot's Place" (1:11)
3. "At Ease Man" (0:43)
4. "Welcome Home" (0:34)
5. "The Magic Tickets" (0:35)
6. "Get The Money" (1:05)
7. "Chocolate Milk" (0:42)
8. "Groovy Thing (Office #1)" (3:35)
9. "A Happening (Office #2)" (1:55)
10. "Groovy Thing (Guitar Solo)" (1:54)
11. "Life Goes On" (0:41)
12. "The Acid Trip" (1:13)
13. "Hash Brownies" (1:00)
14. "In The Mud" (0:50)
15. "Perspective Extended" (1:52)
16. "I Love Her" (0:49)
17. "Woodstock Wildtrack #1" (2:42)
18. "Woodstock Wildtrack #2" (1:37)
19. "Happy Guitars" (1:46)
20. "Guitar Improv" (1:56)