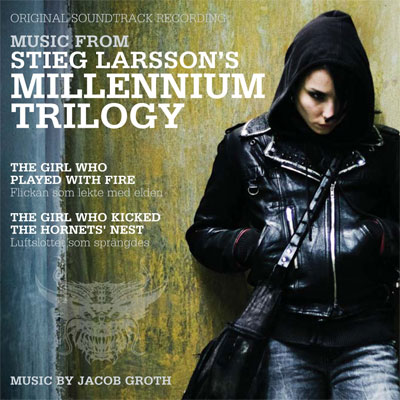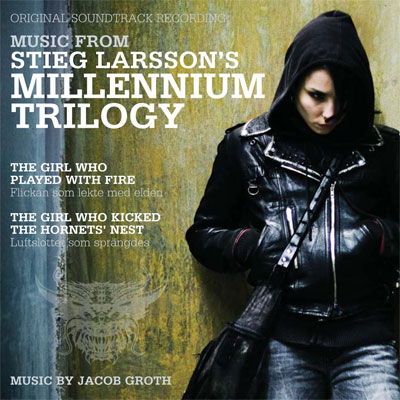 Soundtrack: Music From Stieg Larsson's Millennium Trilogy
Composer: Jacob Groth
Label: Silva Screen Records
Release Date: September 14, 2010
Music from Stieg Larsson's Millennium Trilogy contains selections from the movie scores of The Girl Who Played with Fire and The Girl Who Kicked the Hornets' Nest, directed by Daniel Alfredson and based on the second and third books of Stieg Larsson's best-selling Millennium Trilogy. Not to be confused with the Hollywood versions due out beginning in 2011, these Swedish movies, starring Michael Nyqvist and Noomi Rapace, were released in 2009 and have seen only limited release this year in the United States. Danish film and television composer Jacob Groth is responsible for the scores of all three movies.
I have not seen any of these films, but I have read the Millennium novels, so I could very easily visualize characters and situations as I listened to the tracks. Groth seems to have an excellent handle on how to create scores that reflect the action on the screen, especially for a film involving crime, investigation, action, and suspense. It is the kind of score that I'm sure blends seamlessly into the film, always creating just the right atmosphere and highlighting the visual aspects of the film without drawing attention to itself. However, as a soundtrack album, it does not seem to have that thing that would make it stand out in a crowd of similar movie scores. In fact, I happened to notice the score for a TV crime drama recently, particularly because it sounded so similar to this soundtrack.
The album begins with what is labeled as the "Main TV Theme" — in Sweden this year the three movies were each split in half and released as a six-part television series, for which this was the title music. The music is mostly electronic and synthesizer-based, and its driving beat and synthesized percussion support the dark, plaintive melody. It is exactly the type of music you might expect at the beginning of a dark, gritty cop show.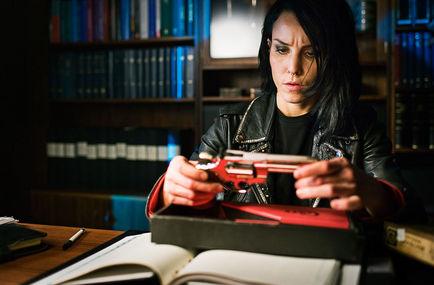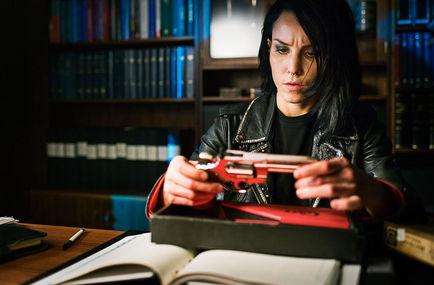 "Would Anybody Die For Me" (track 3) is the first track that stands out on this album. It is sung by Danish singer Misen Larsen and appeared over the closing credits of The Girl Who Played With Fire. The song's title phrase is also the refrain that is repeated over and over, and I think it captures very well what we know of the personality and attitudes of the main character Lisbeth Salander. She has a very difficult time trusting anyone, rightfully so, even when that person really does have only her best interest at heart and wants to help her. It is only natural that she would mistrust the noble intentions of people like Mikael Blomkvist and would wonder why someone would want to help her at all, much less make such a sacrifice for her sake.
The rest of the tracks fall mainly into two groups. They seem to be either fast and urgent, with driving beats and an abundance of synthesized percussion effects, or slower and more intense with melodies composed mostly of long, sustained notes. Moods frequently swing from pensive to frantic and back again. In tracks like "The Scheme" (track 4) and "Running Out of Time" (track 5), for example, the drama is readily apparent. "The Scheme" starts quietly, as if someone is trying to be sneaky, and builds to a climax, at which point it seems as if a decision has been made and someone has begun to implement the plan as the music speeds up and sounds more determined. "Running Out of Time" is, of course, fast, with wind and string instruments playing constant runs of short, fast notes that frequently accented with brass blasts. There is no doubt in my mind that this track underscores a chase scene, complete with the brief respite when the hunter runs right by his quarry's hiding place, followed by a return to the intensity and frenzy of the chase as the hunted one takes off in the other direction. In contrast, tracks like "Blomkvist" (track 2), "Fire" (track 6), and "Return of Salander" (track 10) are slow and thoughtful, often using orchestral instruments, primarily strings, instead of synthesizers and relying on long, sustained notes in the melodies.
Some melodies and musical themes recur through the soundtrack, but I was able to definitely identify only a few of them and only after listening carefully several times. They tend to be very similar to each other — don't expect easily recognizable and hummable motifs à la John Williams. Groth alternates between heavy use of synthesized sounds, particularly percussion, and orchestral tracks, mainly strings, but in most cases he starts quiet and slow and gradually builds as the track goes along. It is also difficult sometimes to identify melodies in the long sequences of chord pairs that resolve from dissonance into harmony.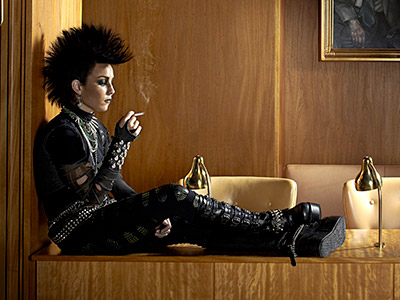 One track that is notable because of how different it is from the rest of the soundtrack, is number seven, "Abuse," which is an excellent musical depiction of the title subject and related events in the story. In this piece, wave after wave of dissonant clusters of pitches are played by stringed instruments (think fingernails on a chalkboard, or Psycho violins playing really long notes instead of a series of short ones). Each starts quietly and gradually gets louder before fading to an all-too-brief pause before the next crescendo, and each wave is more intense than the last. It is almost painful to listen to, which is fitting for subject matter. Anyone who has read the books knows the horrors that Lisbeth Salander has endured in her relatively short life, and this is the best musical accompaniment to those horrors that I could imagine. Just when you are afraid you can't take any more, the driving beat that is prevalent throughout so much of the soundtrack returns and you feel that at last Lisbeth has emerged from her torture and is now thinking hard about how she will take her revenge.
I was surprised how the album ends on such a somber note. Track 10, "Return of Salander," is surprisingly slow and sustained, lacking the driving beat that I would expect to accompany the woman who has few scruples and goes around kicking butt most of the time. I would be interested to find out what part of the movie this theme goes with, because in this track it is a subdued Salander that is returning, not one who has emerged from a near-death experience victorious over her enemies. The final track, "Another Goodbye," is appropriately slow and quiet. Although it builds in volume a little bit, it is not the extreme crescendo we have found in other tracks, and it quickly fades again, tapering to nothing quickly in one of the shortest tracks of the album. It leaves the listener with a feeling of pity for this girl who doesn't seem to feel at home or comfortable anywhere she goes.
Although I have no prior experience with the music of Jacob Groth (his work has been almost exclusively for Danish and Swedish film and television), I can tell from listening to this score that he must be a master of composing music for a film. The music paints vivid mental images of the action that must be occurring on screen, especially for those who have read the books. It seems to be the type of score that you might not notice as you're watching, but that you would definitely miss if it were taken out. It loses some of its impact when taken out of context, however. It is not a CD I will take along on a car trip or simply sit and listen to, but it is definitely one that I will keep around for background music — it keeps the silence away nicely but doesn't distract me from whatever I am working on.
Track Listing:
"Millennium (Main TV Theme)" (3:08)
"Blomkvist" (4:35)
"Would Anybody Die For Me? (Version 2)" (3:25)
"The Scheme" (4:27)
"Running Out Of Time" (3:04)
"Fire" (2:14)
"Abuse" (4:38)
"More Secrets: Palmgren" (3:43)
"Zala Collage" (3:54)
"The Return of Salander" (5:33)
"Another Goodbye" (2:23)
Rating: 3 / 5 Stars