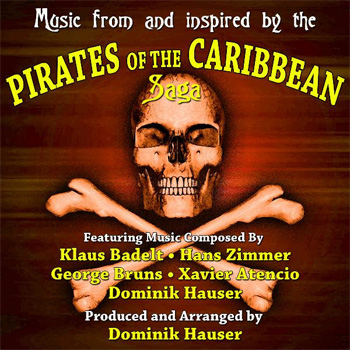 Soundtrack: Music From and Inspired by the Pirates of the Caribbean Saga
Composers: Hans Zimmer, Klaus Badelt, George Bruns, Xavier Atencio, and Dominik Hauser
Label: BuySoundtrax Records
Release Date: May 17, 2011
Apropos to the release of the fourth installment of the Pirates of the Caribbean franchise, On Stranger Tides, comes this album of Pirates and Pirates-inspired music. The album is arranged and composed overall by Dominik Hauser and, on top of five original tracks by him, it includes themes from the first two Pirates movies by Hans Zimmer and Klaus Badelt and a song by George Bruns and Xavier Atencio from the Disneyland "Pirates of the Caribbean" attraction.
Dominik Hauser, the major composer on the album, is no rookie despite not having actually scored any of the Pirates movies. Among his score credits are The Chronicles of Riddick, Daredevil, and Pineapple Express, and he has also worked on theater, cinema, and video game projects. He is credited with arranging and performing all the pieces on the album, and composed five out of the eight. Track 1, "He's a Pirate," is the main theme from the first Pirates of the Caribbean movie, The Curse of the Black Pearl, which was scored by Klaus Badelt, while track 2, "Jack Sparrow," is from the second movie, Dead Man's Chest, scored by Hans Zimmer.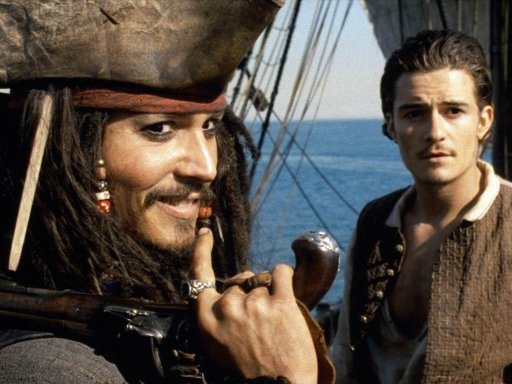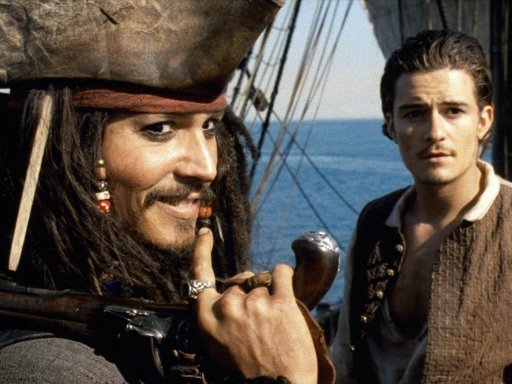 I LOVE "He's a Pirate" — it's definitely among my favorite movie themes! I played an arrangement of this with my string quartet a year ago and it was really fun. It's such great adventure movie music, fast and exciting, and I love it. "Jack Sparrow" is great too, slightly dark and kind of dopey sounding at the same time, which is probably just what they wanted to convey with the scenes it accompanies. It's really cool as the original version is played on the Dean Man's Chest album. I'm not saying the version on this album isn't good, but for me having a full orchestra play it vs. electronic is just way better. The third track, "Yo Ho, Yo Ho! A Pirate's Life For Me," written by George Bruns and Xavier Atencio, is from the Pirates Disneyland attraction and is a song I'm sure most folks recognize. I guess I never knew the Disneyland attraction was around long before the movies were made. I thought I recognized this from something besides the Pirates movies and it's been around long enough that I've probably heard it elsewhere.
Now on to the last five tracks, which are original pieces composed & performed by Hauser. The first two, "A Pirate's Jig" and "Drinking at the Tavern," are short, fun, light-hearted pieces and you can picture general rowdiness and dancing to this music at a tavern. To me, they don't sound too different from each other, however, which isn't a bad thing, but they could probably be combined into one track without much trouble. The last three tracks — "Pirates on the Ocean," "Pirates to the Gallows," and "We are Pirates" — I didn't enjoy quite as much but are not bad. They are pretty standard movie or video game tracks — solemn sounding brass melodies, marching drums, crashing symbols. "Pirates to the Gallows" is a little more solemn sounding than the triumphant air of "Pirates on the Ocean," and "We are Pirates" is a marchy sounding piece I picture dopey pirates singing and dancing to in a Disney movie and reminds me of the "Jack Sparrow" theme from Dead Man's Chest.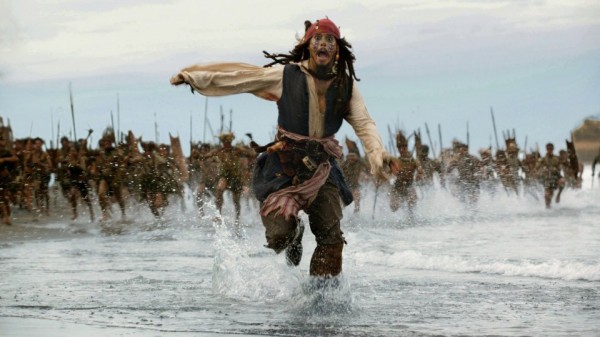 One thing I have to say about the five original compositions — I think I would've enjoyed them more if an orchestra had performed them, especially "A Pirate's Jig" and "Drinking at the Tavern." Those tunes are really fun & would sound great on a fiddle! Since Hauser composed and performed these pieces himself, obviously he isn't a full orchestra so for what they are, it is fine. I may be wrong, but I'm pretty sure all the tracks are electronic and there isn't anything wrong with that, but I prefer real instruments. Overall, this was a fun album to listen to as I am a big fan of the Pirates music.
Track Listing:
"Pirates of the Caribbean – He's a Pirate" (1:43)
"Pirates of the Caribbean – Jack Sparrow" (2:19)
"Yo Ho, Yo Ho! A Pirate's Life for Me" (2:33)
"A Pirate's Jig" (1:46)
"Drinking at the Tavern" (1:13)
"Pirates on the Ocean" (2:17)
"Pirates to the Gallows" (2:14)
"We are Pirates" (2:13)
Rating: 4 / 5 Stars